For the first time since Jan. 17, Ilya Samsonov was back in the crease for the Washington Capitals this past weekend. He made 19 saves on 21 shots to help his team defeat the New Jersey Devils in a Sunday matinee. He looked a bit shaky early on, with both goals coming off of fairly routine shots. He eventually settled in, shutting the door for the final 36 minutes of the game. Peter Laviolette had this to say on his goalie's return:
"I thought he got stronger as the game went on, and then when it's 3-2 and the game's hanging in the balance, I actually thought that was when he was at his best."

– Peter Laviolette
However, the first star of the game was the Capitals' defense core. They allowed only 21 shots, blocked 12, and limited the Devils to very few high-danger opportunities. They made Samsonov's life fairly easy in his first NHL game in over a month, and put together a signature performance in a season in which they've struggled as a unit.
Rough Run-In With COVID-19
Following an impressive rookie campaign in 2019-20, Samsonov was slated to be the Capitals' number one goalie in this shortened season. But after only two starts, he was placed on the COVID-19 list after he, along with his three Russian teammates, violated the NHL's COVID-19 policy. It later came out that the youngster had actually contracted the virus.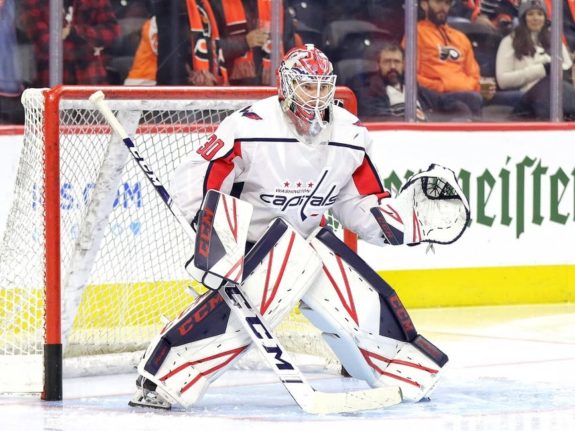 People under the age of 30 typically do not experience symptoms as severely as older convalescents, but that was not the case with Samsonov, who turned 24 last week. When asked about his battle with the virus, he told a translator, "There were a few days that were challenging for me. Had trouble breathing for a little bit there, and walking a bit. Couple days where I felt pretty sick."
The Capitals' netminder expressed how challenging the isolation aspect of his quarantine period was as well. "Yeah, it was extremely difficult. The first five days went by but after those five days, it was very difficult to just stay home and not see anybody. Obviously, I texted some of the guys and talked with my parents. But that was probably one of the most challenging things, just staying at home and not being able to see anybody," Samsonov spoke to the media after finally reuniting with his teammates.
Roller Coaster Season
Samsonov's season has, quite literally, been filled with a lot of ups and downs. Since he was cleared to rejoin the team for workouts on Feb. 8, he bounced between the Hershey Bears of the AHL and the taxi squad, aiming to get his conditioning back to normal after his debilitating ordeal. He played three games for the Bears, going 2-1-1 with a 3.25 goals against average (GAA) and a .869 save percentage (SV%).
In his absence, Vitek Vanecek was relied on heavily, and performed admirably. He went 9-4-3, starting all but one game while his Russian counterpart was sidelined, and won rookie of the month in January. He currently has the third most saves among all NHL goaltenders with 470, the third most minutes played with 1,005, and is sporting a respectable 2.81 GAA and .909 SV%.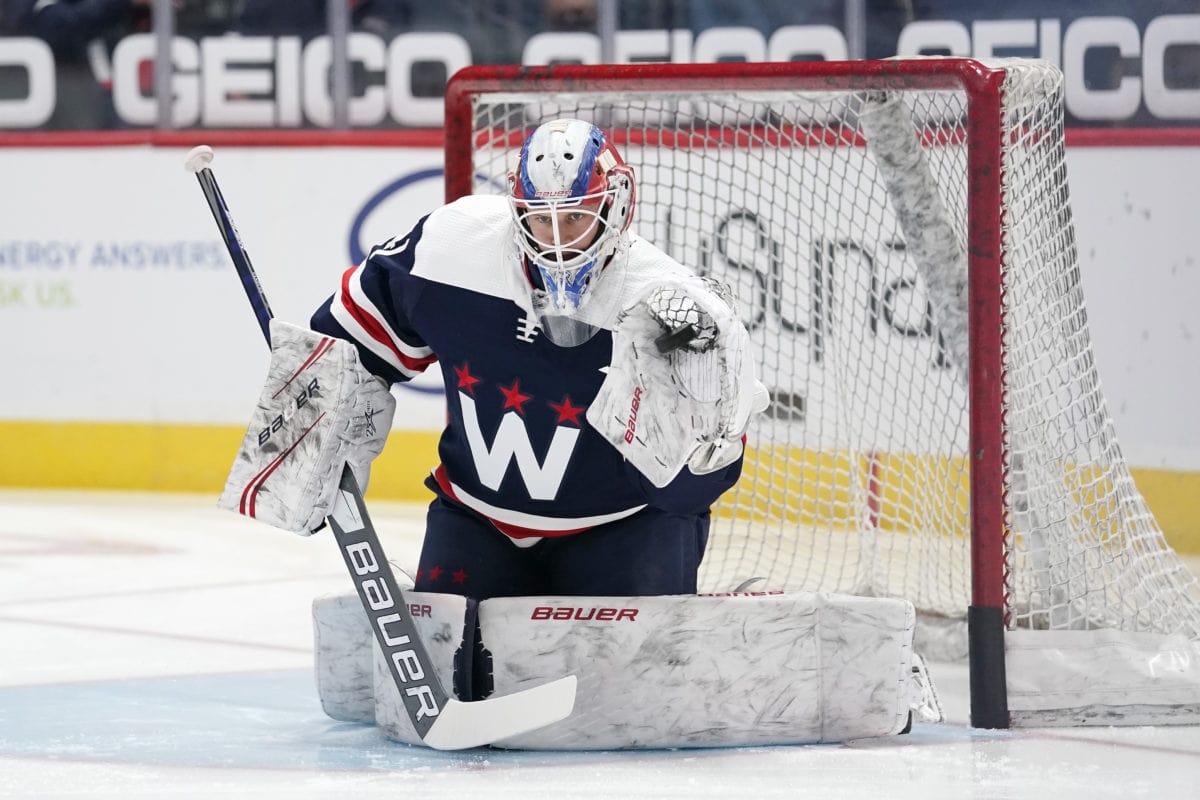 Samsonov's absence, combined with Vanecek's success, has blurred the distinction between starting and backup goaltender. Vanecek's play has certainly earned himself consideration for more starts down the road. But at the same time, Laviolette would like to get Samsonov back into the swing of things, and that only comes with actual NHL playing time. It will be interesting to see how the Capitals handle the tandem moving forward. Nonetheless, it isn't a bad problem to have.
---
---
Howdy, I'm Aidan and I cover the Washington Capitals here at The Hockey Writers. I recently received my bachelor's degree in English with a minor in literature from Christopher Newport University, where I also played on the Division lll club hockey team. I can't get enough puck, whether it be writing about it, watching games, competing in men's league or playing NHL 21. I'm always down for some hockey talk, so feel free to leave comments and feedback on my work!