The Ottawa Senators have nearly everything in place to become a playoff team. They have a passionate, heart-on-his-sleeve leader in Brady Tkachuk, a hot young up-and-coming phenom with Tim Stutzle, and a minute-munching all-purpose defender in Thomas Chabot, and a host of top talents that fill out and support them. Yet the wins have not come regularly this season, and that largely is due to their lack of depth.
Skilled depth players are difficult to come by – just look at what the Tampa Bay Lightning paid for Branden Hagel – but that doesn't mean the Senators need to start scouring the league for their missing piece. Look no further than Derick Brassard, who has emerged as a major piece of this team. Highly respected for his leadership, skill, and experience, he's been an anchor for the fourth line, helping Ottawa weather the slough of injuries they've gone through this season.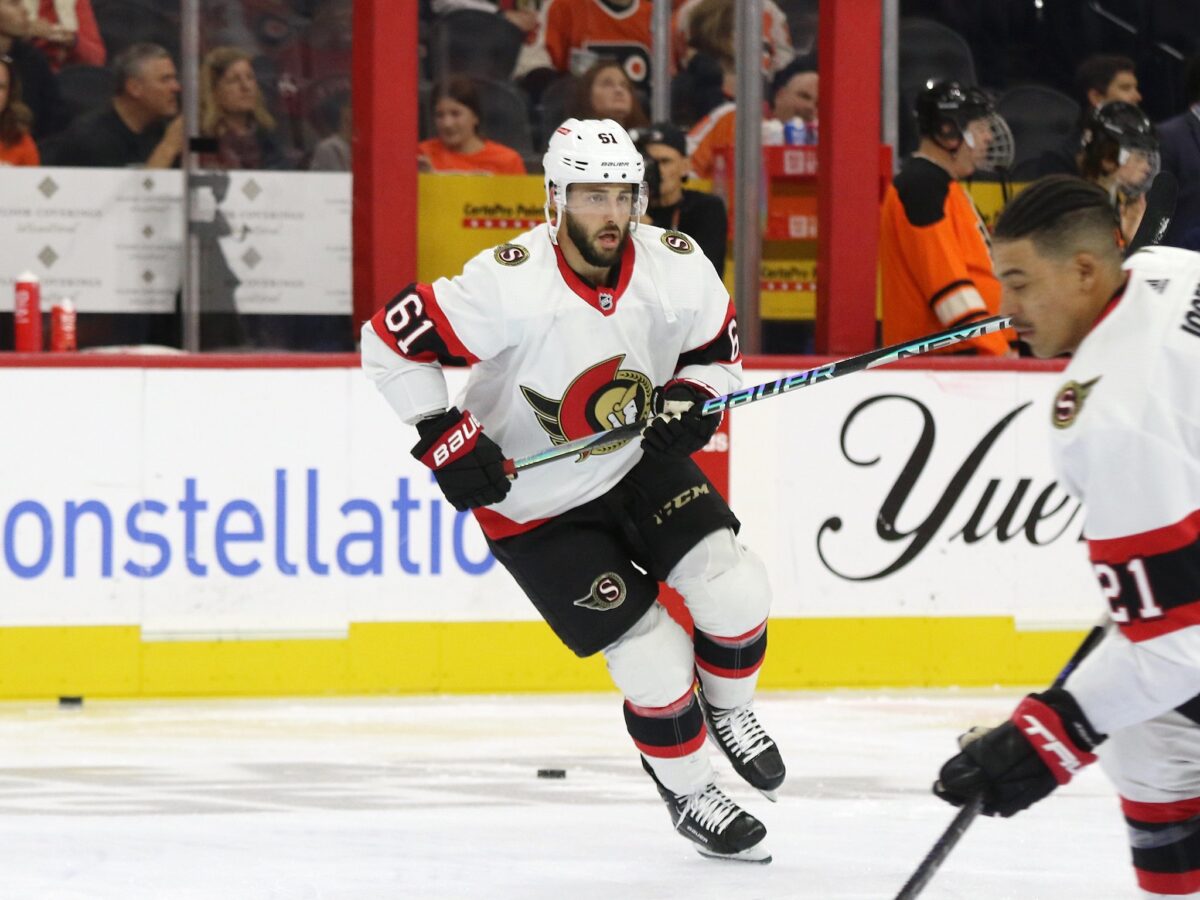 No one would have expected this to be the case a year ago. Back in September, Brassard, a former 6th overall selection, was still without an NHL contract. The Senators, seeing the need for a veteran presence at the bottom of their lineup, offered him a professional tryout, which earned him a one-year, league-minimum deal. While the intention was likely to use him as a placeholder while some of their prospects developed, he has become indispensable in Ottawa's pursuit of the playoffs.
Veteran Leadership is Crucial
Since making his NHL debut in 2007-08, Brassard has played in over 1000 games and 118 playoff games spread across 10 teams: the Columbus Blue Jackets, New York Rangers, Senators, Pittsburgh Penguins, Florida Panthers, Colorado Avalanche, New York Islanders, Arizona Coyotes, Philadelphia Flyers, and Edmonton Oilers. Only one other player in NHL history has played for more teams during their career, that being legendary journeyman Mike Sillinger. That level of experience has made Brassard an unofficial leader on the team.
But what sort of boost does experience, especially from so many playoff games, give to a young team? The NHL has provided us with two excellent examples. First is last year's Avalanche, who claimed their first Stanley Cup since 2001. The team's core was young and highly skilled but hadn't had much playoff success. So, management went out and acquired Darren Helm and Andrew Cogliano, who combined for 182 playoff games. Only Andre Burakovsky came close to matching that level of experience, sitting around 81 career playoff games. Those were two of the biggest moves the team made that season, and the result was a championship title.
The second team is the Toronto Maple Leafs, who have been one of the best teams over the past several seasons. Also led by a young core, they have struggled to sustain that in the playoffs. The team has added several savvy veterans over the years, including Mark Giordano, John Tavares, and Wayne Simmonds, but it hasn't changed much in the postseason. Currently, their most playoff-experienced player is Calle Jarnkrok, who tops out at 75 career games, even after the flurry of deadline deals last week. It has yet to be seen if that will be enough come April.
---
Latest News & Highlights
---
Leadership and experience are crucial to sustaining any success late in the season and postseason. Players like Tkachuk are built for the rough-and-tumble nature of the playoffs, but unless a player has seen the increased competition level and knows how to handle the pressure, the team will likely falter. With Brassard, however, the Senators have a secret weapon if they manage to sneak into a wild-card spot.
Brassard Still Has His Offensive Touch
Over the first half of the season, the six players who regularly played on the bottom six for the Senators combined for 13 goals, just 10% of the team's total offence. That lack of production from half the roster likely cost Ottawa more than a few games; the top players can only be on the ice for so long, and as we've seen with Chabot, too much ice time can cause problems. Thankfully, Brassard has been doing everything he can to get things going. In 52 games this season, he sits ninth on the team with 11 goals, which is tied with his two linemates on the fourth line and more than double the third line's total production.
Brassard has never been a top-point producer in the NHL. His career high of 27 goals, scored in 2015-16, was the only time he crossed the 20-goal threshold. But with his wealth of knowledge and experience, Brassard makes very few mistakes at this point in his career. Although he averages just over 10 minutes a game, his Corsi For Percentage sits at just under 54%, the sixth-highest on the team. Among players who start most of their shifts in the defensive zone, he sits second. He also sits 11th in team point shares and eighth in offensive point shares.
A player like Brassard, who can regularly produce with limited minutes, is crucial for any playoff team. When the St. Louis Blues won the Cup in 2019, 20 players had at least one goal during their run. Tyler Bozak and Oscar Sundqvist, who finished the regular season with 38 and 31 points, respectively, finished the playoffs in the team's top 10 playoff scoring. Without those players stepping up, the Blues would likely have been eliminated much earlier.
The Senators Love Brassard
On March 2, Brassard became the most recent player to hit 1000 NHL games. Before the 2022-23 season, only 370 players had crossed that threshold, many of whom were recognized as some of the greatest players of their generation. Brassard likely won't be uttered in the same sentence as the likes of Patrick Marleau or Claude Giroux, who hit 1000 games last season, but that doesn't change the fact that the Senators were stoked to celebrate the achievement with him.
Yes, that is Brassard's face on those shirts, which are being worn by every single player in the locker room, and the gift that he says is too much is a Rolex, which the team all chipped in to get him. The team also got him several bottles of wine in a custom wooden box with each of the logos of the 10 NHL teams he played with over his career. That's a pretty big celebration for a player that most of the team hadn't met before this season. But that isn't uncommon for those who get to know him. According to Marc Methot, his former teammate with both the Senators and Blue Jackets, "you'll never find a former teammate say a single negative thing about him."
The Senators' treatment of the 1000-game milestone despite the relatively short time they've been together is indicative of a fantastic culture within Ottawa's dressing room, one that is almost certainly being enhanced by Brassard. Teams play better when they're having fun and enjoying each other company and to have such a positive environment that embraces everyone is a great sign of things to come.
---
---