Finally, the NHL has a starting date. Well, kind of.
The NHL and NHLPA announced on Friday, Dec. 18, that there is a tentative agreement to start the 2020-21 season on Jan. 13 with a 56-game schedule. Training camps are set to open on Jan. 3, with the seven teams not in last season's playoffs able to open their camps on Dec. 30. While several teams still need to figure out where they will play, and players could still choose to opt-out of the season as some chose to during the playoffs, it's the most positive step forward we've seen in months.
As one of the teams allowed to start camp early, the Ottawa Senators are beginning to make plans for the 2020-21 season, as several players have yet to return from their loans in Europe. They'll most likely use the extra time to evaluate their top prospects to see who will be on their opening night roster. Right now, it looks like there will be four spots up for grabs, but that could change with a strong performance at training camp. There is nowhere to go but up for the Senators. And with the number of prospects who look ready for NHL minutes, that may happen sooner rather than later.
Item One: Thomson Returns to Ottawa
Among the first to return from his loan overseas is Lassi Thomson, the Senators' first-round pick in 2019. On Dec. 14, they announced he's returning to Ottawa to prepare for the upcoming NHL season. He was loaned to Ilves of the Finnish Liiga in late August and played 18 games with the team, recording two assists and four penalty minutes. It was his second season with the team, having played there in 2019-20 after leaving the WHL's Kelowna Rockets. Last season, he scored seven goals and 13 points in 39 games.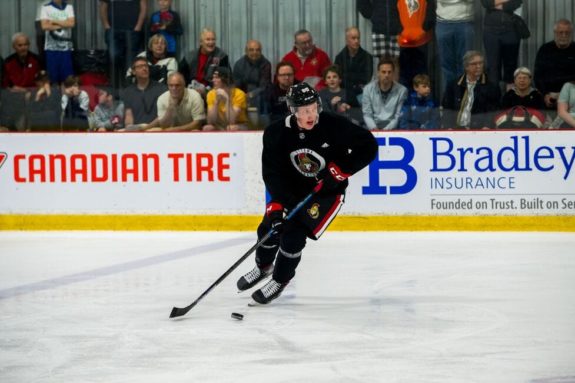 One of the reasons Thomson is among the first to return to Ottawa is that, in coming from Finland, he will have to quarantine for the recommended 14 days before he can practice with the team. If he left when the announcement was made, then the earliest he can play is Dec. 28th, which is just in time for training camp.
The Senators have been eager to get a closer look at their 2019 pick but have been limited with him playing overseas. It's unlikely that he overtakes the likes of Erik Brannstrom for the sole open defensive spot, but he has made significant improvements in his two-way game in Finland and could very well make several appearances this season.
The only issue is the AHL. The affiliate league has yet to make any official statement on their 2020-21 start date, which is a problem for teams with deep farm systems like the Senators. While Ottawa likely would prefer to have Thomson play a season in the AHL before making the team, they may not have a choice this year. Thus, a bit of extra training camp may be just what the young defenseman needs.
Item Two: High Praise for Brown from Dorion
As for which other prospects will make the team, it's anyone's guess, but general manager Pierre Dorion may have implied that one is getting an extra-long look. In an interview on TSN 1200, Dorion claimed that Brown is "probably the most talented prospect with the group up front. It's up to him." That is high praise, especially when comparing him to the other prospects who will be competing for a spot on the 2020-21 roster.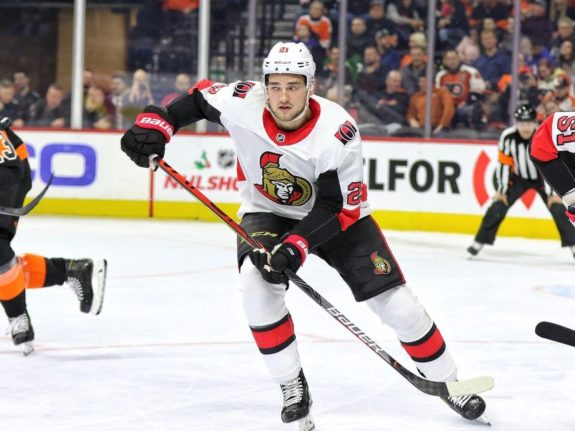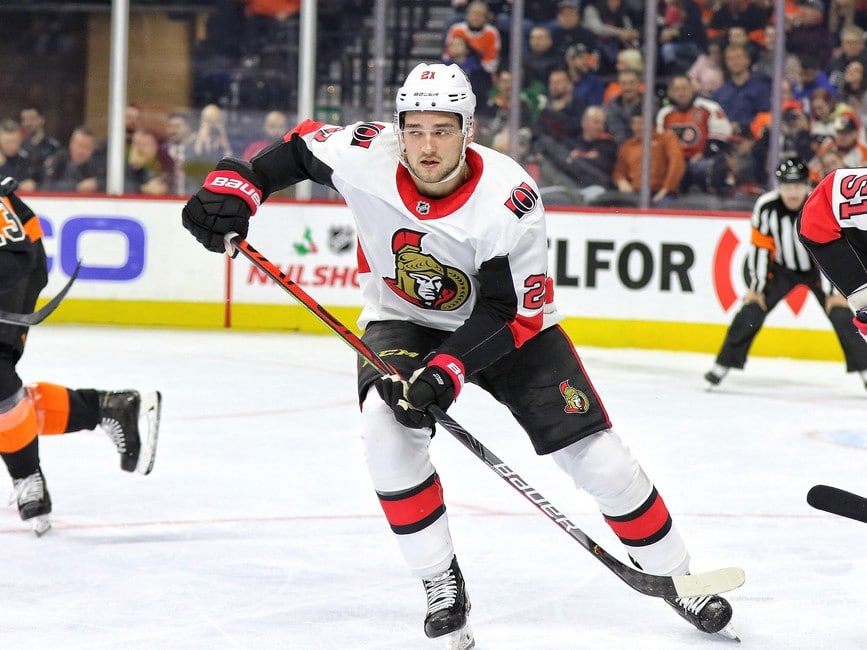 In the last couple of seasons, Brown has slipped down the depth chart due in part to injuries and limited production. In 2018-19, his first professional season, the 2016 11th overall pick scored 42 points in 56 games with the Belleville Senators, which is great for a rookie, but was overshadowed by fellow rookie Drake Batherson's incredible team-leading 62 points. Last season, he was called up for 23 NHL games but scored just one goal and eight points before an injury forced him to sit out for some time.
Will this be the season Brown finally makes the team? Dorion sure seems to think so, but Brown now has some serious competition. Josh Norris, acquired in the Erik Karlsson deal, had a huge rookie season in 2019-20, leading Belleville with 61 points, seven points higher than Batherson. There's also Filip Chlapik, who already has 56 NHL games under his belt and could steal a depth spot over Brown. While Brown has the skill to be an NHL player, it will be up to him to show up at camp and prove that he's still worth his first-round status.
Item Three: Pinto Tops Scoring in NCAA
Two weeks ago marked the beginning of the NCAA season, and Senators' fans tuned in to the University of North Dakota in droves. The team has become somewhat of a farm team for the franchise during the pandemic, with four of Ottawa's top prospects on the roster. The Fighting Hawks didn't disappoint, starting off on a 2-0 shutout win over Miami University, then winning their next two games, including an 8-2 beatdown against Western Michigan. The team has cooled off slightly since, going winless in their next three, but they still remain the top team in the conference.
Related: Team Finland – 3 Players to Watch at 2021 World Juniors
In that span, no one was more impressive than Shane Pinto. In the first three games, he recorded five points and went 47-17 in the faceoff circle, earning him the NCHC Forward of the Week honors. And though the team has slowed down somewhat, he has not. In the last five games, he scored another seven points, which places him in a tie for first place in NCAA scoring, sharing the title with Cole Caufield, but he has played two fewer games. He also leads the NCHC with 132 faceoff wins and just 66 losses, giving him a win percentage of 67%.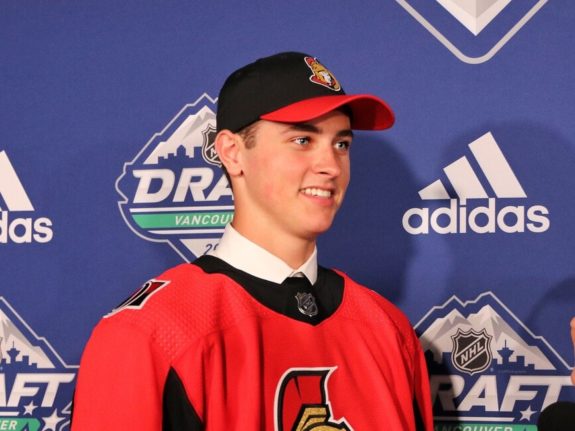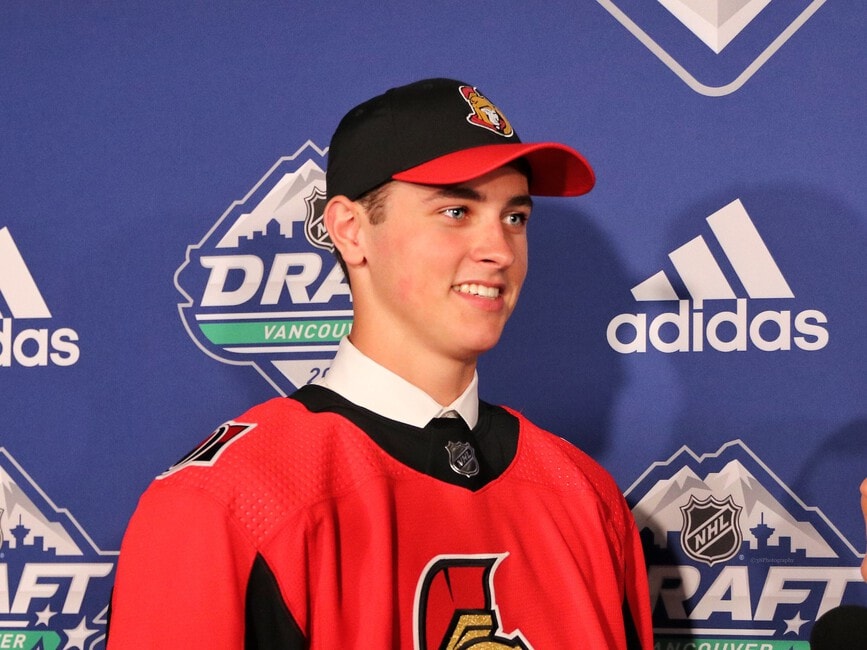 With Caufield now off to the World Juniors, Pinto should have no problem taking over the scoring race. He was the NCHC's Rookie of the Year in 2019-20 after a 16-goal, 28-point campaign and is currently scoring at 1.50 points-per-game, which should help him easily surpass his previous totals. He has rocketed up the Senators' prospect rankings after going early in the 2019 second round and now looks to be one of their best center prospects outside of Norris and Brown.
Item Four: Prospects Gearing Up for World Juniors
Speaking of the World Juniors, several Senators' prospects have made the final cuts for their respective nations. Tim Stuetzle is obviously the headliner at the 2021 tournament. The Senators' third-overall selection in 2020, he has the opportunity to take the lead on an underrated German team, as he's easily the most talented player on the roster. There are some who speculate that he could have a Leon Draisaitl-like impact, as the Edmonton Oilers' star never played in the tournament in his draft+1 season.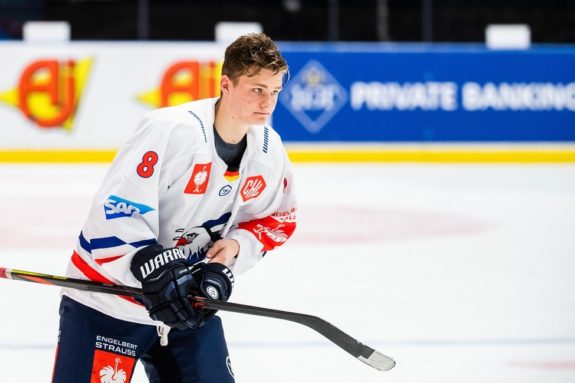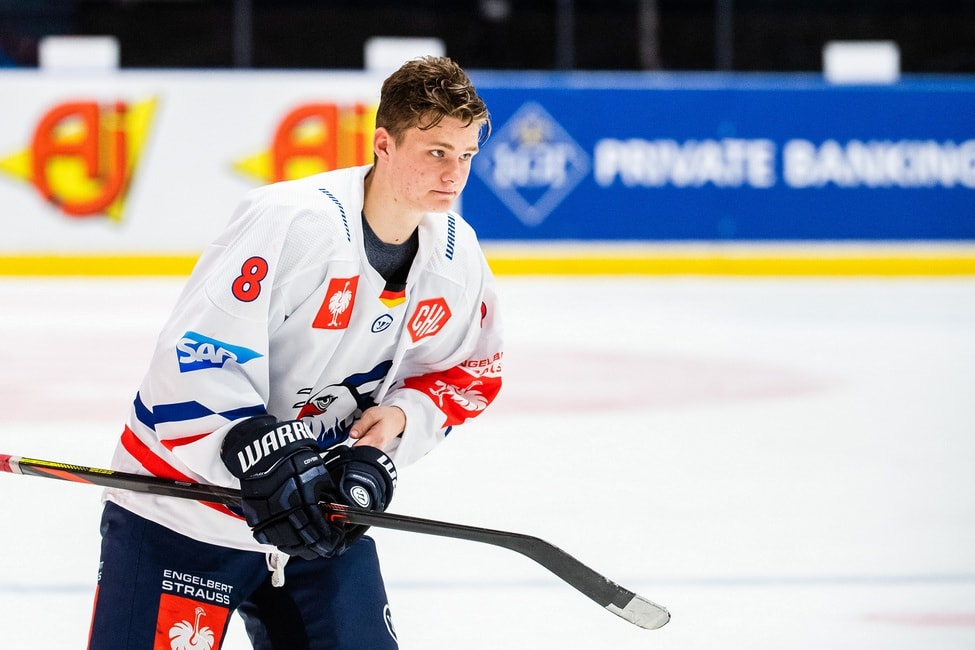 Defensemen Jake Sanderson and Tyler Kleven both made the American World Junior team. Although their departure from North Dakota, where they both play, will hurt the Fighting Hawks' blue line, it gives Team USA a very powerful defense. Sanderson suited up for three games, scoring three points with UND before leaving for the World Junior camp, while Kleven made a strong impression as a rookie on the team, scoring a goal in the home opener and throwing checks confidently and with great effectiveness.
Roby Järventie is the last Senators' prospect to make it to the World Juniors. After an incredibly hot start in Finland's Liiga, the 2020 second-round pick has cooled off slightly but still has accumulated 14 points in 17 games. Ilves Sports Manager Timo Koskela already sees huge improvements in his game, which could result in a prominent role for the Finnish team. He sees him as "… a large and very mobile striker who has all the necessary tools to become the top player of the future even at the world level."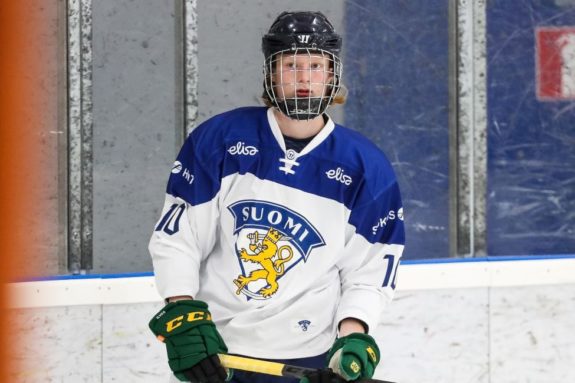 The tournament starts on Christmas Day in Edmonton and will see Stuetzle and the Germans take on Järventie and the Finns at 6 pm ET, while Sanderson and Kleven will face off against the Russians at 9:30 later that day.
Item Five: Duclair Finally Signs in Florida
It was strange news to hear that the Senators decided not to qualify Anthony Duclair back in October. The team cited the fact that he wanted a substantial raise on his one-year, $1.65 million deal signed in June 2019, but with over $17 million in cap space at the time, it seemed like a poor excuse not to re-sign the team's 2019-20 leading goal-scorer. It was even odder to watch the talented forward sit unsigned for over two months. However, with the tentative agreement in place to start the 2020-21 season, the Florida Panthers bit the bullet, signing Duclair to a one-year, $1.7 million deal.
In his one and a half seasons with the Senators, Duclair scored 31 goals and 54 points in 87 games, which was nearly the same as his point total from 2016-17 to part-way through 2018-19 with the Arizona Coyotes, Chicago Blackhawks, and Columbus Blue Jackets. It was a huge resurgence for the winger, and many thought that the Laval, Quebec native may have found a new home in Ottawa. But it was not meant to be, and Duclair will take his talents to his sixth team in seven seasons.
What's Next for the Senators?
With Dorion claiming the Senators are done adjusting their roster, the next big event will be the start of training camp on Dec. 30. Norris, Brown, Batherson, and Brannstrom will all be competing for a roster spot, along with many other deserving candidates like Vitali Abramov and Alex Formenton. The battles will be intense and should make for a highly competitive roster that will hopefully take some positive steps into becoming a top team in the future.
The goaltending situation will also be one to watch, as Anders Nilsson looks like he will remain on LTIR to start the season after sustaining a concussion last season. That opens the door for several players to claim the backup job. Many believe Joey Daccord has the upper hand, but Marcus Hogberg and Filip Gustavsson will not make it easy for him. Kevin Mandolese is a dark horse to sneak in as well, being the least experienced of the bunch.
---
---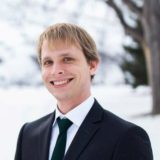 An elementary teacher by day and an avid hockey fan, Dayton joined The Hockey Writers in 2019 and currently covers the Ottawa Senators, World Juniors, and NHL Entry Draft.