The Ottawa Senators are entering the 2023-24 NHL season with playoff hopes, and for the first time since 2017 they have a legitimate chance of doing so. With key additions through the draft, trades and free agency, the Senators have a lot of quality pieces that will help them get there. A common term used in sports betting is "Over/Under (O/U)". With this style of bet, a line is set at a certain number and a prediction is made on whether the player, goalie or team will have more or less than the given value. With the Senators' season about to kick off, I thought it would be fun to look at some O/U lines set by X and Facebook users.
Whether it be a player's point total, a goaltender's save percentage or games started or even team points, this is a fun way to make predictions. They can be based off basic stats, advanced stats or even be creative and be set on award voting. There will be a little bit of everything here when looking at the Senators' team and lineup.
Ottawa Senators – O/U 92.5 Points
Playoffs is the goal for the Senators. In a very competitive Atlantic Division and Eastern Conference, it might be tough even with a good season. Since the NHL introduced the wild card format for playoffs, the goal for playoffs is anywhere from 93 to 100 points. In most seasons, it is 95 points that will earn you a playoff spot and if the Senators can be right around there it will be a successful season.
The Senators finished the 2022-23 season with 86 points, but have added some players to fill in much-needed roles, continued their development and are entering the season fully healthy. To hit the over on this line, the Senators would need a seven point increase. Bringing in Joonas Korpisalo, Josh Norris being healthy and the young stars ready to take another step are all factors that will help them in their quest for playoffs.
I am taking the over on this one.
Tim Stutzle – O/U 99.5 Points
After a breakout season in 2022-23, Tim Stutzle could very well be the third player in Senators history to hit the 100-point mark. Entering last season as a 20-year-old center, Stutzle was able to collect 39 goals and 90 points. He still has a few years of development left and can certainly take that next step forward.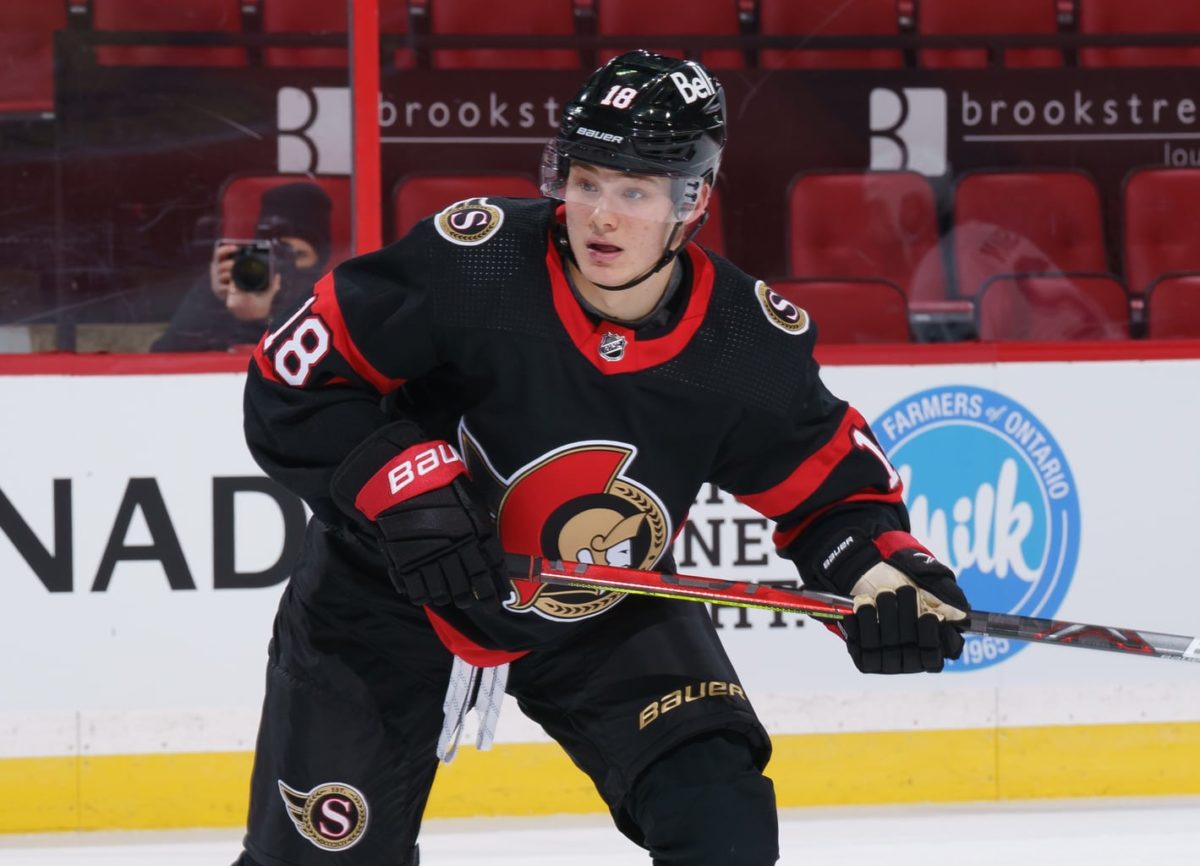 If he can play close to if not all 82 games in 2023-24, it will be very close to 100 points. There is a chance the top line from last season is broken up and Vladimir Tarasenko moves to the top line and Claude Giroux moves to the second line, but if it isn't working as well as hoped, that could change. Having the potential of a new winger and Josh Norris back in the mix to lighten the load, Stutzle will be facing a lot of changes with his role and line.
I am going to take the under on this one, but I am not certain that is the right call. He could explode and crush 100 points, which I am certain he will do during his career, but for this upcoming season, I think he lands right around 96 points.
Brady Tkachuk – O/U 39.5 Goals
Brady Tkachuk set a new career high in goals in 2022-23 with 35. He took a huge step forward offensively and broke the point-per-game mark for the first time. He has been vocal about how eager he is to find team success and I think he is going to take another step forward this year.
Related: Senators' Window of Contention Has Long Opening
Tkachuk gets better with every passing year. A bold take I made on the Senators Roundtable YouTube show was that Tkachuk would lead the Senators in goals this season and I am going to stick with that. He obviously has a knack for playing in front of the net and creating scoring chances in tight, but his shot and positioning on the transition have also taken a leap.
Taking the over on this is easy for me. I think he will land right around 44 goals.
Jakob Chychrun – O/U 14.5 Goals, O/U 61.5 Games
Jakob Chychrun has an incredibly underrated shot. If you are not familiar with how lethal of a release he has, look up his first goal with the Senators. Chychrun scored a very impressive 18 goals in the shortened 56-game season and was able to stay healthy all season. For me, this line isn't about whether or not he can score more than 14.5 goals or not. It will all come down to his health.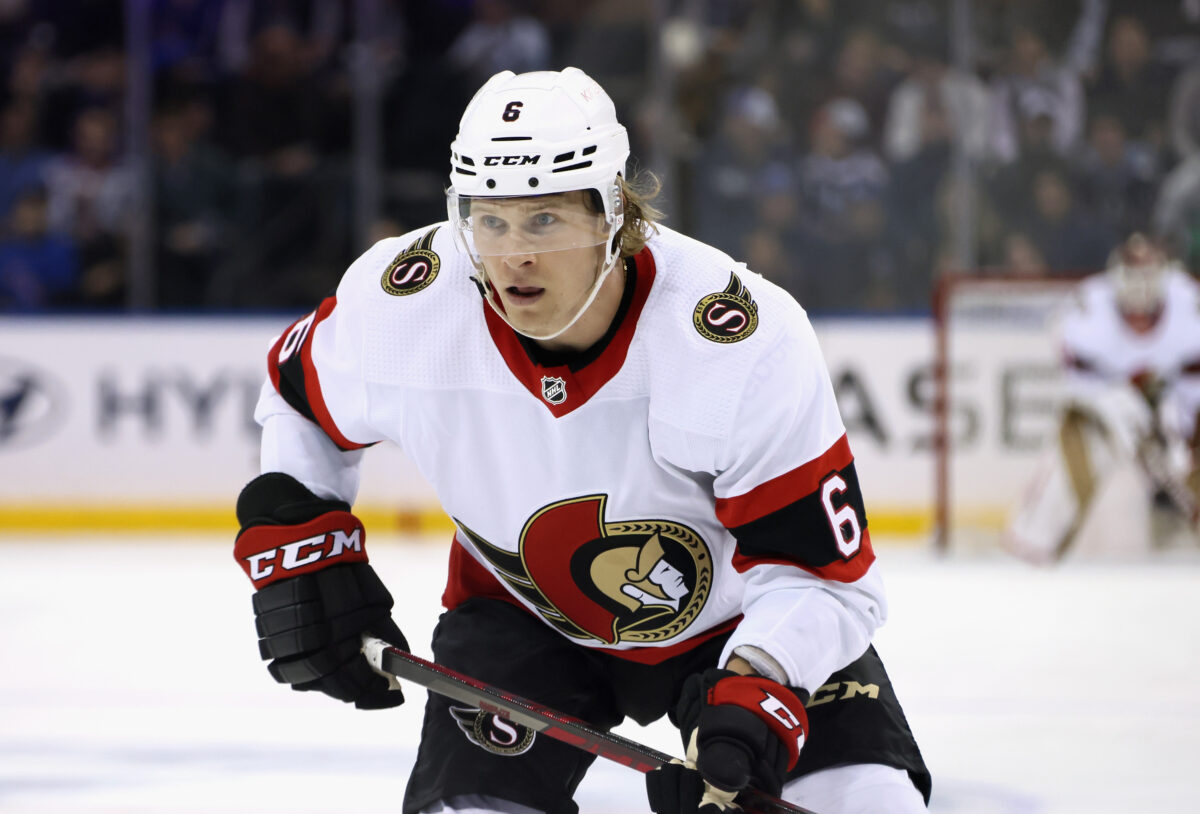 I tied two lines in together for this one, and as for the games played, this is a tough line. Chychrun averages 55 games per season, but has only hit the over on this line twice in seven seasons. I am going to take the over here. History shows that the under is the safe bet, but with the way Chychrun takes care of himself and strengthens himself in the offseason, it is hard to bet against him.
As I take the over on games played, that will lead me to the over on goals as well. I think he will be very close to this line, and if he can play 70 games, he will definitely pass this mark.
DJ Smith – O/U 81.5 Games Coached
This is a great line but impossible to predict. With new ownership coming into town, there will be even more pressure on head coach DJ Smith to perform with the team. If he can get through November, he will get through the season, but the beginning of the season is where the team has struggled the most.
---
Latest News & Highlights
---
I think the players are desperate enough to get off to a good start in 2023-24, regardless of coaching. The players love playing for him, will back him and his style up at every corner and, again, are eager for the playoffs. It is easy to fall behind in the playoff race early in the season and Tkachuk's leadership and Smith's coaching will be pressured, but I think the team will make it through the beginning of the season and Smith will coach the full season.
That leads us right into the next line.
Ottawa Senators – O/U 5.5 Wins in November
November is the Senators' Kryptonite. Over the past two seasons they have fallen far behind in the playoff race by the end of the second month. With five wins and a whopping 21 losses, November is in the nightmares of Senators' players and fans. As mentioned with Smith, if he and the team can get through November on the right side of the playoff line, he will keep his job. As for whether they will hit this line or not, it will be tough.
They play nine games in November of 2023, six of which are against teams that made the playoffs last season, along with the Detroit Red Wings, Calgary Flames and Vancouver Canucks. There are no free points here. Hitting six wins is possible, but I don't think they are going to do it. They will come up just shy with five, but should still be fine coming out of the month.
Jake Sanderson – O/U 11.5 Penalty Minutes
The last few lines set are going to be pretty quick, miscellaneous ones. Starting with Jake Sanderson's penalty minutes (PIM) line. In his rookie year he hit 12, just barely getting the over on this. For this upcoming season, it is realistic that he is trust in an even bigger role, but his development will be in his favor on this, so those two factors kind of balance out.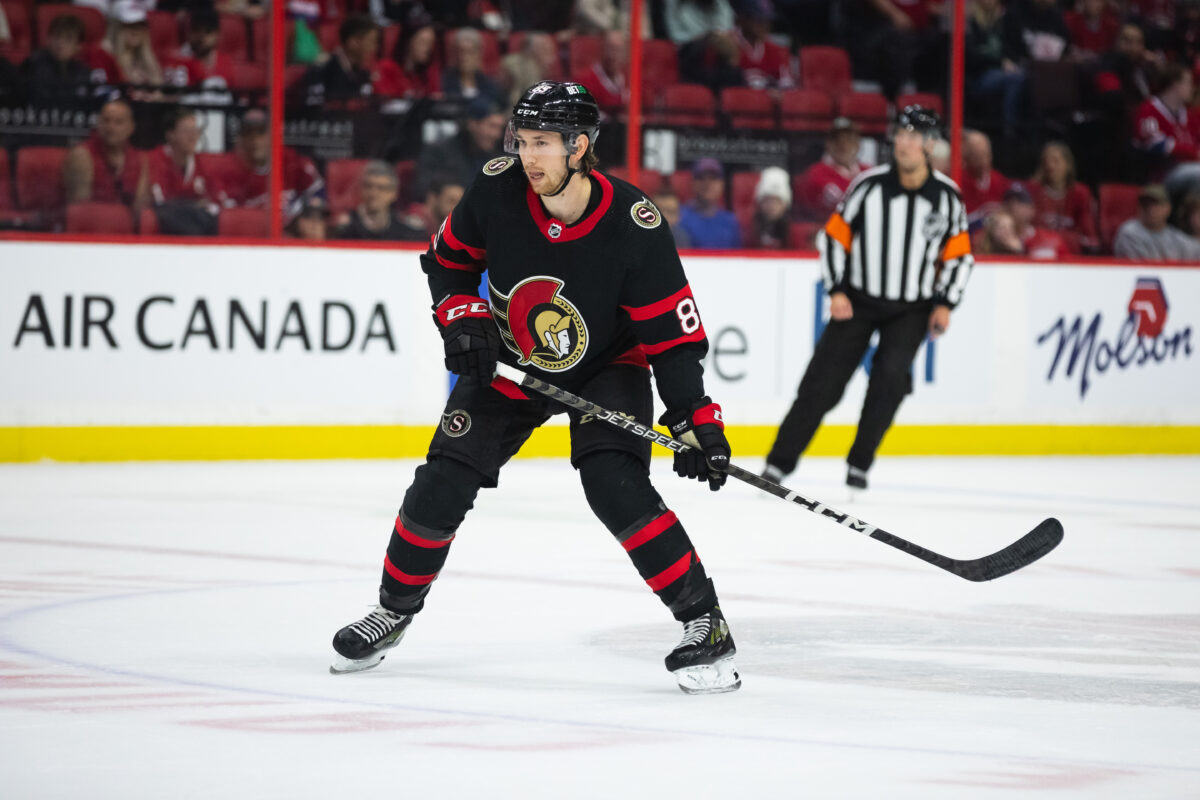 For the sake of picking a side, I will take the over, but I think he certainly has it in him to develop into a defenseman that hits the under on this regularly, similar to Jaccob Slavin who hasn't had more than 10 PIM in the last four seasons, including a season with only two.
Brady Tkachuk – O/U 6.5 Fights
There were a few lines set for Tkachuk and how many fights he would have, so I took the median. Tkachuk has 27 NHL fights in his five-year career. He set a career high with eight last season, and while the Senators had some players willing to fight in Parker Kelly and Austin Watson, Tkachuk was always willing to go. They have high aspirations and Tkachuk knows that he is much more valuable outside of the penalty box and will want to do whatever he can to secure a victory each night. While it is foolish to think he is just done fighting, I do think that he will lower to about five fights.
Josh Norris – O/U 0.5 Selke Trophy Votes
Norris will be back in the lineup to start the season and has big expectations from the team. Before going down with his shoulder injury, Norris was a 35-goal center with some underrated defensive capabilities. There is a good change that he can earn himself a spot in the conversation for a Selke Trophy vote. Even with a fifth-place vote Norris would get the over on this. J.T Miller earned a lone vote last season, which makes this hard to predict. You never know what someone sees in a player. I will go with the under for this year. He is just adjusting to playing full time again and Stutzle has taken another step defensively and Norris will have less reliance from the team.
Mathieu Joseph – O/U 0.5 Games Played
The biggest concern the Senators have headed into the 2023-24 season is that they don't have Shane Pinto signed, and only have about $895,000 in cap space. They are going to have to make at least one move to be able to fit in the contract Pinto has earned. The expectation is that Pinto's deal will land anywhere from $2-3 million, so the Senators could use an additional $2 million in space.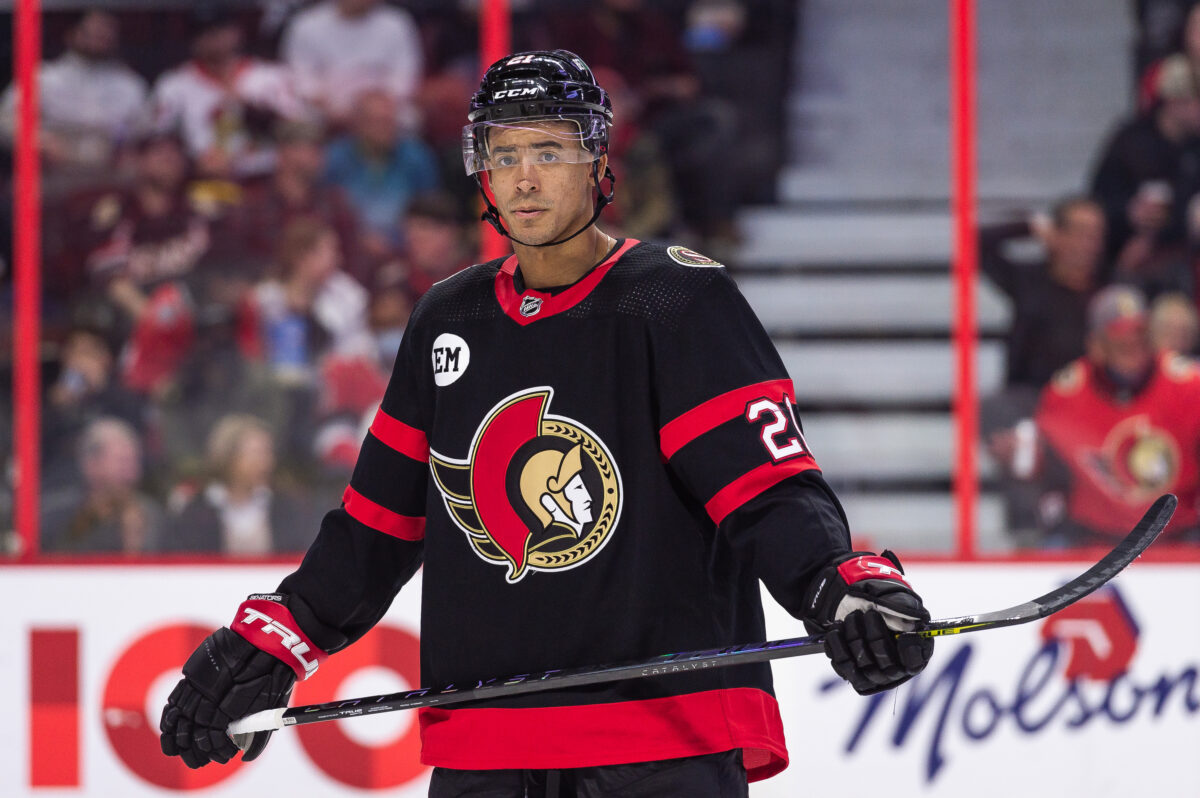 Trading Mathieu Joseph is the easiest solution here as he underperformed his $2.95 million salary last season and could be replaced in the bottom six. The fact that he hasn't been moved yet indicates it may be harder to do than expected. I do think that he will be the first, and likely only, domino to drop to get Pinto signed, so I will take the under on this.
Anton Forsberg – O/U 36.5 Games Started
After suffering a season-ending injury last season, Anton Forsberg is looking to come back and split the crease with Korpisalo. It is expected that it will be pretty close to an even split, but Smith will likely be forced to play the hot goalie at times. Most fans and people following the team are under the assumption that Korpisalo will take the number one spot, but Forsberg has some talent and could end up having a better season. I am going to go with the over on this one.
Joonas Korpisalo – O/U .904.5 Save Percentage
I think this might be the easiest one of the day. Korpisalo is coming off of a very strong season following a hip injury and stated he feels better than ever and it showed. He finished last season with a .914 save percentage (SV%), and while it is likely it comes down a bit, I think he can definitely come close to a .910 SV% on the season. He had some poor statistical seasons, but having the group of players he had on the Columbus Blue Jackets wasn't helpful. He has eight seasons under his belt, half of which came in at the over on this line including a .920, .91 and .911 SV%. I am taking the over here.
This was a lot of fun and all of the suggested O/U lines from everybody were greatly appreciated. Be sure the let us know how you feel about each one of these lines and leave your thoughts.
---

---