These are the Ottawa Senators' one-year wonders. Some of them are household names for hockey fans. Others, meanwhile, had a quick run of success and then wallowed in a sea of mediocrity.
Before we look at our list, we have to set the parameters for defining our one-year wonders. These would be players who played one season with the Senators and had some success. They could also have played for more than a season with the Senators, but had one magical season where everything seemed to go right.
Don't Call Me Pierre
Pierre Larouche was a big scorer in the NHL, and for a brief stretch, Steve Larouche looked like Pierre 2.0.
The No. 10 player on our Senators' one-year wonder list, Larouche came into pro hockey as a bigtime scoring threat. In his final three seasons of junior hockey in the Quebec Major Junior Hockey League (QMJHL), he scored 141 goals and had 233 assists for 374 points in just 175 games.
Larouche spent his first three seasons in the American Hockey League (AHL) and the International Hockey League (IHL). He joined the Senators' organization in the 1994-95 season, collecting 101 points in 70 games with the Prince Edward Islanders Senators. Larouche was called up to Ottawa for 18 games in the strike-shortened 1994-95 NHL season. He showed off his scoring touch with eight goals and seven assists for 15 points in 18 games.
After one season with the Senators, Larouche moved on to the New York Rangers and Los Angeles Kings organizations and would play only eight NHL games and earn three points. He spent the next 15 seasons lighting it up in the IHL and Europe. In four seasons in Switzerland, between 2005-06 and 2008-09, Larouche had 224 points in 138 games.
For the past eight seasons, Larouche has been an assistant coach in the QMJHL with the Shawinigan Cataractes.
The Butler Did It
Our No. 9 Senators' one-year wonder is Bobby Butler. The team won the race to sign the undrafted college star after he finished his four-year career at New Hampshire with 61 goals and 60 assists for 121 points in 153 games.
Butler was a Hobey Baker Award finalist in 2009-10 after finishing second in the NCAA in goals with 29. He began the 2010-11 season with the Binghamton Senators (AHL) and had 33 points in 47 games. He earned a call-up to Ottawa and had 10 goals and 11 assists for 21 points in 36 games.
The Senators signed Butler to a two-year, one-way contract. Butler responded with a disappointing 2011-12 season with 16 points in 56 games and the Senators bought out his contract after the season ended.
The Grass is Greener
Our No. 8 Senators' one-year wonder is Newfoundlander Colin Greening. He was drafted 204th overall in 2005, so you have to think he was a long shot to make it to the NHL. He went to Cornell to play college hockey, and was the team captain in both his junior and senior seasons.
After beginning his pro career with Binghamton (AHL), Greening made an immediate impact, netting 40 points in 59 games. He was called up to Ottawa to finish the season and had 13 points in 24 games.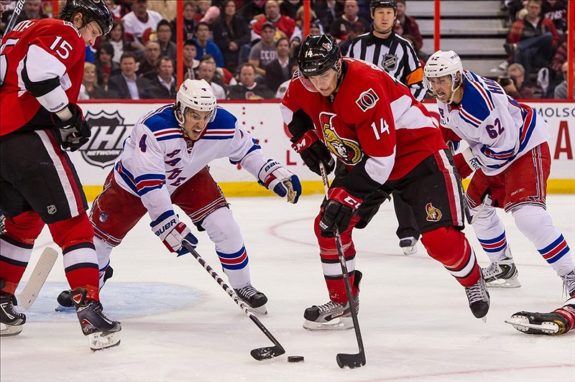 Greening impressed staff and teammates with both his physique and his intelligence. In his first full season, he impressed the coaches enough to get a lot of playing time on a line with Jason Spezza and Daniel Alfredsson. Greening responded with 17 goals and 20 assists for 37 points. He also got the chance to play in the NHL YoungStars Game, and he won the fastest skater competition at the Senators' Skills Contest.
In the 2012-13 season, Greening's production fell as he had 19 points in 47 games. Before the 2013-14 season, he signed a three-year contract extension worth almost $8 million. He would score only 14 more goals in the NHL – seven with Ottawa and seven with Toronto.
Greening played for three season with the Toronto Marlies in the AHL. He retired in 2019 to attend Harvard Business School to pursue a Masters of Business Administration degree.
Brian's Song
Our No. 7 Senators' one-year wonder was selected with the second-last pick, 291st overall, in the 2003 NHL Draft. Brian Elliott was drafted by Ottawa after a good season in Tier II Junior A hockey with the Ajax Axemen of the Greater Toronto Area. He ended up at Wisconsin by chance, as the Badgers were in need of a goalie and the Senators recommended him.
Elliott was a backup for his freshman and sophomore seasons, but then shone as a junior. In 2005-06, he had eight shutouts in 33 games and led Wisconsin to an NCAA title. He was a finalist for the Hobey Baker Award.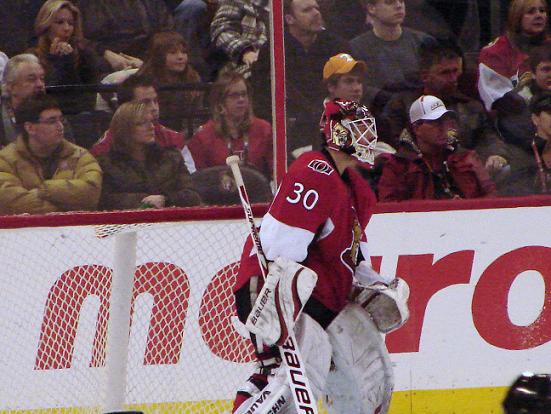 The Senators signed Elliott after his Senior season at Wisconsin. He began his pro career in Binghamton and became one of the top goalies in the AHL. He would earn call-ups to Ottawa in his first two full seasons in the NHL, and showed steady improvement.
After an impressive run late in the 2008-09 season, Elliott became a full-time NHL goalie and was made Ottawa's starter. He responded with a great 2009-10 season, going 29-18-4 in 55 games with a 2.57 goals against average (GAA) and a .909 save percentage (SV%).
Elliott never matched the magic of that 2009-10 season in Ottawa. He was 13-19-8 in 2010-11 when he was pulled off the ice during practice and shipped to Colorado in a deal that sent Craig Anderson to Ottawa. Elliott has played for the Colorado Avalanche, St. Louis Blues, Calgary Flames and Philadelphia Flyers, and is still an effective backup in Philadelphia. In October, he signed a one-year contract extension with the Flyers to remain Carter Hart's backup.
Darth Gerber
When the Senators opted not to sign Dominik Hasek after the disappointment of the 2005-06 season, they obviously had a plan. They went out and got the best goalie available, and that is our No. 6 Senators' one-year wonder, Martin Gerber.
The Swiss goalie had just won 38 games with the Hurricanes in his first season as an NHL starter. While Hasek was injured at the 2006 Olympics, Gerber stepped up with the performance of a lifetime on the game's biggest stage. He made 49 saves for Switzerland in a 2-0 upset win over Team Canada.
Gerber arrived in Ottawa and split time with Ray Emery. His plain black Itech goalie mask earned him the nickname "Darth Gerber" among fans.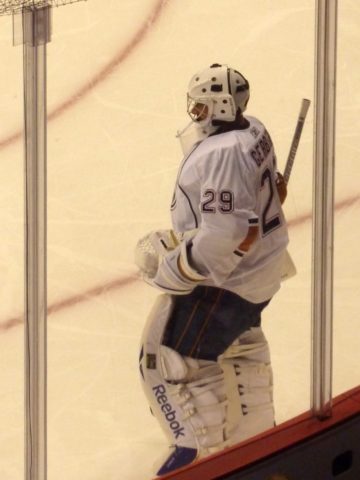 The Swiss goalie began the season as a starter, but his inconstant play opened the door for Emery to emerge as the starter. The Senators would advance to the 2006-07 Stanley Cup Final and lose to Gerber's old team, the Anaheim Ducks.
However, in the 2007-08 season, Gerber rebounded and had a 30-18-4 record in 55 games. His 2.72 GAA and .910 SV% got the Senators back into the playoffs. After that season, he would play just 14 more games in Ottawa. He got off to a slow start in 2008-09. After rookie Elliott emerged as the starting goalie, Gerber was placed on waivers and picked up by the Toronto Maple Leafs. He won only nine more NHL games.
The Preiss is Right
Our No. 5 Senators' one-year wonder is rarely talked about when fans discuss Ottawa's 2006-07 season and Stanley Cup run. Despite his relative anonymity, Tom Preissing led the team's defencemen in scoring that season.
Preissing arrived in Ottawa in the deal that sent Martin Havlat and Bryan Smolinski to Chicago. An undrafted free agent from Colorado College, he had spent two seasons with the San Jose Sharks and had spent the 2004-05 lockout in Germany.
Although he was Ottawa's most productive defenceman, Preissing was often a forgotten man on a blue line that featured Wade Redden, Chris Phillips, Andrej Meszaros and Anton Volchenkov. Preissing not only had seven goals and 31 assists for 38 points to lead Senators' defencemen in scoring, but his plus-40 rating was the third highest in the NHL that year.
Preissing left Ottawa as a free agent after one season, signing a four-year, $11 million contract with the Los Angeles Kings. He would have 32 points over his next three NHL seasons before heading to Europe to finish his career.
Razor Had an Edge
The Senators had a string of one-year wonders between the pipes, and our No. 4 one-year wonder is Ray Emery.
"Razor" got off to a good start in 2005-06, setting an NHL record by earning wins in his first nine starts. He became the Senators' starter after Hasek was injured at the 2006 Winter Olympics in Torino, Italy.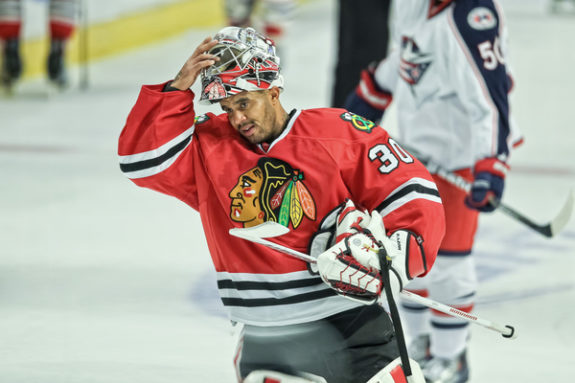 Emery got the Senators into the second round of the playoffs that season, but the organization saw him as a backup. They signed Gerber from the Hurricanes.
After Gerber struggled, Emery grabbed the starter's job and had a big season, going 33-16-6 with a .918 SV% and a 2.47 GAA. While Emery's play was the best of his career, his season did not come without antics. He was suspended for hitting Montreal Canadiens forward Maxim Lapierre in the face with his stick. Less than two weeks after his suspension ended, he was involved in two fights during a brawl between the Senators and Buffalo Sabres. Emery left his crease to fight Sabres goalie Martin Biron, and then Emery immediately took on enforcer Andrew Peters.
Emery played well in the playoffs and got the Senators to the Stanley Cup Final, where they would lose to the Ducks in five games. He injured his wrist in the 2007-08 preseason which limited his playing time, and Gerber emerged as the starter he was supposed to be. After the season, Emery was waived by Ottawa.
After failing to land an NHL contract, Emery went to Russia and spent one year in the KHL before returning to North America to sign with the Flyers. He hit another obstacle as he was diagnosed with avascular necrosis of the hip, and he underwent surgery. After a remarkable comeback, he played as a backup for the Flyers, Ducks and Chicago Blackhawks. He won a Stanley Cup in Chicago and went 17-1-0 with the Blackhawks in 2012-13. He and starter Corey Crawford shared the William M. Jennings Trophy.
Sadly, Emery passed away July 15, 2018, when he jumped off a boat at the Royal Hamilton Yacht Club in Hamilton, ON at about 6 a.m. and did not resurface. Emery's body was recovered later that day. On Oct. 15, 2018, the Senators paid tribute to Emery. His girlfriend, Keshia Chante, sang the national anthems before the game.
He Dominated…Until the Olympics
We continue our trend of one-year wonders in goal during the 2005-10 era of Senators hockey with Hasek coming in at No. 3. In fact, if it were not for Hasek's injury at the 2006 Winter Olympics, Ottawa fans probably never would have seen Emery and Gerber as starting goalies.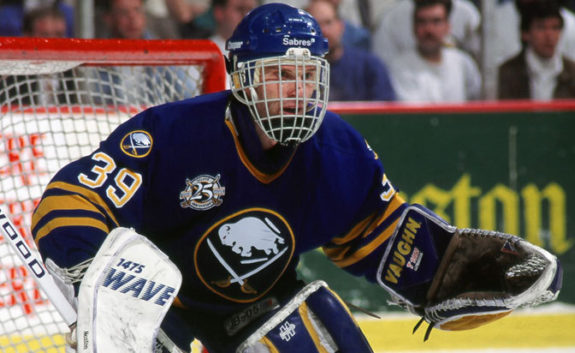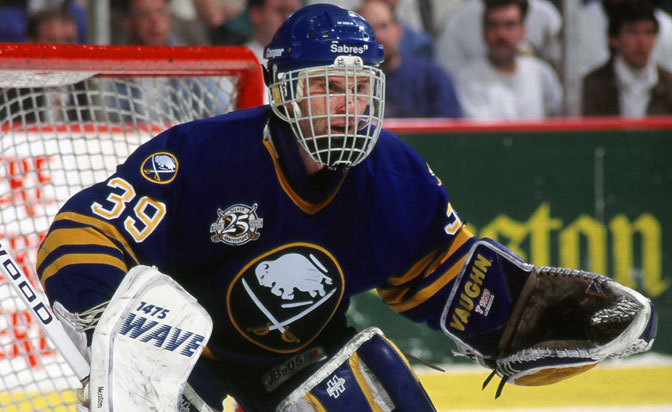 Hasek arrived in Ottawa for the 2005-06 season as the man expected to take the team over the top. After all, he had won a Stanley Cup in Detroit, and he backstopped the Czech Republic to a gold medal at the 1998 Winter Olympics in Nagano, Japan. Although he was 40 years old, he was still at the top of his game.
With Ottawa, Hasek was having one of the best seasons of his career. Heading into the Olympics, he had played in 43 games and had posted a 28-10-4 record with a .925 SV% and a 2.09 GAA. In Torino, Hasek suffered a well-documented adductor injury in the first period of the Czech Republic's first game against Germany.
Senators fans held out hope that Hasek would return for the end of the regular season and the playoffs, but he did not. Ottawa opted to move on from Hasek and sign Gerber. He went back to Detroit and won his second Stanley Cup as a Red Wing.
Norm!
If we were to ask you who the first defenceman was to lead the Ottawa Senators in scoring, most fans would guess Erik Karlsson. But Karlsson was still been in diapers when Norm MacIver led the 1992-93 Senators in scoring with 63 points.
The Senators claimed MacIver, the No. 2 player on the one-year wonder list, off waivers just before the team's inaugural season began. The undrafted free agent from the University of Minnesota Duluth was a Hobey Baker Award finalist as a Senior after scoring 11 goals and adding 51 assists for 62 points in 42 games. After graduating, the highly sought after offensive blueliner signed with the Rangers.
MacIver split his time between the NHL and AHL in his first five pro seasons. In addition to playing for the Rangers, he was also in the Hartford Whalers and Edmonton Oilers' organizations. After winning the Eddie Shore Award as the AHL's best defenceman in 1990-91, MacIver became a full-time NHL player with Edmonton. He had 40 points in 57 games for the Oilers in the 1991-92 season.
At the beginning of the 1992-93 season, the Oilers placed MacIver on waivers. The expansion Senators picked him up, and he made an immediate impact. He had two assists in the Senators' inaugural game, a 5-3 win over Montreal. In his second game, he added two more assists in a 9-2 loss to the Quebec Nordiques. MacIver had a career year, scoring 17 goals and adding 46 assists for 63 points to lead the Sens in scoring. After the season, he played for Team Canada at the IIHF World Championship. He had five assists in eight games.
MacIver had 23 points the following year. In the shortened 1994-95 season, he had 11 points before he was traded to Pittsburgh with Troy Murray for Martin Straka. MacIver went on to play for the Winnipeg Jets/Phoenix Coyotes franchise before ending his career in 1998-99 with the Houston Aeros of the IHL. He scored the last goal for the Winnipeg Jets before the team moved to Arizona.
It would not be long before MacIver was back in hockey. MacIver began coaching in 2000-01 with the AHL's Springfield Falcons. He became an NHL assistant coach with the Boston Bruins in 2003-04, and was there until he accepted a position as Director of Player Development with the Blackhawks for the 2006-07 season. He has been the Blackhawks' assistant general manager since the 2012-13 season.
"Robble! Robble!"
No Ottawa Senators player fits the one-year wonder profile more than "The Hamburglar," Andrew Hammond. The undrafted free agent had a pedestrian record 30-68-13 at Bowling Green. However, he earned the nickname there for his ability to steal wins.
After the 2012-13 season at Bowling Green, Hammond signed with the Senators. He began his pro career in Binghamton and made his NHL debut during the 2013-14 season in a game against Detroit. Ottawa's starter Craig Anderson was out of the line-up, as he was with his wife for the birth of their second child. Robin Lehner was the starter, but he was pulled after giving up six goals. Hammond got his chance to play, and stopped all 11 shots he faced in 35 minutes of NHL playing time.
In February 2015, Hammond was called up from Binghamton to back up Lehner, as Anderson was out of the line-up with an injured hand. The team was 14 points out of a playoff spot, and online oddsmakers listed the chances of Ottawa making the playoffs at less than one percent.
In a 6-3 loss to the Hurricanes, a collision in front of the Senators' net knocked both Lehner and Ottawa's Clarke MacArthur out of the game with concussions. Hammond finished the game in goal.
Few gave the Senators a chance to win many games down the stretch. Hammond had a record of 7-13-2 in Binghamton before his call-up. But something magical happened, and Hammond backstopped a once-in-a-lifetime run to the playoffs.
Hammond was the game's first star in his first start, as Ottawa beat Montreal 4-2. Then, he beat Florida 4-1. Next were back-to-back shutouts against the Ducks and Kings, and he followed them up with a win over the Sharks. He became the second goalie in NHL history to ever allow two or fewer goals in each of his first 12 starts. Frank Brimsek had accomplished the same feat in the 1938-39 season with the Bruins.
The Senators kept winning in March with Hammond in goal. They climbed their way back into the playoff race, and Hamburglarmania was sweeping Ottawa. Fans started throwing McDonald's hamburgers on the ice after wins or during the three-star selection when Hammond's name was announced. In one of the most iconic moments in team history, Ottawa's Curtis Lazaar picked up a hamburger off the ice, unwrapped it, and ate it as the crowd roared and the cameras rolled.
Hammond was the NHL's first star of the month for March. He had a 10-1-1 record and a 2.09 GAA to earn the accolades. He played the final seven games of the season, with his only loss coming in a shootout against Toronto. On the final day of the regular season, Hammond and the Senators beat the Flyers 3-1 in Philadelphia to clinch the last playoff spot in the Eastern Conference.
Never in franchise history has a Senators goalie turned in a performance like Hammond's run in 2014-15. He finished the season with a 20-1-2 record, three shutouts, a 1.79 GAA and a .941 SV%. After the season, he was given a three-year, $4.05 million contract extension. He won seven games in 24 appearances the following season and has not won an NHL game since. Hammond is still playing in the AHL, and he had a 16-12-3 record with the Rochester Americans last season.
As the Senators move into a new era, there is a lot of excitement surrounding their young prospects and their free agent signings. Fans are excited about a future core of players that includes Tim Stutzle, Drake Batherson, Josh Norris, Jake Sanderson and Logan Brown joining Brady Tkachuk and Thomas Chabot in Ottawa. They are also hoping free agent signings Evgeny Dadonov and Alex Galchenyuk will be in Ottawa long term.
Hopefully, they can sustain their production and stay off the one-year wonder list.
---
---