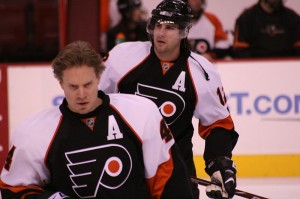 The Montreal Canadiens have achieved something pretty spectacular this postseason. The eighth seed in the East, and the team with the worst record among playoff qualifiers knocked off two of the best teams in the NHL. Two highscoring teams, filled with a bunch of superstars. They frustrated and shut-out some of the best players in the league with a suffocating defensive system and a red-hot goalie. They also boast the highest goal scorer in the playoffs so far in Mike Cammalleri. Yes, the Habs have written quite a story so far. However, their opponents for the Eastern Conference finals, the Philadelphia Flyers, decided to steal Montreal's thunder, and accomplish something even more impressive. Down 3 games to none to the Boston Bruins, the Flyers slowly and surely climbed their way back to tie the series at three. In game 7, they found themselves down 3-0, but found a way to come back, and won 4-3, in the game, and the series. Now these two unlikely foes will battle for the right to play for Lord Stanley's Cup. Here's how the 7th and 8th seeds match-up.
Goaltending: Advantage Montreal
Despite Michael Leighton's impressive play, this one is a no brainer. Montreal's Jaroslav Halak has been the story of the playoffs, shutting out Washington and Pittsburgh respectively, and frustrating some of the most talented snipers in the league. If he continues his Patrick Roy like run, the Habs can stamp their ticket to the cup finals.
Forwards: Advantage Philadelphia
This was a close one, because the Habs offense starting with Mike Cammalleri has been very opportunistic. But Tomas Plecanek and Scott Gomez haven't been lighting the lamp much lately, and if Philly's big defence starts to shut down the smaller Habs forwards, they could be hard pressed to score. Montreal is usually outshot in their games, and may have to tweak their attack to generate more scoring chances. The Flyers boast talent such as Mike Richards, Claude Giroux, Daniel Briere and Simon Gagne, and they're on fire right now.
Defense: Even
Yes, despite the presence of big Chris Pronger and the effective play of Kimmo Timonen, Matt Carle, and Bradon Cobourn, the Flyers don't quite have the edge. On paper, they might, but games aren't played on paper on Montreal has shown throughout this playoff run. Hal Gill and Josh Gorges have done an incredible job at shutting down the opposition's stars, and rookie P.K Subban has been playing with confidence much beyond his 21 years. And the good news for Montreal is that all star Andrei Markov has been skating, and may make his return this series since going down with an ACL injury in round two.
Summary: The Flyers have to wear down the Habs, who have just not been challenged physically enough this postseason. Neither team is intimidated by anyone thanks to their improbable runs so far. So Philly needs to get to Jaroslav Halak. He has looked breakable at various times, and they need to expose those weaknesses. The Habs have to get through Chris Pronger and the Philly defense, which may pose as a challenge. They have to test Michael Leighton and continue to make the most of their chances. Will the Habs luck finally run out, or are the Flyers just another stepping stone to their Cup aspirations?
Prediction: Montreal Canadiens in 6 games
Marcy, a former hockey player, is a hockey correspondent on CTV News and TSN radio. She began her career as a Sports Journalist in 2009 and has been part of The Hockey Writers since 2010, where she is currently a senior writer and editor.