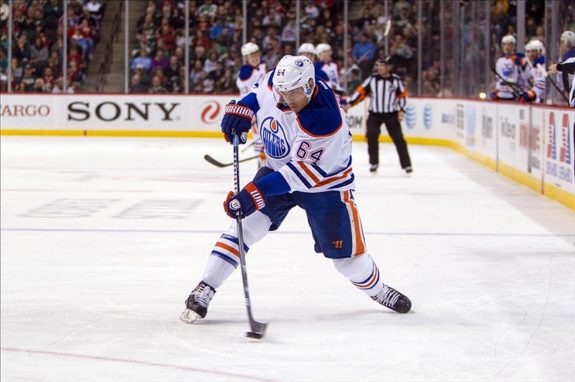 With Craig MacTavish installed as the new GM in Edmonton, many are wondering what his first order of business will be, and just how he'll make his mark.
The feeling seems to be more of a when rather than if a big splash is made in Oil Country.
Things have certainly gone south quickly in Edmonton in a matter of weeks with the team currently in the midst of a six game losing streak. The team was riding high just a couple of weeks ago capping a five game winning streak with back to back wins over rival Calgary and finally getting a grip on the elusive 8th spot in the Western Conference standings.
How soon the tide turns. After an impressive 8-2 win in Calgary in the fifth game,  they lost 4-0 the next night in Vancouver and haven't seen the win column again.
A few things have become apparent. First, while there is a significant amount of high ceiling talent on the roster, the team as it stands is not good enough to win long term. The building blocks are certainly there, but changes need to be made.
There are a few significant holes that will need to be addressed before the Oilers have any thought of regaining a semblance of former glory.
The first and biggest need is a top pairing defenceman. The Oilers top pair currently is Ladislav Smid and Jeff Petry with the Schultz's Nick and Justin comprising the top four. Smid and Petry are  a good top four pairing and an effective shutdown duo, but neither are a No. 1 guy. Justin Schultz may be, but he's not there yet. Nick Schultz is a reliable stay at home defenceman, but on a good team he's a solid third pairing defenceman.
The team needs a legitimate top pairing defenceman. Preferably a left shot that can pair with Justin Schultz on the top unit and have Smid and Petry form the second pair that can also play against the other team's top line.
Other needs include, primarily a top six power forward with some bite, as well as a goaltender to pair with Devan Dubnyk and more reliable secondary scoring in the bottom six. A wish list to be sure, and similar needs to many other teams.
So the question becomes, how does MacT and the Oilers go about addressing it?
For starters, the Oilers have assets. They have a lot of talent up front and a piece or two could be used to bring something back. MacTavish could be considering something big and even though he's a rookie GM, he has the confidence and aggressiveness to pull the trigger on a significant deal that involves some risk. A sentiment seemingly shared by others.
Sportsnet analyst Mike Keenan on the Hockey Central panel:
"Steve Tambellini is a nice man, but MacTavish has got some bite in him. … The relationship between MacTavish and Lowe is going to be spirited at times, and they both have learned how to win together both as players and as coach and manager… There is some continuity and some longevity in the relationship about winning. Steve is a nice man but those two people are a lot more aggressive in their personalities."
The logical choice would be Sam Gagner. His value is at it's peak, as he's having his best offensive campaign to date and could be a valuable first or second line centre for a number of teams. He's also just 23 years old and has six years of NHL experience already.
Ales Hemsky is another candidate, although with his lack of production in the second half and extremely inconsistent play, not to mention injury concerns, it's doubtful he's bring back the return needed on his own.
Ryan Nugent-Hopkins, Taylor Hall and Jordan Eberle would likely be safe and not available, but the most interesting name thrown around is recent top draft pick Nail Yakupov. Yakupov has found his stride lately and overall is having a very good freshman season. He would definitely draw a lot of interest and conceivably the biggest return, but that might just too big a risk , unless the return is substantial.
Generally first overall picks with his kind of dynamic abilities are non starters and rarely ever made available. However, you need to give something to get something and the Oilers will likely listen to offers for the young Russian at the very least. Few teams have ever been in the situation to have three consecutive No. 1 picks and would be in a position to even consider dealing one.
The core of the team is there. Eberle, Hall, RNH, Schultz, Smid, Petry and potentially Gagner and/or Yakupov have all shown the ability at various times that they can be front line producers at the NHL level, however one thing has been abundantly clear this season, they need help. The supporting cast in place is not where it needs to be and has not been nearly productive enough.
It doesn't need to be a complete culture change, however there needs to be a shift in identity. Craig MacTavish certainly brings more of an edge and intensity than Steve Tambellini, now he needs to bring the same to his roster.