The San Jose Sharks have made two additions to the roster in the past two days. Their first addition came with the signing of Fredrik Claesson, formerly of the New Jersey Devils.
It was then announced on Monday that he was waived along with four other players, possibly making him a candidate for the taxi squad.
Speaking of waivers, the Sharks then brought back forward Rudolfs Balcers after he was waived by the Ottawa Senators. Balcers was sent to the Sens in the Erik Karlsson trade and is currently on loan in Norway with the Stavanger Oilers.
Other than depth, what do these players add to the organization? That question will be explored throughout this article, but let's provide some background on the two additions.
Fredrik Claesson
Claesson was selected in the fifth round of the 2011 NHL Draft by the Senators. His first professional seasons were mostly in the AHL with the Binghamton Senators, but he made his NHL debut with Sens in the 2015-16 season.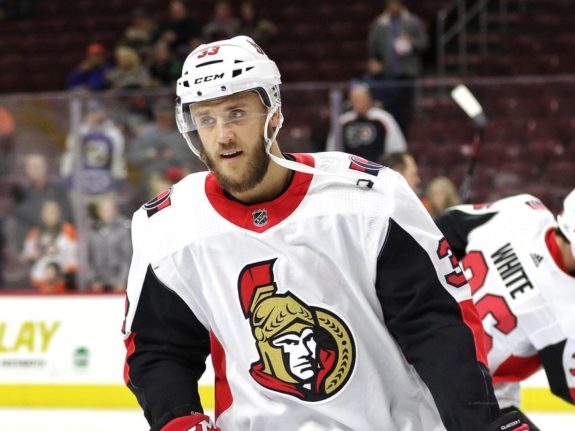 Those first NHL games saw Claesson scoring no goals and two assists in a total of 16 games that he played. His next seasons in Ottawa improved, totaling 18 points in 97 games over the 2016-17 and 2017-18 seasons.
| | | | |
| --- | --- | --- | --- |
| Season | Goals | Assists | Total Points |
| 2016-17 (33 Games) | 3 | 8 | 11 |
| 2017-18 (64 Games) | 1 | 6 | 7 |
Claesson's first two NHL Seasons with Ottawa (Stats from NHL.com)
He then had two more NHL stints. One was with the New York Rangers and another was more recent with New Jersey Devils before he joined the Sharks. In those two seasons, he played a total of 42 games and scored eight points.
| | | | |
| --- | --- | --- | --- |
| Season | Goals | Assists | Total Points |
| 2018-19 (37 games) | 2 | 4 | 6 |
| 2019-20 (5 games) | 1 | 1 | 2 |
Claesson's stints with the Rangers and Devils (Stats from NHL.com)
The majority of those 42 games were with the Rangers after the Devils acquired him from the Carolina Hurricanes as part of the Sami Vatanen trade. Claesson was playing with the Canes' AHL affiliate, the Charlotte Checkers at the time, and only played five games with the Devils.
Rudolfs Balcers
As mentioned earlier, Balcers was picked up off waivers from the Sens, after they acquired him in the Karlsson trade. He was initially selected by the Sharks in the fifth round of the 2015 NHL Draft.
He then made his pro debut in the AHL with the Barracuda in the 2017-18 season, earning 23 goals and 25 assists for a total of 48 points in 67 games that season. It was after that fantastic season that he was traded.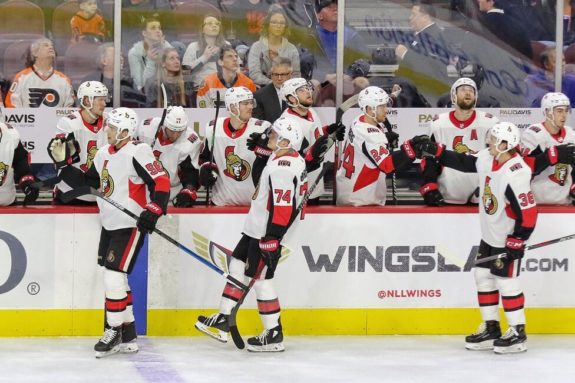 He then made his NHL debut with the Sens that next season. He played 36 games and scored five goals along with nine assists for a total of 14 points in that time.
This past season, Balcers split time with Ottawa and the Belleville Senators respectively. In his 15 games with Ottawa, he scored a goal and two assists for a total of three points. In his time with Belleville however, he had the best season in his AHL career. He notched 16 goals and 20 assists for a total of 36 points in 33 games, just over a point-per-game average.
That performance last season earned him a spot in the 2020 AHL All-Star Classic, representing the North.
It was a shame when the Sharks traded Balcers to the Sens. However, he was a promising forward in his time with Sens, and will return to the team that drafted him with some experience and momentum from the previous season.
Now to see what these two players can add to the roster.
What Can These Two Add?
I'm going to start with Claesson and what he can add to the roster. It was speculated that he was added for defenseman depth, as Radim Simek is currently dealing with a knee injury that could delay him for Thursday's first game against the Arizona Coyotes.
However, I think there's more to this signing than meets the eye. I see this as a situation similar to what the Sharks did with Jonny Brodzinski and Brandon Davidson last year.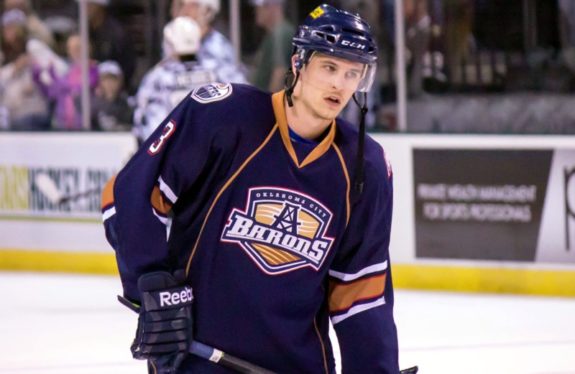 You see, Claesson is 28 years old. When they got Brodzinski and Davidson, they were also in their late 20s. The two mostly spent time in the AHL, but were able to fill in at the bottom-four defensive pairings if need be.
Claesson, in that respect, will be possibly be playing that same role. He will most likely start out on the taxi squad or in the AHL. However, if someone goes down with an injury or another defenseman's production is below average, Claesson would be the first call that is made.
To add to the AHL argument, he has plenty of experience and proved that he can produce in that league and that a lack of form won't be an issue.
For Balcers, it's just a bit different as to what he adds to the organization. He's someone who can be a mainstay in the middle to bottom six of the roster. That said, he'll probably start with the Barracuda, and like Claesson, he has proven time and again that he can produce.
Additionally, he is coming off of a point per game average in the AHL. If he continues to produce at that rate or higher, he will earn himself a quick promotion to the NHL to play with the team he was drafted by, something Balcers didn't do before he was traded.
That was an analysis of the two most recent additions to the Sharks roster, and what they can bring to the table. It will be exciting to see what Claesson can do, and what Balcers can do in his second opportunity with the Sharks.
---
---
Marco Milani is a huge Sharks fan and loves to write and talk about sports, especially hockey.