After a disappointing exit in the qualification round against the 12th seeded Chicago Blackhawks this past season, questions in net started to hover for the Edmonton Oilers after the rough performances from goaltenders Mikko Koskinen and Mike Smith. Going into the offseason, Edmonton was expected to make a change in net to bring in another goaltender to tandem with Mikko Koskinen.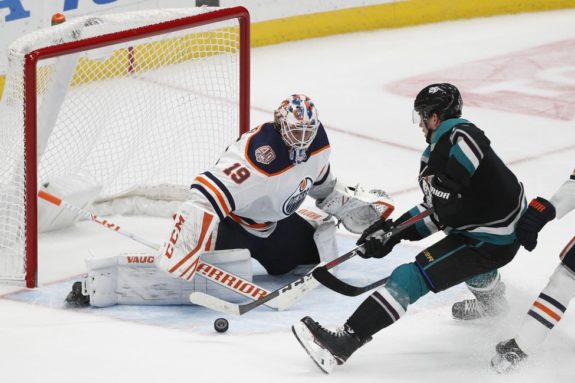 However, after striking out on free agents such as Jacob Markstrom, the Oilers decided to bring Smith back for the 2020-21 season on a one-year deal. Barring an improvement in consistency from Koskinen, Edmonton should still be in the market for another goalie to pair with Mikko for the long term, and this article will cover three possible goaltenders that Edmonton could target to man the crease heading in the future.
Antti Raanta, Arizona Coyotes
Once considered the future in net for the Arizona Coyotes when acquired from the New York Rangers, Antti Raanta has seen his opportunity slip in the past two seasons due to the emergence of Darcy Kuemper.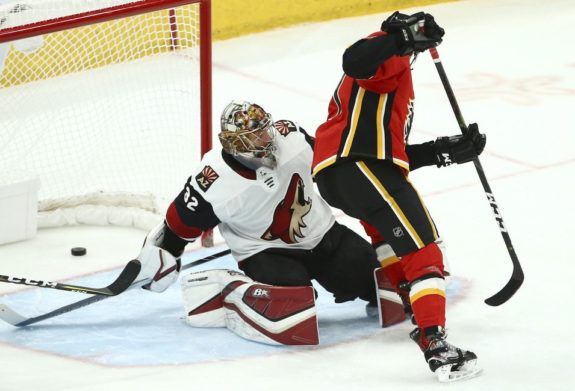 However, the loss of the starter role was not due to Raanta's performance, rather a mixture of injuries and stellar performances from Kuemper. With a save percentage (SV%) above .920 and a goals against average (GAA) below 2.63 for two of the past three seasons, Raanta has shown that he is still very capable of performing as a starting goalie in the NHL.
Related: Ultimate Underdogs! Coyotes Look to Prove Pundits Wrong in 2020-21
These performances were not in a small sample size, either, with Raanta playing in 47 and 33 games in those two seasons, a perfect amount for a 1A/1B tandem with Koskinen. With only one year remaining on his contract at $4.25 million, Raanta would be a great candidate for the Oilers to trade for and then sign to an extension. With Arizona likely moving forward with Kuemper in net, this gives the Coyotes a chance to recoup a couple of draft assets, as they will be missing their 2021 first-round pick.

Elvis Merzlikins/Joonas Korpisalo, Columbus Blue Jackets
After Joonas Korpisalo went down with an injury last season, Elvis Merzlikins took full advantage of the situation, posting a 13-9-8 record with a 2.35 GAA, a .923 SV%, and five shutouts. With Merzlikins performing so well, this has led Columbus with a decision to make on who will be their starting goalie heading into the future.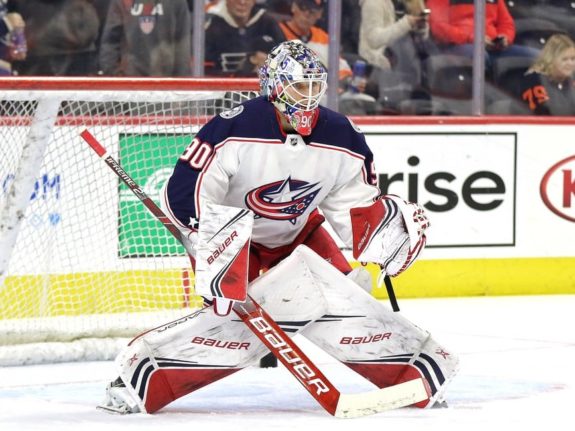 With Merzlikins on a two-year deal at a $4 million average annual value (AAV), and Korpisalo on a two-year deal at $2.8 million AAV, Edmonton could acquire either one as a solution for the next two years, and then offer a long-term extension if they perform well.
Related: Korpisalo or Merzlikins: Which Blue Jackets Goalie Starts?
With both goalies also being under the age of 26, they should both be heading into their primes and either would be a great option for Edmonton to target for between the pipes.
Alexandar Georgiev, New York Rangers
Heading into the 2020 offseason, the New York Rangers had a decision to make with three NHL-caliber goalies on their roster. Even after the buyout of Henrik Lundqvist, emerging superstar Igor Shesterkin looks ready to take the reins from the future Hall of Famer.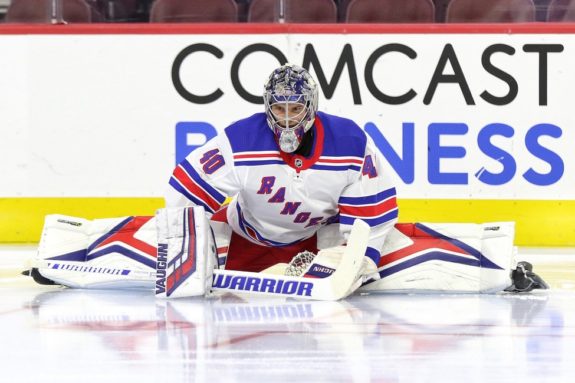 This leaves Alexandar Georgiev in a tough spot to earn starts, likely only taking a backup role. With Georgiev recently signing a two-year extension at $2.425 million AAV, Georgiev would be a great addition to take on a bigger role in Edmonton, while also being on a relatively cheap contract.
Related: Rangers' Alexandar Georgiev's Quick Rise
Posting a SV% above .910 for the past two seasons, a trade for Georgiev would mirror the Cam Talbot trade from 2015, and allow Georgiev a good chance of winning a starting job in the NHL for the first time in his career. With Georgiev only being 24 years of age, his best performances are likely ahead of him and this age factor would make him a great long-term addition for Edmonton in net.
Final Conclusions
Unless Koskinen shows that his performance is consistent enough to earn a starter's role, Edmonton will likely need to look outside their organization to address their need in net. With all four netminders in this article on very reasonable contracts, this makes a trade a lot more palatable with Edmonton being very close to the salary cap limit. The goaltenders mentioned above will not only provide immediate help to the crease, but could also result in Edmonton's solution in net for the next couple of years.
---
---
My name is Rayden Lin and I am from Edmonton, AB. I cover the Edmonton Oilers on The Hockey Writers. I am a huge fan of all 4 of the major sports in North America, supporting the Edmonton Oilers, Denver Broncos, Houston Rockets, and Toronto Blue Jays.