With the 31st Pick in the 2020 NHL Entry Draft, the San Jose Sharks Have Selected Ozzy Wiesblatt from Prince Albert Raiders of the WHL
About Ozzy Wiesblatt
The final pick of the first round ends on a touching note as Ozzy Wiesblatt is selected by the Sharks. He is a tenacious player, blending great offensive instincts with aggressive competitiveness. There's very little he can't do, and though he doesn't have the highest upside, he's proven that he is up for any challenge.
THW Prospect Profile Excerpt
"Things could not have gone much better for Ozzy Wiesblatt in his draft year. After playing a depth role on the Prince Albert Raiders last season, scoring 39 points plus an additional 10 points in the playoffs en route to capturing the WHL Championship, he was suddenly placed in a top-line spot for 2019-20. It was a big jump in minutes and responsibility made only bigger by the fact the team had lost eight of its top-scoring players from the previous season.
Yet Wiesblatt thrived in the new role, breaking out with 70 points in 64 games and ending the season second in team scoring. He became a driving force for the Raiders and was one of the best possession players on the team. Despite losing several key veterans to the professional ranks, Wiesblatt and Washington Capitals' prospect Alexei Protas propelled the Raiders to first place in the East Division, and third in the WHL's Eastern Conference, before the season was cut short.
His playing style is the perfect combination of aggression, speed, and finesse. He has an explosive first step and can get up to top speed before much of his competition, forcing opposing defenders to collapse on him. However, Wiesblatt thrives in close quarters and will try to fight through traffic in order to expose weak areas in the defense. Once he finds his opening, he can deliver hard, precise passes through the legs of the defender to create perfect goal-scoring opportunities, or fire off a dangerous shot on goal. He led the Raiders with 10 power play goals and 17 power play assists this season.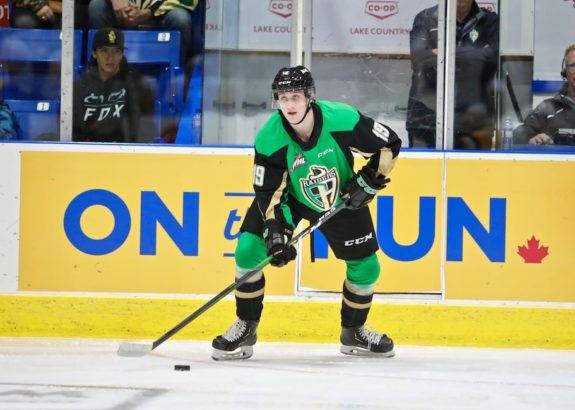 Off the puck, Wiesblatt is equally effective. His frenetic pace transitions onto defense well, and he is a tenacious forechecker — his high hockey IQ helps him see the perfect spot to position himself. Although he didn't appear much on the penalty kill (PK) in 2019-20, he has a knack for defending and will likely play a bigger role on the PK next season. He also is not afraid to throw his weight around and get in the opposition's face. Not a typical pest, he shows no hesitation to mix it up with other players, but won't often cost his team by taking a bad penalty. This season, he had just 36 penalty minutes.
So, why is he considered a long shot to be a first-round selection? Scouts have little to say that's negative about the feisty forward. However, standing at only 5-foot-10 and 183 pounds, Wiesblatt currently lacks the strength needed to succeed at the highest levels and is seen as a work-in-progress, especially regarding the style of game he plays. He also was nearly invisible at the Top Prospects' Game in Jan. 2020, scoring no points, taking zero shots, and ending the contest a minus-two, which revealed a significant gap between his skill level and the rest of the 2020 draft class.
Related: THW's 2020 Draft Guide
Had the WHL season not been cut short due to the COVID-19 pandemic, it's likely we would have seen Wiesblatt and the Raiders contend for the WHL championship once again, giving scouts a better look at his tenacity in the playoffs. He proved that he is a smart, consistent forward that plays a high-tempo, two-way game, and the playoffs would have been an excellent stage for him. But we have to make do with what we have, meaning he may slip under the radar of a few teams."
Full Player Profile can be found here
How This Affects the Sharks' Future
The Sharks' playoff hopes left almost as quickly as they came, and with injuries running amok through their stars, they have a huge need to rebuild through their farm system. Their forwards are also lacking, with only Ivan Chekhovich, Jonathan Dahlen, and Sasha Chmelevski providing top-six potential.
Wiestblatt provides the organization something they have been lacking. He significantly boosts their depth on the wings, and his ability to play anywhere in the lineup is incredibly valuable. He'll need to add some strength, but the Sharks will eagerly await his arrival.
---
---
An elementary teacher by day and an avid hockey fan, Dayton joined The Hockey Writers in 2019 and currently covers the Ottawa Senators, World Juniors, and NHL Entry Draft.