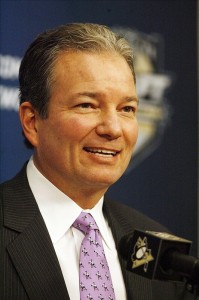 There was a distinctly different feel to the press conference when the New Jersey Devils officially introduced John Hynes along with new Devils General Manager Ray Shero on Tuesday. In the way Shero spoke, there was more energy in his voice than hearing Lou Lamoriello give his prototypical answers to questions. Shero and Hynes both acknowledged what this teams needs to do to become successful again in this league, and those words were "fast, attacking, and supportive hockey."
Those three words are a far cry from what this team's identity was during most of the Lamoriello era. They are easy on the ears because they epitomize what the modern-day NHL has become. Look at the teams in the Stanley Cup Finals; not only do they both host skilled young talent, but both squads play an exciting brand of hockey, which has led to great success.
Shero Is a Breath of Fresh Air
Figuring out how to turn the Devils back into a winner will be one of the hardest challenges across the league. The good news is that it seems like Shero has a plan moving forward, but whatever it is, it must revolve around moving out some of the team's older forwards, and bringing in young and skilled scorers. Hiring Hynes was the first major step of Shero's process, but it won't be a simple as he's made it look.
The main difference between coming is as Devils general manager compared to being the general manager for the Penguins, is Shero walked into Pittsburgh with Sidney Crosby, Evgeni Malkin, and Marc-Andre Fleury already on the roster. Obviously with New Jersey, Shero is walking into the job with the core being made up of Adam Henrique, Adam Larsson, and Cory Schneider. Now I'm not saying that's a bad thing at all; Henrique is a solid center, Larsson is turning into a No.1 defenseman, and Schneider is one of the best goaltenders in the league.
https://www.youtube.com/watch?v=WfkaLkEr_2E
Shero will have to find a way to get other young players in whatever fashion he can. Thankfully, Shero is already one-step ahead on that front by signing 24-year old KHL forward Sergey Kalinin. Kalinin isn't the best prospect in the world, but it's good to see Shero being active and making an underrated signing while everyone else watching the Stanley Cup Playoffs.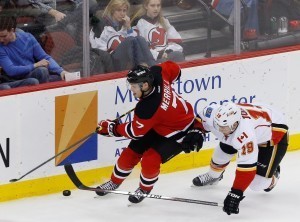 One thing Shero has a lot of flexibility with is his defense corps. There's a ton of trade-bait on their blue line, which include the likes of Eric Gelinas, Jon Merrill, Peter Harrold, and prospects like Steve Santini and Joshua Jacobs. The idea to package a defensemen and maybe a draft pick for a solid forward has floated around for a while, but Shero's the one making decisions, so we'll let him do that.
The Devils can only go uphill from here. They finished 28th in the league in scoring, and I believe Shero has more than enough pieces within the organization to pull off something big at either the draft or sometime during the summer.
Was Hiring Hynes the Right Move?
When the hiring of Hynes was first announced, I, along with others, were a bit perplexed on why Shero made the move. Looking at his coaching statistics, along with his introductory press conference, I now feel like this has the potential to be the most underrated hiring since Jon Cooper by Tampa.
Hynes' best asset is that he's only 40 years old, which makes him the youngest coach in the NHL. Hynes being only 40 is great because this is a team that needs to get younger.  In theory, Hynes will have solid relationships with the younger players, which was one of the things he spoke about in his introduction. The other topic of discussion is his coaching record in the minors, which blew me away.
With the Wilkes-Barre/Scranton Penguins, Hynes finished with at least 42 wins in all five seasons he was the head coach. They made the second round in the Calder Cup playoffs in all five seasons including this one where they lost in five-games to the Manchester Monarchs. Hynes has a .625 win percentage which is fantastic, and if he can bring that success to the Devils, then they will be in very good shape.
In a sense, he is like a young prospect that was drafted in the 5th-7th rounds, that was a diamond in the rough and just took awhile to develop. At the same time, if Shero wasn't the Devils GM, then they might not have fully known about the success he was having in the AHL.
The only downside to hiring Hynes is that the Devils had to give the Penguins a 3rd round draft pick in 2016 as compensation. Now obviously if the Devils turn it around next season and make the playoffs, then losing the pick won't mean much. However, if the season takes a turn for the worst, than it certainty won't speed-up their rebuild process.
Devils Are in Good Hands
As a whole, I'm pretty happy that a direction and a plan is in place moving forward. How fast that plan takes to take full effect we aren't sure, but at least there is one.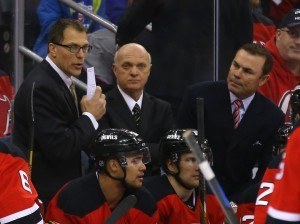 The next step, which is a concern for me is the hiring of assistant coaches. Understandably, Hynes will want to hire his own staff, but at the same time Adam Oates did a nice job last season and Scott Stevens did a fantastic job, especially with the development of Adam Larsson. I'll survive if the Devils don't hire back Oates, but I will not be a happy camper if they don't bring back Stevens.
The Devils are definitely in more capable hands moving forward here. I know that New Jersey fans are looking forward to the draft and of course the start of next season but this is only the beginning, and there's still a lot of work to do.
Subscribe to our Devils stories to get email updates every time a new story is published.
Corey Spina is a New Jersey Devils staff writer for The Hockey Writers. You can follow him on Twitter, @CSpinaTHW.
Corey Spina lives in Wayne, New Jersey. He is a senior at Centenary College, and is majoring in Communications/Journalism. Corey is in his second season covering the New Jersey Devils for The Hockey Writers, he completed a sports journalism internship with TAPinto, and he is the Host/Producer of the Sports Buzz on WNTI.org.