A fan recently posed a question to me and to be perfectly frank, I don't have a definitive answer. The question was, if Andy Bathgate's number 9 can be retired by the Rangers alongside Adam Graves, shouldn't Brad Park's number 2 also be retired alongside Brian Leetch?
If nothing else, it's a thought-provoking question, so why don't we go ahead and take a look at both sides, for and against putting Park's number up in the rafters of Madison Square Garden.
Don't Change a Thing
First of all, Brad Park only played seven and a half seasons on Broadway, and that alone should keep him out of the running for number retirement. All others whose numbers have been retired at Madison Square Garden played a minimum of 10 seasons with the Rangers, and many played much more than that.
Take Mark Messier for example. Messier, who is regarded by many to be first and foremost an Edmonton Oiler, even played the better part of a decade on Broadway in addition to winning the Stanley Cup in 1994.
Though Park was the Blueshirts' premier blue liner of the 1970s, he still only played a little over seven seasons with the organization before being traded to the Bruins – which accounted for less than half of his entire NHL career – and he of course retired without having ever won the Stanley Cup.
Now, Park was the top-scoring defenseman on the team for six of those seven seasons he spent in New York, but he is not the highest scoring defenseman in Rangers history. That distinction still remains with Brian Leetch, and if there's anything that could continue to distinguish the two beyond bare bone statistics, it's a jersey in the rafters.
If number retirement really is to be reserved for the best players in an organizations history, with a long-term commitment and devotion to the team coupled with standout stats, then Park simply doesn't make the cut. His numbers might be there but his stay on Broadway simply wasn't long enough.
Park comes close, but ultimately should miss the cut, and his name should remain absent from Madison Square Garden lore.
Send Park to the Rafters Where His Number Belongs
If not for Bobby Orr and Denis Potvin, Park may have been regarded as not just one of, but the greatest defenseman of his time. Overshadowed slightly by those two through individual and team successes, Park remains to this day one of the best players to never win a Stanley Cup.
Even so, Park was the premier Ranger defenseman for the better part of seven seasons, and his number belongs alongside Leetch's, plain and simple.
Not far behind Boston's Orr, Park was also one of the game's top offensive defensemen, leading all Blueshirt defensemen in points between 1969 and 1975. Additionally, Park was the team's leading overall point getter during the 1973-74 season, amassing an impressive 82 points (25-57-82) in 78 games played that year.
While the game was of course changing during those years and offensively minded defensemen –which had been akin to unicorns- were becoming more common during that era, they still were not that often seen. Park was one of the early blue liners who revolutionized the idea of the offensive defenseman, and his impact on the game cannot be understated.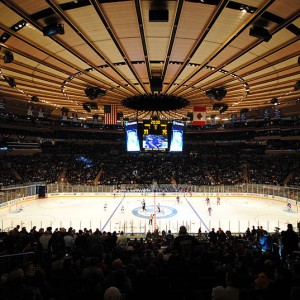 Park also served as an Alternate Captain as well as Captain of the Rangers, though his time as the latter was rather short-lived. While his stay on Broadway may have been short comparatively, his time as a Ranger was not something which should be shrugged off. For a period of time there, Park was an integral part of both the defense core as well as the team's offensive attack.
There have been few defenseman to pass through New York who have been as good as Park was during his tenure with the Blueshirts. He and Leetch are arguably the two best to have come through Manhattan. Because of that, Park should be recognized and honored accordingly.
If Bathgate and Graves can share the retired number 9, so can Leetch and Park with number 2.
Jake Gittler is now in his second season as a contributing member of The Hockey Writers. After spending the 2014-15 season working in Communications for Adirondack Flames of the AHL and covering the New York Rangers here for The Hockey Writers, Jake's coverage has been switched over to the Colorado Avalanche for the 2015-16 season. Jake can be reached via email at Jakegittler@gmail.com, or on Twitter @Jgittler_hockey.