The Edmonton Oilers lost a close game to the Toronto Maple Leafs a few days ago. One of the things that got a lot of attention isn't the fact that Edmonton lost, but how they lost — more specifically how Nazem Kadri shut down Connor McDavid.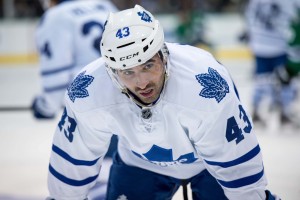 For 60-plus minutes Kadri draped and hung himself off of McDavid. He pushed and hit him after the whistle, and during the overtime period, used him as a catapult as Kadri grabbed McDavid to get leverage and score the overtime winner. Kadri ended up having one of his best games of the season.
In all of the clutching and grabbing, not one referee determined Kadri's play was against the rules and at no time was a penalty assessed. The Oilers also chose not to stand up for McDavid, which caught the ire of a number of Oilers fans.
The way Kadri chose to play against McDavid and then Kadri's recent hit on Daniel Sedin has a lot of people asking if Kadri is crossing the line. With the Oilers set to take on the Pittsburgh Penguins on Tuesday, and Sidney Crosby versus Connor McDavid the marquee match-up, it begs a couple of questions.  Is the NHL doing enough to protect its superstar talent? If the NHL won't act, should the Oilers?
To Protect or Not to Protect
Perhaps there are a number of lessons to learn from what Kadri did to McDavid. In the video below, at the 1:30 mark, Don Cherry has a lot to say about how McDavid was treated by Kadri in that Toronto versus Edmonton game. Cherry clearly doesn't like that Edmonton didn't step up and Ron MacLean makes the comment that in today's game, one penalty taken by the Oilers could mean a goal, which could mean a loss and with the playoff races so tight, could mean a spot in the post-season.
It's unclear if Cherry is suggesting the referees need to take more action in situations like this, but even if they don't, the Oilers went and signed Milan Lucic, in part, to look after the Kadri's of the NHL.
Clearly, if you look at the video, McDavid is laughing off the efforts of Kadri and doesn't seem to be bothered by the extra push and shove here or there. He wasn't laughing when Kadri used him as a slingshot in overtime to score the game winning goal.
Instead of complaining and in contrast to Cherry's opinion, Oilers coach Todd McLellan suggested that this is a situation that McDavid has to fight his way out of. McLellan told reporters:
I've yet to hear from any superstars who have easy nights. Connor has to get used to that. There is tight checking all over the place. In my opinion it's an honour when a team focuses on you and tries to shut you down individually. He'll have the next 15 years to deal with it because he's that talented.
Like McDavid, Sidney Crosby has seen his fair share of this type of defense against him. It can be argued that the NHL hasn't done a lot to protect Crosby. He's been one of, if not the, biggest stars in the NHL over the past decade and he's had a number of injury issues, some due to players taking liberties.
The NHL's Involvement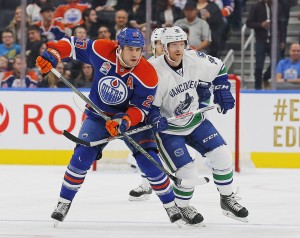 The hit that Kadri laid on Daniel Sedin was ruled not to be in violation of any NHL rules. Kadri will not face disciplinary action. Should it matter?
Should referees and the NHL have a different set of standards when it comes to making sure their biggest draws, highest money-makers and biggest stars are not knocked out of games because players are taking that one extra shot they wouldn't take on an average NHL'er?
So too, should the Oilers ensure that players like Kadri aren't taking this kind of action against McDavid? Should players like Lucic, Darnell Nurse, Patrick Maroon, Eric Gryba or Zack Kassian step in take care of the particular player before the situation escalates like it did in Toronto? Should the referees be a bit more lenient when a player stands up for his superstar teammate?
McLean argues that taking the penalty might cause the Oilers to lose a game that is important to win. He very well could be correct. I'd argue that perhaps not stepping in and perhaps taking the penalty let Kadri off the hook. It was Kadri playing the way he did that cost Edmonton the game.
Pittsburgh Versus Edmonton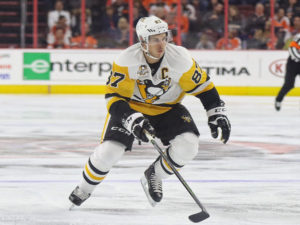 There is going to be a lot of star power in the Oilers versus Penguins game on Tuesday. Of course, everyone will be watching the McDavid and Crosby contest. What kind of game will fans see?
Will the referees blow the whistle when either Crosby or McDavid get that extra bump? Will it be a game full of penalties? Or, will the referees, as they've done so often in the past, let the superstars work through it?
I don't know what the answer is, but I do know, I'd rather see the Oilers take a penalty for stopping things when they first pop up and perhaps losing the game, than letting their opposition know that a player like McDavid is fair game and open for hunting as far as the Penguins are concerned.
The Oilers Identity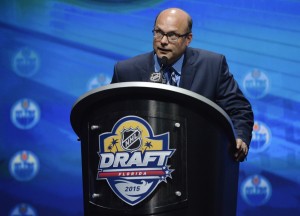 This is a Peter Chiarelli built team. A Chiarelli built team is supposed to be big, tough and take no crap. For a change, the Oilers have a winning record this season, but if the NHL isn't going to help out its superstars, it's time the Oilers looked after their own. A Peter Chiarelli team has the ability to accomplish both goals.
The Penguins aren't known to be a team that takes liberties, but like Kadri, all it requires is one player to stay on top of McDavid. It won't necessarily stop McDavid, but it's enough to be a distraction. That kind of treatment can be a two-way street.
Perhaps the Oilers not only look after McDavid, but they get in the grill of Sidney Crosby. I'm sure the Oilers have noticed that in six games since Crosby's return, he's been pretty much unstoppable. Since the NHL seems to be allowing it, perhaps Edmonton should give Crosby a bit of the "Kadri treatment."
Jim Parsons is a senior THW freelance writer, part-time journalist and audio/video host who lives, eats, sleeps and breathes NHL news and rumors, while also writing features on the Edmonton Oilers. He's been a trusted source for five-plus years at The Hockey Writers, but more than that, he's on a mission to keep readers up to date with the latest NHL rumors and trade talk. Jim is a daily must for readers who want to be "in the know."
Other content contributions include: NHLtradetalk.com, The Sportster and hosting weekly video casts, THW News and Rumors Rundown, plus Oilers Overtime.
For interview requests or to provide content info, follow Jim on Twitter or his social media accounts. They appear under his photo on articles like this one.