The Montreal Canadiens head to Ottawa tonight looking to knock off the pesky Senators team whose season appeared over months ago, and really looked finished when Dale Weise scored in overtime of Game 3 to give the Habs a commanding 3-0 series lead.
Yet here we are, and the Canadiens will try once again to end the season of their division rival. Montreal failed to put the Sens to bed in a Game 4 shutout loss in Ottawa and once again in a 5-1 defeat in Montreal two nights ago.
Third time is the charm, right?
The Montreal Canadiens certainly hope so, but will need several players to take their game to a new level in this series if they are going to advance to round two.
Here are six Canadiens players who really need to step it up a notch tonight if the Canadiens are to avoid heading home for a Game 7 on Tuesday.
6. Carey Price
What more can we ask of the Canadiens goaltender? In a Vezina-worthy season, the Habs netminder nearly rewrote the Habs goaltender record book, carrying the team on his back for long stretches of the season and is by far the team's MVP. In fact, he makes a strong case to win the Hart Trophy as the league's MVP.
However, Price was less than stellar in Game 5, and though a bounce back is all but certain from the 27 year old from Anahim Lake, he needs to step up tonight and outduel Craig Anderson who has been sensational for the Sens since taking over the crease from Andrew Hammond in Game 3.
5. P.K. Subban
Again, what more can one ask of Subban who had a Norris caliber season? Well, to be blunt and very specific, a power play goal. Subban has been great this series at even strength as well as on the penalty kill. However, the Canadiens power play runs through the booming point shot of Subban, and currently has a conversion rate of just over five percent in this series.
Subban nearly amputated J.G. Pageau's leg with a blast from the point, but tickling the twine on the man advantage would go a long way toward putting the Sens to rest for the season.
"They're only going to get harder as the series goes on, so I wish him the best of luck" – Subban on Pageau blocking a thousand of his shots

— Аrpon Basu (@ArponBasu) April 25, 2015
4. Michel Therrien
It's no secret that the Canadiens have struggled to score goals all season. This is not entirely Michel Therrien's fault, but he also isn't using the best lineup to provide offense. P.A. Parenteau has been a healthy scratch the past three games of the series, while the Habs combined for just three goals in that span. Parenteau didn't have his greatest season, but is a proven scorer and could provide a spark for the power play at the expense of Bryan Flynn or a struggling Jacob de la Rose from the lineup.
Speaking of the power play, couldn't Therrien switch things up a bit after a 1 for 19 stretch? Get Parenteau out there, try Lars Eller with Max Pacioretty, heck, try the fourth line for a shift if they are having another solid game. Anything but running the exact same players, doing the exact same thing, and them not scoring again.
What did Einstien say was the definition of insanity again?
@mckennaconor Last night's Habs game reminded me of last time I was on air with you. "I think Therrien would rather lose 1-0 than win 5-4".

— Paul Hollingsworth (@PaulHReporter1) April 23, 2015
3. David Desharnais
Speaking of a dormant power play, if Desharnais is going to continue to be on the top unit, he is going to have to make something happen out there. The diminutive center has defied the odds for years to get where he is, but he looks very ordinary in this series. Just two assists and no goals in five games is simply not enough for someone who is given countless opportunities and put into favorable situations.
2. Max Pacioretty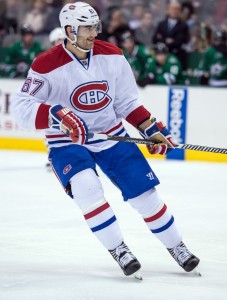 We already mentioned the Habs scoring woes, but Pacioretty definitely did not play a role in the Canadiens low goal totals. Max finished 5th in the league in goals this season with 37, and also led the league in plus minus at +38. Max is coming off a suspected concussion, but in four games he has just one goal, no assists and is a -2.
Plus minus is a flawed, dated stat that usually doesn't mean much. However, leading the league in this stat is still impressive. Coupling that with 37 goals shows how strong of a two-way season the winger from New Canaan had. He is going to need to find his regular season form soon if the Habs are going to be victorious in this series.
1. Andrei Markov
The Russian defenseman was very reliable all season for the Habs, contributing offense, killing penalties and munching minutes with ease. Thus far in the postseason, Markov has scored one goal, which was in his own net, set up Eric Condra (of the Senators) for a back breaking goal in Game 5, and has just one actual assist.
Markov leads the Habs in ice time in the playoffs with 25:55 per game, but is struggling to handle the puck, is not getting the job done on the power play and just hasn't played at the same level that he did for most of the regular season.
If the Canadiens are finally going to close this series out, the player who is on the ice more than any other skater needs to have a great game.
A Montreal Canadiens fan who enjoys the game as a fan, writer, coach and referee.