The Edmonton Oilers are a team who has had many chances to rebuild and turn it around. Yet they keep stockpiling top picks and finding ways to flop in mediocrity. We have Richard Cloutier of Puckrant to take a closer look. He steps into the hot seat and answers some of our toughest questions yet. Needless to say, he dishes back some very harsh responses. Fire in the hole! Let's go!
---
1. What went wrong last year for the Edmonton Oilers?
Mostly, it was the change of the head coach. I'm not saying Dallas Eakins was a mistake, but the players were very happy playing for Ralph Krueger. During the lockout-shortened season, the team made some real strides under Krueger, and the players loved him. Oilers GM Craig MacTavish removed Krueger and replaced him with Eakins because he felt it was a better fit for his style as GM, and not because the players wanted it. It took the Oilers players 50-60 games to quit resenting Eakins before they could start playing for him.
2. When does this team get it defensively because in the preseason, it was not much better. Again I ask when?
You have to understand, the problem the Oilers have defensively is, they have no true top pairing guys. If you look at a team like the Wild, they have Ryan Suter there who can play 29 minutes per game, and play in all situations. The Oilers acquire 3/4/5 defensemen during off-seasons because teams won't trade away top pairing defensemen. Complicating matters is that UFAs of that level won't sign in Edmonton either, because they want to win now. The only way the situation improves in Edmonton is if they draft and develop players. Darnell Nurse, who could become a top pairing defenseman, is still four or five years away from being experienced and skilled enough to play that role. Outside of Nurse, the Oilers don't have anyone who looks like they can become top pairing. The organization needs to draft their way out of this, and it's going to take time.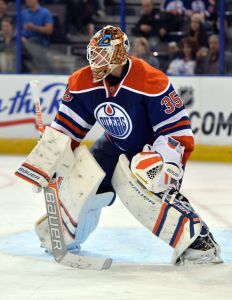 3. What do you make of Ben Scrivens and Viktor Fasth in net? Do you see an improvement this year?
Fasth is the better player, I don't think there is any question. He's positionally very sound, and he's composed. Scrivens is a more reactive goalie, which means he's probably going to be streaky. Botha are NHL-level talents, but neither has shown they are stars. I have a lot of faith in Fasth, and I believe the Oilers will extend him. The one thing I will say is the Oilers made a very good trade last season moving Ladislav Smid for prospect Laurent Brossoit. He's going to be a starter in the NHL. But like the situation on D, we're likely four years away with him.
4. So that situation with the Russian prospect, Vladimir Tkachev, what exactly happened?
I think his agent is mostly to blame. MacT did a classy thing taking the blame publicly, but I'm guessing Tkachev's agent was shopping his player to all 30 NHL teams, telling them he was eligible. The Oilers organizationally goofed up by not reading the fine print closer, but I'm guessing they got a call from Tkachev's agent during the summer, and they took his word for it that the player was eligible.
5. What makes you think it will be different with another year of Dallas Eakins as coach, if at all?
The players aren't going in hating him this season, for starters. And keep in mind, it wasn't Eakins himself they hated; it was the situation. They liked playing for Krueger. I think Eakins himself learned plenty during his first season as head coach, especially when it came to Nail Yakupov. I think Eakins was told he needed to come in and impose his will on the team. There has been this belief in Edmonton for some time that the youth – Hall, Eberle, Yakupov, etc – Are very talented and committed, but are perhaps too confident and want to lead the team now. I think Eakins was hired specifically over keeping Krueger because management wanted to stand up to the kids. It's the same reason Andrew Ference was brought in to be captain. Everyone knows Hall wanted the C, and management didn't feel he should have it yet. They found out the hard way you need to give your best players leadership regardless how old they are. Ference is a good guy, no question, but this is Hall's team. Eakins is going to relax more, and the players will play better because of it.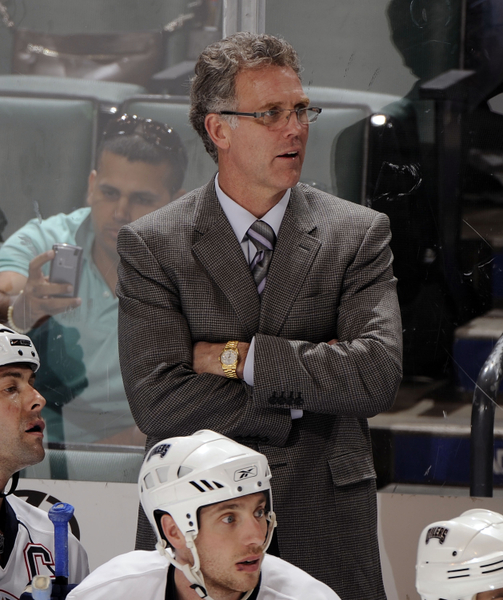 6. Can Craig MacTavish turn this boat around? What does he have to do?
The sad reality is, there is nothing MacT can do, other than continuing to draft well. The organization did a very smart thing selecting Leon Draisaitl, because he fit an organizational need. Center Sam Bennett might very well turn out to be the better player 10 years from now, but the Oilers needed size at center, and you can't trade to acquire someone of Draisaitl's quality. The Oilers organization needs to draft their way out of this hole, which makes the summer UFA signings of players like Nikita Nikitin, Mark Fayne, and Benoit Pouliot a little frustrating. The Oilers gave up huge money for players that won't be the core of this team when they are competitive again. The core of the Oilers when this team is a winner will be Hall, Eberle, Ryan Nugent-Hopkins, Draisaitl, Yakupov, Justin Schultz, Darnell Nurse, Oscar Klefbom, Martin Marincin, Brossoit and maybe a couple Russian prospects named Bogdan Yakimov and Anton Slepyshev. This groups of 12 consists of one UFA signing (Schultz), one trade (Brossoit), and 10 players the Oilers drafted. Plus, another likely top 10 overall pick this season. The UFAs the Oilers bring in year-after-year do not factor into the future core group, so my advice would be for MacTavish to quit trying so hard.
7. Who is the one team that concerns you the most in the division?
The Oilers play in a silly division because there's only one team that is elite (Los Angeles Kings). As far as the Oilers go, I have no concerns about anyone because they will finish last or second last to Calgary. It's apples and oranges. What the Oilers organizationally need to do is focus on how to develop players, and not on winning. My priority this season would be to play Schultz, Marincin, Klefbom and Nurse all at the NHL level. Of course, that isn't going to happen, because we have too many D here. Marincin started the season in the AHL, and both Nurse and Klefbom didn't play in the season opener because the Oilers have too many mid-range defensemen. In a way, the Oilers themselves concern me the most, because management continue to take a half-assed approach to rebuilding the team. I would be playing the core 12 group at the NHL level as much as possible. In Brossoit's case, he needs time in the AHL. Yakimov started in the AHL, but that was a mistake for both the player and the Oilers. They need size up front and Yakimov is a better long-term option than Mark Arcobello. The decision to send Marincin to the AHL was ghastly and it could potentially derail his career. You can't take a guy who was one of your top two defensemen last year and demote him for reasons no one, including the player, seems to understand. Evidence will show the Oilers are horrifying when it comes to player development, and it doesn't appear to me they've learned much from their past mistakes.
8. What is on the prospect farm that we should be keeping an eye on?
Most people would say Yakimov, but they don't understand he's not the type of player who will develop into a point-per-game guy. Yakimov will become a third-line center in the NHL; maybe a 30pts player. Statistically, he won't seem exciting. The prospects I would keep my eye on are Anton Slepyshev in the KHL and Jujhar Khaira in the AHL. Both are big men who can skate and create offense. Slepyshev in particular looked like an absolute force at the 2014 World Junior tournament, and I believe he has the size and skating to become a top six winger in the NHL.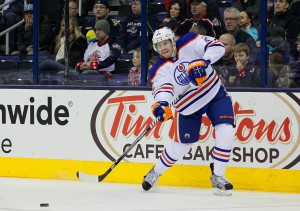 9. Will Jeff Petry be traded by Christmas? Why or why not?
Yes. The Oilers have too many defensemen sitting around. I'm guessing management sent Marincin down to send him some sort of obscure message. I heard rumors last year that the Oilers didn't feel he was a hard enough trainer, and that he needed to become more focused away from the rink. But the boy is too big and talented to stay in the AHL very long. If Nurse ever gets a chance to play at the NHL-level, he might make it impossible for the Oilers to send him away. Ditto Klefbom, who looked like a second-pairing NHL defenseman over the last 20 games last season. Something has to give when it comes to roster spots. Brad Hunt is a solid defenseman for the Oilers to have in the #7 role. Ference, Klefbom and Nikitin can play either right or left pairing. Nikitin, who is left-shot, prefers playing right side. But the Oilers have him with Fayne, who is right-shot, right-pairing. By November I think the Oilers pairings will be Klefbom/Schultz, Nikitin/Fayne and Marincin/Ference. Hunt will be the extra, Nurse will be sent back to Junior and Petry will be moved for a draft pick.
10. Do we see another house cleaning in the next year or so?
No. After three or four house cleanings I think the organization has realized it doesn't change anything. Besides, who do you bring in as your head coach if Eakins was tossed out? The Oilers aren't going to fire MacT, and if Kevin Lowe was to be fired, it would have happened years ago. I think everyone in the organization understands the Oilers have a player development issue, not a coaching or management issue, and patience is the only way to approach this.
11. Who makes that big breakout that no one sees coming for the Oilers this year?
No one. I hate to sound negative, but in my mind, having someone play to potential is not a breakout. Schultz is a potential star puck-moving defenseman, so expectations for him are high. Hall, Eberle, and Nugent-Hopkins are old enough and good enough that excuses for mediocrity aren't valid, and they'd be the first ones to tell you that. I think Yakupov will put up better totals, and Draisaitl will be something the Oilers need him to be, which is, a complete player. The only player who might surprise is Fasth, but some people who saw him in Anaheim understand how good he is.
12. Okay, where does Edmonton finish in the division? Will there be another early tee time?
Before the season began I suggested the Oilers will finish 10th in the Western conference. I believe the Flames, Jets, Predators and Coyotes will be worse teams. This being said, I don't think there is much difference in quality between these five teams, and the Oilers could easily finish last. The Oilers are extremely young, so they will be volatile and unpredictable. They won't be a playoff team, because there's too much quality in the NHL West, but they could get rolling and hang in for the playoff hunt. Much depends on how good (or bad) teams like the Canucks, Wild and Avalanche are. I think everyone needs to be honest with their assessment of this team and realize the core group, half of which aren't in the NHL right now, is still not ready.
---
The next team will be……well stay tuned!