The world's top Junior A hockey League, the Ontario Hockey Association Junior A Series, kicked off its 1964-65 season this weekend.  The Toronto Star's Frank Orr covers the league and he polled the loop's coaches to find out how they thought this season would unfold.  Here is what the coaches predicted and why each team will have success (or not).
The Peterborough Petes are the consensus pick to finish first, thanks to a strong corps of returning players.  Almost every coach had them as the first place finisher.  The coaches feel that the league this year will be much tighter, and a runaway such as happened with the Toronto Marlboros last year is unlikely this time around.  Here is a look at each team:
Peterborough
One of two Montreal development teams in the league, the Petes benefit from some incoming players from the Junior Canadiens, some strong returnees and the general efficiency of the Montreal organization.  Leo Thiffault and Andre Lacroix will provide scoring punch while the addition of defenseman Billy Plager adds size and muscle to the blue line.
In goal, Chuck Goddard is the starter, and he was an all-star last year.  The best blueliners are John Vanderburg and Drake Jopling.  It's up front where the Petes should excel.  Former Jr. Habs Lacroix and Thiffault will be added to an already strong forward unit that includes Danny Grant, Mickey Redmond, Dale Watson and Don Herriman.
The Petes have a new coach in Frank Mario and he should have a good first season with the crew he has been given to start with.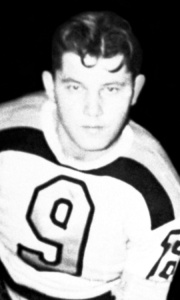 Hamilton
One of the built-in advantages the Hamilton Red Wings enjoy is that they play their home games in The Forum.  The Barton Street Barn is a dark stuffy building where one gets the feeling you are right on top of the game.  The ice surface is small, the fans are rabid and it's a fun place to watch a game.
The Red Wings are a young team, as most of their veterans have gone to the pros over the last couple of seasons.  Al Frank will be between the pipes, he has one year of junior experience.  The best defenders are Bart Crashley and Gary Doak, along with Bob and Jim Young.  Jimmy Peters, Peter Mahovlich, Nick Libett, Real Lemieux and Gary Marsh are the best of the forwards.
Danny Lewicki coaches the Wings and hopes to get them into the playoffs this time around, but given the team's youth, it might take a year or two before any real success is realized.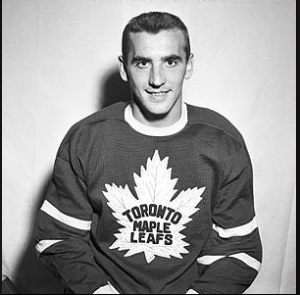 Montreal
The Junior Canadiens lost several good players from last season to the parent club and also to their Ontario counterparts, Peterborough.  However, they have a very good nucleus and will be strong.
It starts in goal with the Jr. Habs, and they are strong with two decent starters in Rocky Farr and Rod Vachon.  Bob Lemieux, Serge Savard and J-G Legace are more than competent rearguards.  Up front, there's lots of firepower in the persons of Jacques Lemaire, Rene Drolet, Christian Bordeleau, Larry Pleau, Craig Patrick and Norm Ferguson.
Montreal also has a new coach in young Scotty Bowman.  Bowman was at Omaha in the CPHL last season and the Habs organization felt that he was better served in junior than the pros.  He's not that far removed from junior hockey and should relate well with his players
Toronto
The Marlies ran away and hid last year but that certainly won't be the case this time around.  After winning the Memorial Cup last season, graduating players took with them 567 scoring points and top-flight goaltending.
Toronto has two rookie netminders as they break camp, and both are thought to have some potential but it's anybody's guess as to how they'll actually perform.  Al Smith and Gerry Desjardins are joined by a host of other rookies who should give the club a solid core.  They include Brian Glennie, Daryl Edestrand, Jerry Meehan, Al Osborne, Mike Byers and Mike Corrigan.
Jim Gregory takes over as coach this year and is another of the young up-and-comers.  With an abundance of rookie talent, he has a big job in  melding this group into a unit that performs anything like last year's champs.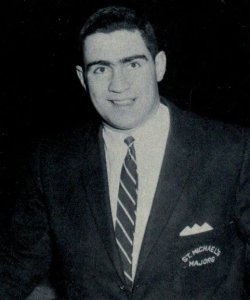 St. Catharines
The Hawks aren't slated to have one of their better seasons, as most of their stars have graduated to the pros.  Bobby Taylor will be the goaltender and had better be prepared for some long nights.  The defence is not strong, and there is very little left on the forward line to crow about, with the possible exceptions of Ken Hodge, Brian McDonald and Doug Shelton.
Edgar "Chirp" Brenchley is the new man behind the bench this season.  The 52-year-old's main claim to fame is that he played for the 1936 Great Britain team that won the ice hockey Olympic gold medal.  Chirp was born in England, but grew up in Canada and learned his puck skills in Niagara Falls.  He's been coaching for the past nine years, mainly in the lower semi-professional leagues.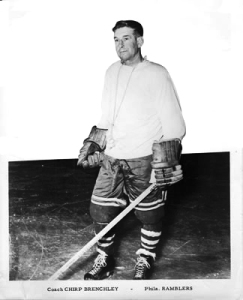 Oshawa
The General have star power, beginning with 16-year-old defenseman Bobby Orr.  He scored a record 30 goals as a blueliner last year and big things are expected of him this season.   He's grown an inch,  put on ten pounds and has looked phenomenal in training camp.
On the forward line, 52 goal scorer Ron Ruchanan is back, and he is joined by Bill Little, Wayne Cashman and Danny O'Shea. The goaltenders are Dennis Gibson and Ian Young, and they will give Oshawa solid backstopping.
Coach Jim Cherry is in his second season with the Generals and his hoping to get the club over the .500 mark this season.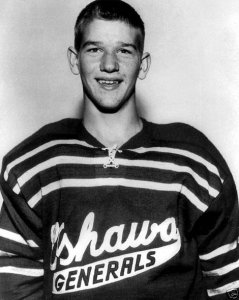 Niagara Falls
The Bruins' number one development team (according to coach Hap Emms) has ten players returning from last year's squad and fans in the Cataract City are expecting big things this season.  The one glaring absence from last year's crew is centre Ron Schock, who  graduated to the pros.  He was one of the OHA's top players.
The Flyers are very good in goal with Bernard Parent and Doug Favell.  The defence is led by hard-rock Gilles Marotte, ably aided by John Arbour.  Top men up front are Bud DeBrody, Derek Sanderson, Bill Goldsworthy and Ted Snell.
Emms is a legendary figure in junior hockey and some say has his sights set on the Boston management suite.  If he can coax the maximum results from this talented group, he might get his wish.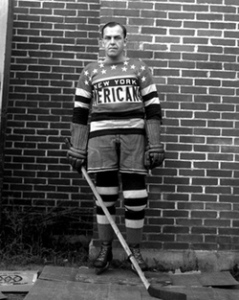 Kitchener
The Rangers have mirrored their NHL parent club the past few years, as they have been at or near the bottom of the OHA standings.  There are high hopes in Kitchener that things will change this season, as only four players are gone from last year. There are some good pieces in place for this team.
Gary Kurt and John Voss are vying for the netminding job.  Gord Kannegeisser and Randy Legge anchor the defence, which has added westerner Terry Ball.  Up front, Sandy Fitzpatrick is the key, with support from Bob Jones, Bill Hway and John Beechey.
Butch Martin is yet another new coach in the OHA.  He was a player-coach with Johnstown of the EHL last year and retired as a player to take the Kitchener position.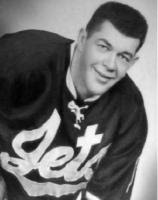 Retired police detective, involved in hockey at all levels for over 50 years. Member of Society for International Hockey Research and presently a video analyst for the leader in advanced hockey analytics (we work exclusively for 2 NHL clubs, and provide advice on an ad hoc basis to many other clients). Currently the Assistant General Manager for the Pelham Pirates of the Greater Ontario Junior Hockey League. Previously owned the Faceoff computer hockey simulation and also provided all player ratings for the EA Sports series of NHL computer games from the late 90's into the mid 2000's.