We're now about a week into the 2013-14 NHL Regular Season. We know some things – there is a whole bunch of unrest in Philly, and Patrick Roy has provided a spark in Colorado – but we are still unsure about some others.
In defense of every team, there is a lot of hockey yet to play. The New York Rangers have 81 games to go, and every other team has 79 or 80. After a week of play, and with the help of my friends at The Hockey Writers, here's something to worry about for each team in the NHL (in order of the current standings and from left to right across your map).
Western Conference
Pacific Division
San Jose
Goaltending is the name of the game in the NHL. If Antti Niemi goes down during the season, then what? THW's Tyler Leli points out that backup goaltender Alex Stalock has played just 72 career NHL minutes at the age of 26. If I had to find something to worry about, I'd say health is going to be the name of the game for the aging San Jose Sharks.
Vancouver
Roberto Luongo. 'Nuff said? Ok…the tinkering done by John Tortarella in the first 3 games has me concerned as well. Torts has separated the Sedin twins (?!?!) for parts of games already – a bold move separating 2 guys who were born to play hockey together.
Anaheim
The depth at forward for the Ducks rivals that of the best teams in the NHL. Something to worry about in Anaheim is the defensive corps, and they started off with a thud with a 6-1 loss in Colorado. The Ducks also cannot let 1,389-game veteran Teemu Selanne's farewell tour distract them.
Calgary
THW's Ryan Pike alerted me to the fact that "the Calgary Flames need to be better at face-offs." Period. End of story. Against Washington to open the season they were a dismal 29-46 (38.7%). Overall, they have started just 40% on the season, but somehow the Flames still haven't lost in regulation and are 1-0-2.
Phoenix
The ownership side of things is finally in place. But will that now be a curse instead of a blessing? The biggest thing to worry about now is the hockey, and it will be tough to score goals in Phoenix. Shane Doan is 36 and they put about $22 million into a contract for Mike Ribeiro to hope that he can be a facilitator for Doan.
Los Angeles
The core of the 2011-12 Stanley Cup Champs is still in town with 17 returning contributors. The big concern here is Willie Mitchell, who is coming off of his second knee surgery. Mitchell is a dominating force on the blue line at full strength and on the penalty kill, but he won't be effective in a suit behind the bench rather than in a sweater on it.
Edmonton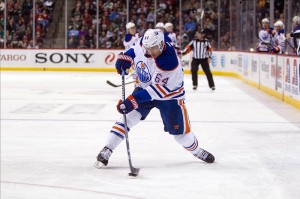 There's a whole bunch of talent in Edmonton, and young talent at that. The team averages just over 27 years of age, and arguably their best 4 forwards are age 20 (Ryan Nugent-Hopkins and Nail Yakupov), 21 (Taylor Hall) and 23 (Jordan Eberle). The big concern here is getting all of that skill coordinated to play as 1 unit. New head coach Dallas Eakins has some work to do to stay out of the cellar.
Central Division
St. Louis
The Blues have won their first 2 games 4-2 and 7-0. Looks like they're going to be just fine early this season as they start with 5 in a row and 7 of their first 10 at home. The main concern for St. Louis will be staying in front of high-powered Chicago as long as possible. They will get to test their abilities against the 'Hawks on NBC Sports' Rivalry Wednesday tomorrow night and again next Thursday the 17th.
Winnipeg
Patrick Williams at NHL.com says it all: "Inconsistency may have been the Jets' identifying characteristic last season. The Jets were also prone to slow starts and poor finishes. Winnipeg had the fourth-worst first-period, but third-period breakdowns plagued the Jets even more. The Jets' 57 goals against in the final period of regulation were second-worst in the League."
Chicago
The Hawks have killed just 3 of their first 7 penalties through their first 2 games this year – dead last at 42.9% efficiency. Fear not Chicago. The Capitals scored 2 of those power play goals (and are 6 of 12 on the PP so far). We all know how last year started and ended for Chicago, so we won't worry too much just yet.
Dallas
Tyler Seguin went from being a hero when Boston won the cup in 2010-11, to being a footnote in the 2013 Finals against Chicago. How will he rebound after being traded out of Boston to the Stars? Mike Miccoli thinks that Seguin will be forgotten in Boston, but can he make an impression in Dallas?
Minnesota
There are a lot of questions in Minnesota. The team isn't confident yet, and the young guns will need to step up. My biggest worry for the Wild is if Matt Cooke can be the 30-40 point man that the Wild hope he can be. The season started pretty well for Cooke, who somehow was allowed this goal despite the blatant kicking motion on opening night:
Nashville
Pekka Rinne was pulled after allowing 3 early goals on 6 shots to St. Louis in the Predators 2nd game of the season. It's not a great thing to have to pull your goalie in game 2. But after 295 games in the NHL, all with the Preds, Rinne won't likely be benched for Carter Hutton who saw just his second NHL game action in the game, and has just 109 NHL minutes to his credit. Rinne's ability or inability to steal games is something to worry about in the Music City.
Eastern Conference:
Metropolitan Division
Pittsburgh
We go to Sean Griffin for the Pens biggest concern. He asks "How serious is James Neal's injury?" Neal isn't just day-to-day, but according to head coach Dan Bylsma is out on a week-to-week basis with an upper-body injury that is speculated to have happened last Monday. Neal started the season opener, but only saw action in the first period and is out indefinitely.
Carolina
Thanks to Andrew Luistro for what's ailing the 'Canes. "Carolina's top line composed of Eric Staal, Alexander Semin and Jiri Tlusty" he says, "were so good a year ago, but have zero points through 2 games and are a combined -6." Not everything is sour in Raleigh, however, as Michael Smith of the Canes staff points out. Carolina is getting scoring from the other three lines en route to their 1-0-1 start.
New York Islanders
Brian Compton from the Islanders staff says that the Islanders will bank on young players to step up. To start things off this season, the Isles have 8 first-round draft picks on the NHL roster. Putting 38-year-old Evgeni Nabokov aside, only 3 Islanders are 30 years or older, so the youth movement is something to worry about on Long Island.
Columbus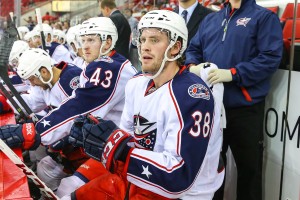 There are 2 things I'm worried about for the Blue Jackets already.
First, Boone Jenner, whom I thought might be a Calder Memorial Trophy candidate, was taken off of the top line on opening night after roughly 10 shifts, which was his first NHL game. I'd much rather see Boone on a line with Marian Gaborik and Brandon Dubinsky than … well, just about anyone else on the Jackets roster.
Secondly, even though their power play scored on their first chance of the season, is 2 for 5 and is second best in the NHL right now, watching the power play is like watching an ugly lady undress. You can't help but watch despite wanting to run far, far away.
Washington
This is like answering a question like "Do you want ice cream or brownies for dessert?" with a simple "Yes." One one hand, Braden Holtby allowed 5 goals to Chicago in their opener, and then followed it up with 3 goals in the first period against Calgary to start the season. On the other hand, Alex Ovechkin has 6 points (4 goals, 3 of them power play goals) and Alex Grabovski has 5 (3 goals) in their first 3 games. So… Yes. Washington has some work to do in net, and as if they weren't before, the NHL better be worried about the 2012-13 MVP when he is on the ice.
New Jersey
The Devils are OLD. That's always something to worry about. 10 guys on the team are currently younger than 30 and 13 guys are 30 or older, 6 of whom are 35 or older, and also including 2 future Hall of Famers Martin Brodeur and Jaromir Jagr who are both 41. The Devils drop in as the oldest team in the NHL averaging 29.77 years old – the only team over age 29.
New York Rangers
The Rangers have only played 1 game at the time of this writing, but they lost that 1 game 4-1 in Phoenix. The goals allowed were as follows: a mis-play, a juicy rebound, a PPG through everyone and another mis-play. Radim Vrbata had a hattrick on the night, and the Rangers defense and goaltending needs to be better.
Philadelphia
By now you know what has happened with Philadelphia. Flyers GM Paul Holmgren fired their coach just 3 games into the season, but the decision-making was certainly suspect (starting Steve Mason twice over Ray Emery?) and I fear that this is a runaway train heading down the tracks without brakes. But I can't help myself. Pass the popcorn!
Atlantic Division
Toronto
The Leafs started 3-0-0 for the first time since 2011-12 and haven't gone 4-0 since the year before that. Cody Franson just signed a huge contract. Things are looking good in Toronto after firing their General Manager in January (Brian Burke) and also making the playoffs in 2013. Are expectations too high in Toronto? Alex Mai, who saw a lot of good last week, thinks "that Jake Gardiner and Morgan Rielly pairing did not look sharp" and the Leafs have some work to do on their blue line.
Boston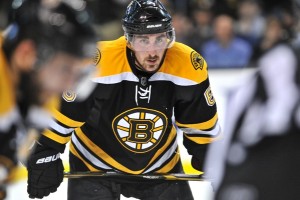 You can't be upset with a 2-0-0 start. Nonetheless, the Hockey Writers' Kirk Vance is worried about Loui Eriksson's chemistry with Brad Marchand and Patrice Bergeron. The top line for Boston has 2 points (1G from each of Marchand and Bergeron) through the first 2 games and are a combined +1, despite the team having a +5 goal differential.
Detroit
Zakharia DeBaussaert, another writer for THW, thinks the Red Wings pairing of Kyle Quincey and Brendan Smith needs to get better. These two are a combined -5 with just 5 shots between them. As a defensive pairing that have both been in Detroit since 2011-12, these two aren't doing much to keep their team afloat and need to be better.
Ottawa
Daniel. Alfredsson. He's gone after 17 years and 1,178 games in Ottawa. When you've played that long in one city and been the Captain for that team for 14 years, I don't care who you have brought in to be a replacement, but your team is not going to be the same.
Montreal
We go to Nathan Currier to check in on the Canadiens, and he wonders if the Habs Kid line of Lars Eller, Brendan Gallagher and Alex Galchenyuk can keep it up. At home for first 2 games, this line was dominant. Now that they are going on the road for the first time this year and won't have the protection of preferred line matchups, can the kids continue on their torrid pace? They are the top 3 in scoring in Montreal with 5 of their 7 goals and 12 of 19 total points.
Florida
I can't possibly be on board with a Tim Thomas reunion tour. The last competitive, regular season or playoff game Thomas played was on April 25, 2012. The guy is 39 and no matter how old you are, getting back into the form that won you 2 Vezina Trophies is going to be tough. Panthers fans can hope that Thomas light up the Eastern Conference, make the US Olympic Team and bring back a gold medal from Sochi. I, however, don't really think that's plausible. His backups (Scott Clemensson and Jacob Markstrom) have 203 NHL games between them, and this also has me nervous for the Panthers.
Tampa Bay
The Lightning's two goalies Ben Bishop and Anders Lindback have 109 games played combined going into their Tuesday night game against Buffalo. Their offense should fire on all cylinders for much of the season (see: Stamkos, Steven and St. Louis, Martin), but if their goaltending doesn't hold up, the Lighning are in trouble.
Buffalo
As soon as Ryan Miller comes back, and assuming his lower-body injury doesn't linger all season, my something to worry about for the Sabres is their offense. Thomas Vanek should score a bunch this season, but against teams like Toronto, Boston and Montreal in their division, they'll need 3 and 4 goals a night to pick up wins, which I don't see happening.