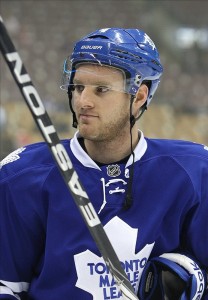 It's a great day to be  a Leafs fan.
Word broke out this morning that the Cody Franson camp has finally buckled and accepted an offer from GM Dave Nonis.
Under the new deal, Franson will make $2 million for the year before becoming an RFA again the next season. His future in Toronto is unclear past this season, but at least he has been brought back into the fold for now.
After months of criticism for his signings of Tyler Bozak and David Clarkson to long-term deals, Nonis has displayed uncanny patience and foresight in his dealings with the Leafs' RFAs. Both Nazem Kadri and Cody Franson were resigned for much less than they were asking for, and provide great bang for the buck. Teams looking to be contenders for the Stanley Cup rely heavily on these kinds of bridge contracts in order to ice a competitive roster that fits under the salary cap.
With Franson resigned, the Leafs are now a little over $1 million above the salary cap, and moves will have to be made. THW Lead Nathan Kanter goes in-depth on the issue here.
Deep Defense Core
It may be weird to consider as such, but the Leafs may now boast one of the deeper bluelines in the league. Few teams in the NHL today, especially the East divisions, can ice a defense corps as deep as the Leafs.
The top pairing of Dion Phaneuf and and Carl Gunnarsson will continue to be utilized in a shutdown capacity against opposing teams' top offensive players. This frees up defensemen like Franson and Jake Gardiner for key offensive zone draws.
The Leafs also have multiple options on the powerplay. Besides Franson, Phaneuf and Gardiner, head coach Randy Carlyle could also task veterans Paul Ranger and John-Michael Liles. Morgan Reilly, should he stick with the team, is also an intriguing option on the PP considering his considerable offensive talent.
Franson also stabilizes a penalty kill that features the aforementioned Phaneuf and Gunnarsson, along with Mark Fraser, an underrated defensive talent that led the team in plus/minus last year. While plus/minus is a very flawed stat, it is still useful in a sense in determining overall defensive awareness, and it never hurts to have a lot of pluses to your name.
Franson's Future?
Perhaps the one thing that gets forgotten in all the excitement is that Franson will have to be resigned again next season. The $2 million he took this year is definitely a discount, so it remains to be seen what he will ask for next year. Franson declined to go to arbitration this year in hopes of getting a deal hammered out without it. However, he clearly feels like he got the short end of the stick in this deal.
"One year was important to us," Franson told TSN via text message. "With the current cap situation a two-year deal was very difficult to get at what we felt was fair.
"A one-year [deal] was the most reasonable way for us to find a middle ground."
These comments clearly show that Franson felt like he is not getting the money he deserves, and there's definitely a fair argument to be made there. If negotiations stall on his contract again like it did this off-season, there is almost no way Franson will forfeit his arbitration rights again. The man deserves to get paid, and he knows it.
With the emergence of Morgan Reilly and the continued development of Jake Gardiner, Franson may not even be a part of the Leafs' long-term plans. However, as an RFA, Franson will ultimately has next to no power besides arbitration. If his asking price is too much next year, Leafs management will not hesitate to move the defenceman.
One thing is clear – if the Leafs are headed to another playoff berth, there is no way they will try to move a top-4 defenceman like Franson until the off-season. If the Leafs do decide to trade Franson after he hits RFA again, they will have limited time to do so before Franson likely files for arbitration.
Nonis has shown ingenuity in his handling of the Kadri and Franson situations. Perhaps the initial criticism of his work was misplaced – after all, Brian Burke was given the boot right before the team he orchestrated broke the Leafs' playoff drought. Time will tell if Nonis pans out as GM, but for now, I'm on his side.
Alex is a Lead Writer for the Toronto Maple Leafs. Since joining the Hockey Writers, he has also briefly covered the Carolina Hurricanes. He also currently works as an assistant for the Western Mustangs at the University of Western Ontario. Follow him on Twitter @alexmai11.