Over the past few weeks of training camp, there have been whispers amongst those that regularly cover the Calgary Flames. Last week, Sportsnet host Roger Millions took to Twitter to cement what many had been whispering.
Why are people beating around the bush? Sean Monahan WILL be on #Flames. No Doubt. Has there been anyone better at Centre this Camp?? No

— Roger Millions (@RogMillions) September 14, 2013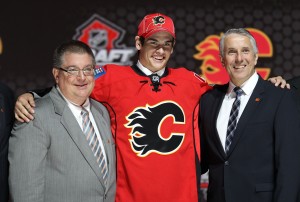 Well, there have been many reasons presented for "beating around the bush" regarding Monahan's fate this training camp. While the sixth overall selection of the Flames in the most recent NHL Entry Draft has been quietly excellent at pivot – and most players will tell you that being "quietly good" at an NHL camp at that position is extremely difficult to pull off – there are many reasons not to rush him into the pros.
THE FLAMES HISTORY
To be blunt, the Flames have had horrible luck with young players up until the last few seasons. Their drafting was not great and many high-end draft picks were rushed into the NHL during the vaunted "Young Guns" era. Names like Rico Fata and Daniel Tkaczuk send shivers down any long-time Flames fan's spine for how hard they crashed and burned at the NHL level. Both the team and the fanbase want to ensure that Monahan is handled properly and not pushed to the moon too soon.
But recall if you look at the Flames over a longer term of history, there are quite a few strong NHL careers that began as teenagers. Amongst them were Denis Cyr, Robert Reichel, Jarome Iginla, Derek Morris and Robyn Regehr. It's unlikely that the Flames decided to "rush" anything of these guys to the NHL willy-nilly, so perhaps the busts the Flames experienced weren't merely due to too-early NHL exposure.
RECENT NHL HISTORY
Since the 2004-05 lockout, 93 players around Monahan's age (he'll be 19 in October) have played in the NHL. Their performances range from amazing (Steven Stamkos, Sidney Crosby and Patrick Kane) to well, not amazing (Nino Niederreiter, J.T. Miller and James Wright). There's such variation in outcome that it has to make teams nervous about putting teens in the bigs.
BURNING A YEAR ON HIS ELC?
Arguably the biggest concern for the Flames is burning the first year of Sean Monahan's three-year entry-level contract (ELC). Entering the season as an 18-year-old, that means that the Flames would need to re-sign him a age 21 and that his eligibility for unrestricted free agency would be a year earlier than otherwise. When the Edmonton Oilers are gradually painting themselves into a salary cap corner by putting their first rounders into the NHL as teenagers and reaching their big-contract paydays earlier and earlier – most recently seen with Ryan Nugent-Hopkins' $6 million annual cap hit on his contract extension – the Flames may be wise to conserve the cheap years of the future star players for as long as they can.
ANOTHER YEAR IN THE OHL?
However, Monahan's a bit of a unique case. Part of the reason is because he has a late birthday (October), so instead of turning 18 after the draft like 2012 Flames first rounder Mark Jankowski did, he's turning 19. And because of the placement of his birthday, he's already played three years in the OHL. And not just "three years," but three full years – he's played 185 games over the past two years, had two seasons with more than a point per game and served as a captain.
What's left for him in the OHL besides being the best player on a bad Ottawa 67s team? (Again.)
A CLOSER LOOK
Since July's development camp, Sean Monahan has been eerily focused on becoming an NHL player. By all accounts, he put in the work over the summer and came into camp in great shape. His focus has also translated to the on-ice portion of camp, where he's been increasingly active in scrimmages and in pre-season games.
"Everyday I learn something new and I think everyday I'm getting better and feeling more comfortable. So I think camp has been really good and it's made me a better player so far," said Monahan prior to Calgary's pre-season meeting with the New York Rangers.
If Monahan's on-ice performances haven't turned heads – he had three points over five exhibition tilts and was consistently one of Calgary's best face-off men – his approach to camp probably has. Very mature and poised for his age, he's never really cracked under the immense media and fan limelight. If nothing else, the increased attention has seemed to motivate him. Even at Calgary's most competitive training camp in years, he's appeared to thrive under pressure.
"Obviously hockey's a competitive game, especially at this point of training camp, and a lot of guys are fighting for spots to make the team," said Monahan. "So I think obviously you're with the guys everyday and you become friends and you become close with the guys, but at the end of the day you're fighting for a spot against them."
THE VERDICT
Based on his on-ice performances alone, I believe the Flames' hands are tied – they've got to keep Sean Monahan on the opening night roster. His performance in the OHL has merited consideration, as has his physical and mental maturity and the fact that he's been strong on the ice during camp. To be blunt, the last factor is probably the most important. Monahan has easily been one of Calgary's 12 best forwards at training camp, so rewarding him with NHL games is both a reward to him for his hard work and a sign to anybody attending subsequent camps that training camp is a fruitful exercise – Calgary isn't a situation where the 23-man roster is etched in stone before anybody arrives in mid-September.
As for burning a year of his first pro deal, there's two factors in play. First off, if Monahan's not good enough for the NHL, he can be sent back to junior after nine games and his three-year deal remains untouched. Second, if he's good enough to stay in the NHL, he'll be improving the club's fortunes and being immersed in the most competitive hockey environment in the world, which can only be good for him long-term. Lastly, the Flames have oodles of cap space. If Monahan's an investment worth making, the Flames have the pockets and the cap room to make that investment in him.