One of the very much welcomed surprises of the 2013 Blue Jackets Training Camp has been the strong play of 20-year old prospect Boone Jenner. At the start of training camp, I'm not sure many outside or even inside the Columbus locker room thought that Jenner would make the Blue Jackets. Now, after his stellar play, the opposite is true, and most expect him to be named to the NHL squad for opening night.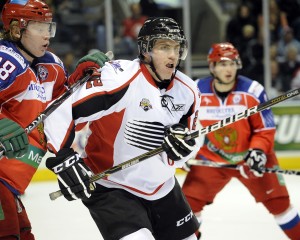 Last season, Boone Jenner was over a point and a half per game, tallying 45 goals and 37 assists for 82 points in 56 games for the Oshawa Generals of the OHL. He made the move to Springfield at the end of their season, and while he only played 5 games in the AHL regular season, he did score 3 goals and added an assist. He also played 8 games in the playoffs for the Falcons, netting 2 more goals and dishing out 3 more assists.
Fast forward to the 2013 preseason: Through 3 preseason games, Jenner was tied for the league lead in goals scored with 3 goals and is tied for 4th in total points. I know what you're going to say: "It's the preseason." But in Columbus, hope springs eternal once again, and the Blue Jackets are very unsettled on the left wing. It only makes sense to put a big physical rookie on a line with 2 seasoned veterans to calm his nerves and get his feet wet.
For much of the preseason, Jenner has been playing on a line with Marian Gaborik, and centered by Brandon Dubinsky. A great combination of speed, hands and scoring ability. With that kind of talent, this line could potentially become one of the best lines in all of the Metropolitan division, or even the entire Eastern Conference.
In Saturday's game against the Pittsburgh Penguins, Jenner had 2 goals including the game winner in the third period, was a +3 and also laid out 3 hits. Only another young up and coming defenseman, David Savard, had more hits with 4, and only Dubinsky had a better +/- rating at a ridiculous +5 (and 1 goal and 3 assists).
The Columbus Dispatch's Aaron Portzline had a chance to ask head coach Todd Richards about Boone's play after Saturday's 5-3 win in Pittsburgh:
Take a look at the game winner Jenner scored against Pittsburgh on the 21st:
Portzline and Richards are certainly not the only ones thinking that Jenner is going to make an impact. Fellow TheHockeyWriters.com writer Shawn Reznik thinks there are big things on the horizon for Jenner:
I'm looking forward to the 2013 season for a number of reasons, but at this point, Boone Jenner has me just a smidgen more excited than even Ryan Murray, whom I wrote about last week. I'm not expecting a 40 goal season by any stretch of the imagination, but I'm very anxious to see the 2011 37th overall pick get on the ice and knock shoulders with more of the NHL's elite. With a healthy rookie season and continued puck luck, perhaps it won't be long until we hear the words "And the 2013-14 Calder Memorial Trophy goes to: Boone Jenner!"