On my 2013-14 Blue Jackets Wish List is for the #2 overall pick in the 2012 draft to make it to the big club and play some games for the Blue Jackets this season. But is that realistic? You bet it is. Murray may not start with the big club, but there are some promising signs that he will be in Columbus before too long.
For the 2012-13 season, Ryan Murray was sidelined with a shoulder injury. In the prospects/development camp last week in Traverse City, Murray played his first competitive games and looks ready to make the team as training camp started this week.
The NHL regular season schedule was released on Friday. Check out our partners at TiqIQ for the best deals on Columbus Blue Jackets tickets for all 2013-14 games.
One thing to worry about in Columbus is the depth of the defense as it already is very strong. The top 3 defensive pairings return from last season, as long as they are healthy:
Fedor Tyutin and Nikita Nikitin
Tim Erixon and James Wisniewski
Jack Johnson and Dalton Prout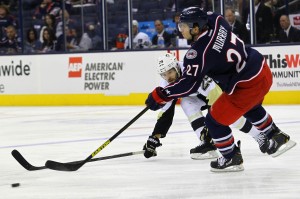 On the Blue Jackets depth chart, Murray is listed as the 7th defenseman, meaning he may be on the outside looking in. But don't fret, Jackets fans. Yesterday during the team's first organized scrimmage, Murray was out there, playing defense for the White team, and was even able to take a few light checks during the scrimmage. In addition, Dalton Prout has yet to practice with the team in training camp, so this opens up another slot that Murray could slide into early.
After the scrimmage, Murray also participated in the additional 1-hour practice session, which was entirely dedicated to the power play. A very promising sign, indeed. Murray was paired up with Wisniewski for the entire day of practice, and if The Columbus Disptach's Shawn Mitchell is correct (he usually is), the two will be paired together tonight for the first preseason contest:
#CBJ D pairs: Murray-Wisniewski; Nikitin-Savard; Melart-Goloubef.

— Shawn Mitchell (@smitchcd) September 15, 2013
I can't help but think that Murray playing with Wiz is a great way to get him prepped for the upcoming season, in which he should make the top 6, or even the top 4 defensemen before too long. I, for one, will be watching intently tonight at 6:00PM to see how Ryan Murray looks against the Penguins.