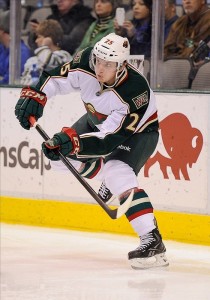 With the Jonas Brothers safely in the rear-view mirror of popular culture, a new Jonas Bro has recently caught the eye of many hockey fans with his potential elite-level defensive talents. That player of course is Jonas Brodin who hit the ground running last year in his rookie season. As a nineteen year old, Brodin played consistently well and helped improve an emerging Wild defense. So far Brodin has picked up right where he left off last year. He hopes to continue down the path of becoming an elite NHL defenseman.
For many prospects, the road to becoming a consistent NHL defenseman can be a long and winding one. In order to earn a roster spot in the NHL, defensive prospects need to have the size, strength, speed, and hockey intelligence to hold their own against the elite offensive talents in the NHL. This process usually takes years to accomplish.Even after a prospect establishes himself in the NHL it is no guarantee that he will remain an effective defenseman. Maintaining consistency from season-to-season can be a difficult challenge for veterans as they battle through a fast-paced NHL schedule. This feat can be especially difficult for youngsters as they work to establish themselves in the league. It is rare when a prospect has the skill set to compete at the NHL level right away and even rarer to show this consistency for the long-term.
A Stellar Rookie Campaign for Jonas Brodin
In his early career at the NHL level, youngster Jonas Brodin has fit the mold of the rare NHL defenseman who finds consistency at a young age. During his rookie campaign last year, he showed great poise and ability that is usually not yet developed at his age. As a nineteen year old, Brodin's solid play led head coach Mike Yeo to rely on him in many key situations.
Jonas Brodin was drafted in the first round with the tenth overall pick by the Minnesota Wild in the 2011 NHL Entry Draft. He began last season with the Houston Aeros in the AHL. Brodin played in just nine games for the Aeros because he suffered a broken clavicle. He scored two goals and two assists for the Aeros before joining the Wild after the lockout.
Brodin is described as a defense-first defenseman and he has fit the Wild's system quite well thus far. Last season, he logged huge ice time for a nineteen year old helping to improve the Wild defense. He played on the Wild's top defensive pairing alongside defenseman Ryan Suter. He scored two goals and nine assists good for eleven points for the Wild last season.
[See Also: Jonas Brodin Brings Stability to Minnesota Wild Blue Line]
Suter lead the league in Time On Ice per Game (TOI/G) with 27:16. As his line mate for most of last season, Jonas Brodin logged an impressive 23:12 TOI/G in forty-five games. This statistic is uncommon for a rookie defenseman and speaks to his high level of performance. Brodin's efforts during the regular season lead to his selection to the NHL All-Rookie team.
More impressive last year was the ice time Brodin earned during the playoffs. He logged 26:23 TOI/G ranking him tenth in the league for that statistic during last year's playoffs. While he didn't score any points in the playoffs, he played a top role for the club and gained some valuable experience.
Brodin had a Calder Trophy-caliber season but he fell short on receiving the honor when the award was given to Jonathan Huberdeau of the Florida Panthers. He logged key minutes on the penalty kill where the Wild ranked near the middle of the pack last season. Again, as a nineteen year old, head coach Mike Yeo gave Brodin big ice time against their opponents' top talent. While he did not win the Calder Trophy last season, a feat accomplished by only ten defenseman since it was first awarded back in 1933, Brodin's rookie campaign was excellent and it left many eagerly awaiting this year's follow up.
[See Also: Why Don't More Defensemen Win the Calder Memorial Trophy? ]
A No Sophomore Slump for Jonas Brodin
One of the biggest challenges for a young NHL player after a strong rookie campaign is to maintain that level of intensity in the sophomore season. This has proven to be a difficult task for many young prospects. The ups and downs of the next NHL season puts a lot of pressure on players and it can be particularly tough on younger players.
An example of a strong rookie year that has since gone array is Buffalo Sabres' defenseman Tyler Myers. Myers won the Calder Trophy for his outstanding rookie performance in the 2009-2010 season. Many analysts pegged Myers to emerge as an elite NHL defenseman. Instead, Myers' game has tailed off and he has not yet regained the level of play that earned him rookie of the year honors.
[See Also: Why Tyler Myers Has The Most Pressure For The 2013-2014 Buffalo Sabres]
This has been a legitimate concern for NHL clubs with many different players throughout the years. However, the now twenty-year-old Jonas Brodin has maintained his consistency so far in the early stages of his sophomore season. Head coach Mike Yeo has again slotted Jonas Brodin alongside Ryan Suter on the Wild's top defensive pairing. Brodin has also logged time on the penalty kill this season alongside defensemen Ryan Suter and Keith Ballard. There is still room for improvement but overall Brodin is excelling at the start of his sophomore year in the NHL.
In his ten games, Brodin has already surpassed his goal total from last season. Brodin has three goals and three assists for a total of six points. His three goals ties him with Los Angeles blue liner Drew Doughty for the league lead among defensemen. Brodin's exceptional hockey sense, strong skating ability and his knack for positioning himself to defend against developing plays has lead to his early success.
Jonas Brodin gets another point on the Brodziak goal…5 in 5+ games for the kid that said he planned to get more points in Year 2

— Michael Russo (@RussoHockey) October 14, 2013
Brodin is again logging big minutes with a TOI/G of 23:14 so far in the young season. This has him ranked number ten in the league in overall TOI/G. Brodin is again being relied upon to defend against the league's top-level talents. He is also making strong contributions on the Wild's special teams. He is averaging 2:43 minutes per game in short-handed situations and 1:45 minutes per game on the power play.
Brodin's Elite Potential
Jonas Brodin is on the path towards becoming an elite-level defenseman in the NHL and he's only twenty years old! Showing no signs of slowing down in Saint Paul, Brodin's consistent and reliable game has turned many heads among hockey analysts and fans alike. Fans in the state of hockey are thrilled with Brodin's development so far and look forward to many solid years of Brodin on the blue line.
Great for a national #NHL audience to get to see what we've known for a year now. Jonas Brodin – a really, really good hockey player #mnwild

— Minnesota Wild (@mnwild) October 15, 2013
The Brodin-Suter pairing is arguably one of the top defensive units in the league. While the Wild got off to a slow start with wins, Brodin rarely makes a mistake and has helped to clean up errors made by his teammates. The early litmus test shows that he is not entering into a sophomore slump but is emerging as a standout defenseman for the Wild.
The NHL regular season schedule was released on Friday. Check out our partners at TiqIQ for the best deals on Minnesota Wild tickets for all 2013-14 games.
Tim joined The Hockey Writers in July 2013. He began his tenure with THW by covering the Minnesota Wild and he now writes on the Buffalo Sabres. Tim completed his undergraduate and graduate work at the University at Buffalo. In addition, he is a published historian and a Baltimore Orioles Contributing Writer for LegendsOnDeck.com. Tim's work for THW has been featured on sites such as Yahoo.com. Follow him on Twitter @TOHockeyTHW