The St. Louis Blues gave fans an unexpected jolt on Saturday afternoon when they called up American Hockey League (AHL) goaltender Jordan Binnington. The move came immediately on the heels of an embarrassing 6-1 drubbing at the hands of the Vancouver Canucks (the eighth time this season they've allowed five or more goals.)
Binnington has been putting up great numbers on a struggling San Antonio Rampage team, and has even usurped the starting role from Ville Husso, a prospect that the Blues held in higher esteem entering the season. But why have the Blues made the move to call up Binnington now? There are several potential answers to that question.
Binnington Rising Up the Ranks
The Blues wouldn't be in this position if Binnington hadn't far exceeded the team's expectations for him this season. We took a deeper look at this a few weeks ago, but in short, he has put up good numbers on a struggling team and revitalized the organization's interest in him. After a brilliant junior career, Binnington had faltered, but he's regaining his footing in the AHL.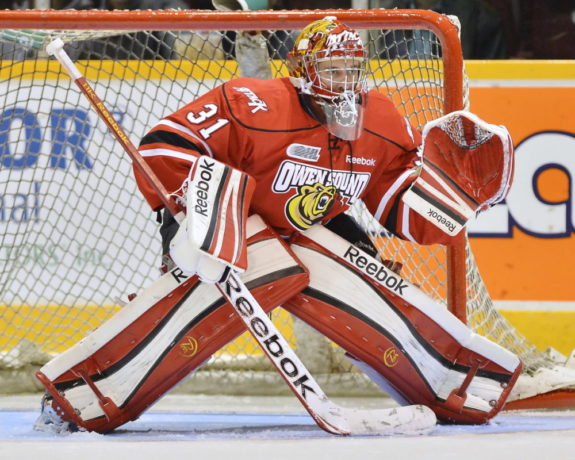 So far this season, Binnington has a 2.34 goals against average and a .914 save percentage with the Rampage. This is even more impressive, considering that San Antonio is in last place with a 10-15-1 record. It hasn't stopped Binnington from overtaking Husso, who has struggled, earning his former backup more consistent starts.
Even with his strong performance, no one expected to see the 25-year-old Binnington make an appearance in the NHL this season without a significant injury ahead of him. But both Jake Allen and Chad Johnson, the Blues' NHL tandem, played in the loss to Vancouver, and neither seemed to leave the game injured. So Binnington's call-up must mean something else. Here are some of the possibilities.
1) Management Dissatisfaction
The easiest explanation for Binnington's call up is that general manager Doug Armstrong and/or interim head coach Craig Berube are fed up with the goaltending they've received at the NHL level and are calling up Binnington with the immediate plan to start him in Tuesday night's game against the Florida Panthers.
The problem with this theory is that, until Sunday, Allen had been on something of a hot streak. His last game was his first shutout in over a year, an achievement that put him third on the Blues' all time list. Before allowing three goals in six shots against the Canucks, Allen had only allowed three goals or more in two of his last 10 games.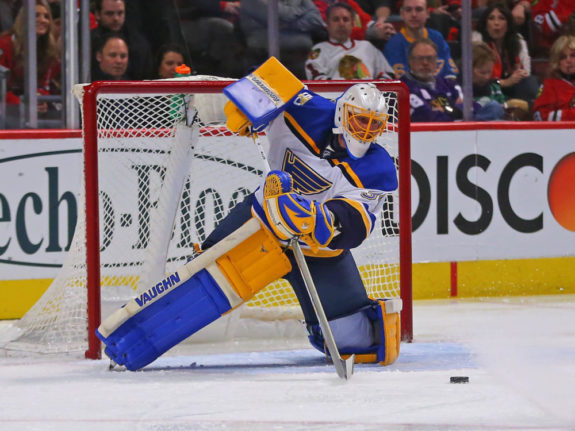 Johnson, on the other hand, has struggled significantly of late. After getting off to a hot start, he has a 5.06 GAA and a .832 SV% in his last five appearances. He allowed three more goals in relief of Allen on Sunday. Given the state of the team's season, the Blues could be preparing to simply cut their losses with Johnson, who is on a one year contract, and waive the veteran backup. That would mean a significant promotion for Binnington, giving the Blues an extended look at his NHL ability, even if he remains Allen's backup.
2) Injury Concern
As we already mentioned, the Blues could have simply called up Binnington because of an injury concern with one of the other goalies, but this seems like the least likely explanation. First, the Blues made the move immediately after their loss on Sunday. Normally, a team would wait until it had a fuller diagnosis before making roster moves.
Binnington call-up certainly looks to be performance related as neither Allen/Johnson appeared injured. Plus if that were the case, Binnington would've been called up on emergency instead of re-assigning Blais. So it seems they'll carry 3 and you'd think Binnington would play Wed

— Jeremy Rutherford (@jprutherford) December 9, 2018
And second, as Jeremy Rutherford points out, the team facilitated this maneuver by sending Sammy Blais back down to the AHL. If there had been an injury, the team would have used emergency conditions to call up a backup (or the injured reserve, if the situation called for it) and would not have had to send anyone down.
Therefore, it seems likely that both goalies are healthy, and that this move is being made due to their performance. In that case, fans could expect to see Binnington in net on Tuesday. But there is one other possibility that has yet to be discussed.
3) Allen On the Move?
Rumors have swirled in St. Louis of late that Armstrong is looking to make a major change to shake up his team's core. One of those rumors circled around the Blues' restarting in net by trading for Jimmy Howard.  That kind of deal might make sense for the Blues on two conditions: one, that the Blues are able to get out from under Jake Allen's contract in the process, and two, that they can protect top prospects like Robert Thomas and Jordan Kyrou in the trade.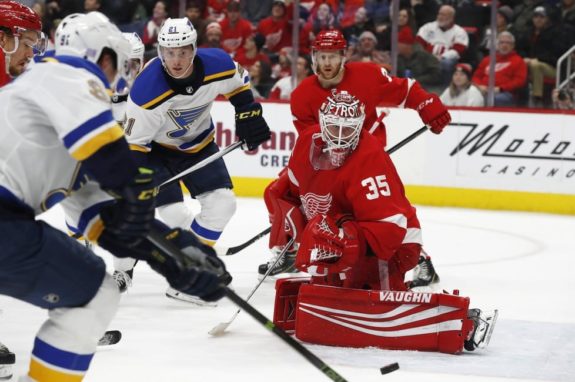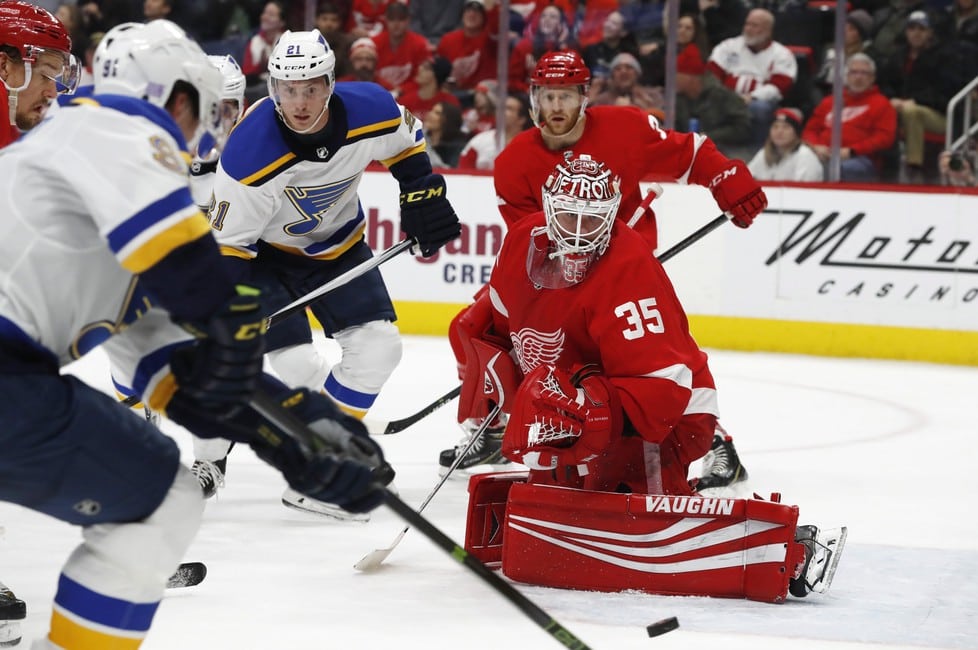 Whether it's for Howard or some other net minder, Armstrong would likely be eager to trade Allen's contract  if he can convince a team that a change of scenery would do Allen good. That isn't necessarily a bill of goods, either. Allen has faced immense pressure since arriving in St. Louis, being labeled as the "goalie of the future," and a move to a new market without those expectations could help give him the confidence he needs to perform with more consistency.
A Storm Brewing?
Whatever the reasoning behind the decision to call up Jordan Binnington, unless it's in injury relief, it may be a sign that change is on the horizon for St. Louis. This should come as no surprise, as a new rumor surfaces daily that says that Armstrong is looking to shake up his core.
Whether Binnington's arrival signals a change, or merely suggests that the front office is at its wit's end with their more experienced net minders, it certainly indicates that the Blues are ready to make unexpected changes in order to see different results, and that should come as a breath of fresh air to fans in St. Louis.