Toronto Maple Leafs forward Zach Hyman was suspended for two games after what was deemed to be a late and predatory hit on Boston Bruins' defenseman Charlie McAvoy. While Hyman is suspended, he doesn't get paid, which means he loses $24,193.55 in salary.
The Hit
During Saturday's loss against the Bruins, Hyman was given a major interference penalty and game misconduct after a high hit on McAvoy during the third period. On Sunday, the 26-year-old Hyman had a hearing with the NHL's Department of Player Safety to determine an appropriate punishment.
Noting that the hit came well after McAvoy had passed the puck to a teammate, the NHL described Hyman's infraction as a "late, forceful, high hit." Perhaps even more damning for Hyman was that the hit was considered "predatory in nature."  Hence, Hyman was suspended, and two games was deemed appropriate extra "punishment."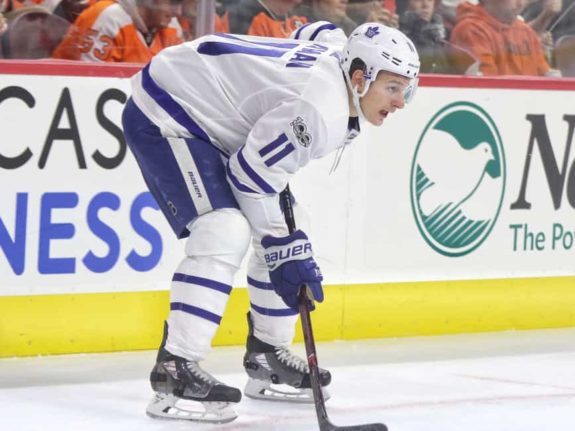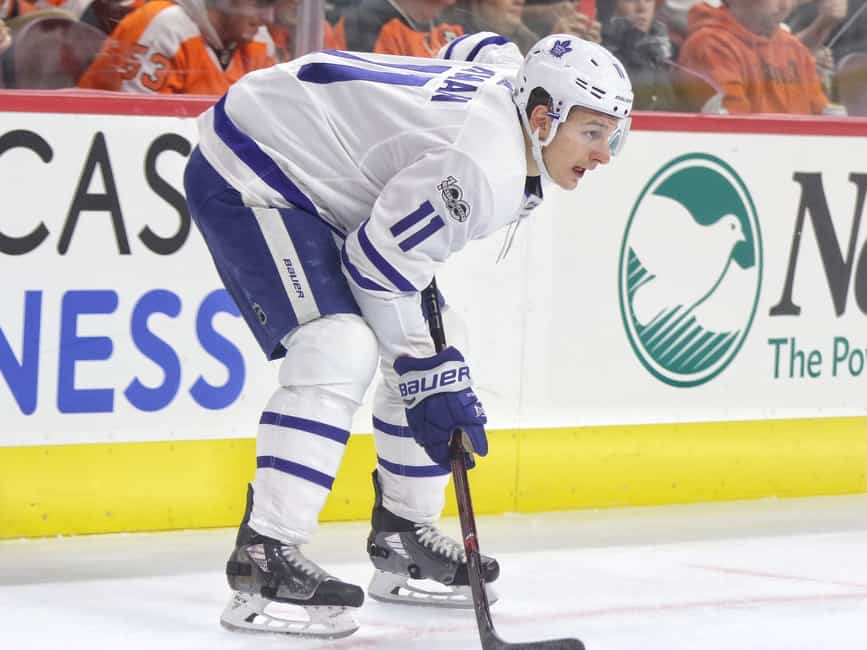 Hyman received a major penalty and game misconduct for the hit. That the hit was in the context of the game probably had something to do with the suspension. It is plausible that Hyman might not have been assessed a game misconduct nor had the case reviewed by the NHL if the score been tied; but, it wasn't. The game was, by that point, out of control for the Maple Leafs.
Related – First-Third Season's Grades: Toronto Maple Leafs' Forwards
The Game Context
Given the flow of the entire game — and, when thinking about how the Maple Leafs played, I use the word flow loosely — as I watched the tape of the hit a few times, it looked like Hyman measured and delivered his own vigilante justice. But, Maple Leafs' fans would find it hard to forget that McAvoy had dangerously checked Mitch Marner into the boards on the first shift of the game. Some retaliation was in order.
I cannot possibly know what was on Hyman's mind, but it strikes me that either the hit was premeditated and calculated, or Hyman lost his cool because the Maple Leafs were losing — if you can't beat them on the scoreboard, then beat on them any way you can.
I get why Hyman went for it, as does anyone who has played sports seriously. I've been in just those circumstances and took shots when I had them. That said, when I watched the tape, I must say that I agree the hit was late. Predatory, though, seems a bit dramatic.
But, McAvoy had just come back from missing 20 games with concussion symptoms. My guess is that the NHL believed targeting was involved. I am also guessing that, because it was only McAvoy's second game back, his recent injury became part of the consideration.
Although McAvoy eventually returned to the game, he was placed under concussion protocol after it. McAvoy was obviously stunned – he skated straight to the locker room. McAvoy doesn't appear to have been seriously injured by the play, as he returned to action in the Bruins very next game.
Should Hyman Have Been Suspended?
This is Hyman's first NHL suspension, which the league noted in the video it released. Hyman is not reputed to be a dirty player. That said, without listening to the corresponding noise that goes along with this suspension, I think a suspension is deserved. Had I been ruling, the evidence I saw suggests that Hyman had McAvoy in his sights and freight-trained him. From what I could tell from the tape, McAvoy didn't see Hyman coming. And Hyman, for his part, didn't let up.
But, there is corresponding "noise" one might consider. Here's what some Maple Leafs' fans might be noting. During the same game, Chris Wagner took a run at Morgan Rielly. How come Wagner's hit on Rielly wasn't deemed predatory?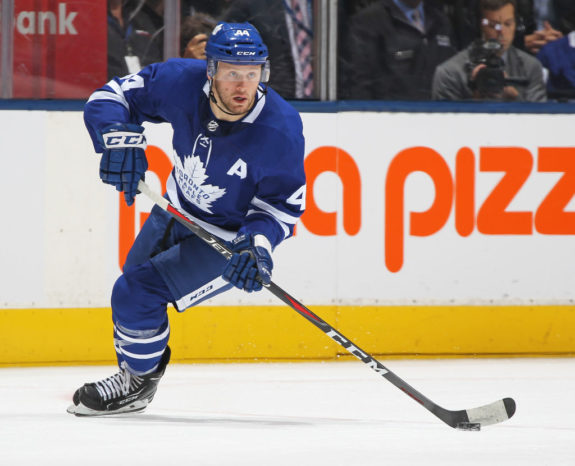 From another recent game, what about Ryan Reaves open-ice hit on Tom Wilson that knocked Wilson's helmet off and smashed his head to the ice, leaving him concussed? Reaves was ejected from the game with a major penalty, but received neither a hearing nor a suspension. Is that consistent? It doesn't seem so to me, and it leaves both fans and players not knowing the line between legal and illegal, or between worthy of suspension or not.
Related – Maple Leafs' Johnsson: Break out or Still Broken?
Now what?
Hyman's suspension means he will miss two important upcoming games against the Carolina Hurricanes and the Atlantic Division leading Tampa Bay Lightning. Hyman, who was playing left wing on the line with center John Tavares and right winger Marner, is a fan favorite and will be missed. Andreas Johnsson will likely play in Hyman's spot. Here's looking for another three-minute hat trick.