With 27 games of the 2018-19 NHL season now behind the team, there's plenty to say about the Toronto Maple Leafs. They've been through drama and injury, and they seem to have emerged the better for it – at least for this year. The salary cap is next year's problem.
Everyone knows it. The Maple Leafs are led by their forwards and their goaltending. With John Tavares, Mitch Marner, and uber-talented Auston Matthews, it would be tough to find three better forwards currently playing on the same team. Single players, OK: but not three. And, with William Nylander's recent signing, the Maple Leafs' forward corps is even stronger.
This group of forwards is certain to lead the team into the postseason, but are they capable of carrying their team to a Stanley Cup? Let's start by looking at the Maple Leafs' forwards and grade their season's body of work – position by position.
Centers
Auston Matthews, Grade A+
He was great before the shoulder injury: he's been great after the shoulder injury. As CBS Sports noted,  "Matthews is a beast – there's no other description that's good enough." How well is he scoring? Matthews has 13 goals in 13 games played, and that doesn't count assists. He is – like Connor McDavid and Sidney Crosby – "a generational talent."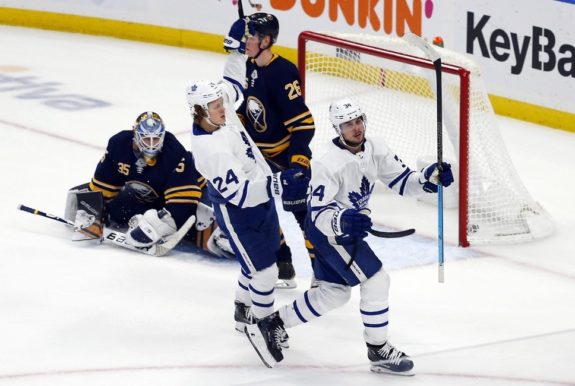 Frederik Gauthier, Grade C
Matthews is back and Nylander is coming, so Gauthier's ice time will shrink. That said, coach Mike Babcock remains a Gauthier fan, but stresses his need to use size and strength on defense. Gauthier is in the same situation Leivo was in last year, and now Leivo is gone.
Gauthier's time on ice averages just under nine minutes per game, and he's gained experience. I'm thinking he's a guy who learns by watching and doing. Hopefully, as he spends more time studying the game from the press box, he'll see his need to play uglier, which would even make Babcock like him more. His faceoff win percentage needs to improve.
Related – Sabres vs. Maple Leafs Showdown: Who Will Win?
John Tavares, Grade A
Tavares now has 17 goals on the season. He is certainly meeting expectations, but unlike Marner is not exceeding them. He's solid, contributes, and seems to get the job done.
Nazem Kadri, Grade C
With Nylander away, Kadri's offensive game suffered. He can generate offense, but not alone. He needs a skilled winger, and those guys were on the top six. Thus, Kadri had little offensive help and, at times, one could sense his frustration. When the lines are readjusted to make room for Nylander, Kadri will produce more.
Kadri has fans, as he should, who defend his minus-9 because he plays against the other team's top line. He also has NHL fans who think his play crosses the line. But, that's his job – to neutralize opposing top guns. No one can fault his feistiness or his desire. He needs to play angry, and I wouldn't risk making him smile by giving him a grade higher than a C.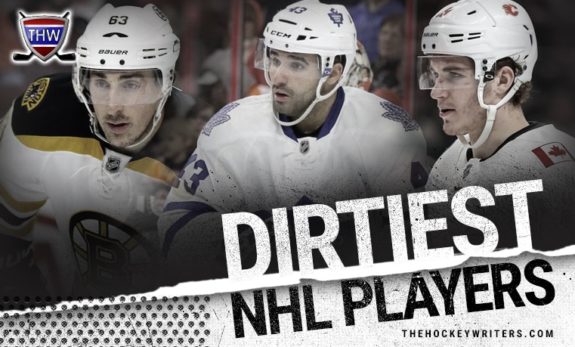 Par Lindholm, Grade B+
Lindholm is a 27-year-old rookie, who was a point-a-game player in Sweden last year but who still needs to adjust to the North American game. That said, he works and is great in the face office circle. He's last year's Leo Komarov, who is now with the New York Islanders.
Left Wingers
Andreas Johnsson, Grade C
It's difficult not to let Johnsson's recent hat trick influence our grade. He hasn't got it going yet, and there's room for improvement – but, I like him. Speaking in generalities, he's got what it takes and just needs to make it happen. [That's how you talk about someone when you guess he is good, but his work doesn't yet support your guess.]
Patrick Marleau, Grade B
Marleau is playing in his final year(s) and starting to produce a legacy. As I reported in an earlier post, Marleau became the 25th player in league history to score against each of the 31 NHL teams. That's notable, and it just seems wrong for me to give this future Hall-of-Famer anything but this solid B. If anything, his off-ice contributions would bump the grade to a B+.
Tyler Ennis, Grade B
As I have written before, I like Ennis. He's a spark plug with top-six skills playing in the lower six. I have to think Babcock's appreciation for Ennis surfaced when Josh Leivo was traded. Ennis might not play in a consistent scoring spot with the Leafs, but he can be the ultimate utility guy. He needs production to earn a contract anywhere next year. I'm rooting for him.
Related: Maple Leafs' Tyler Ennis: More Valuable Than Nylander?
Zach Hyman, Grade C+
If Hyman could look in the mirror and see himself in the likeness of the Washington Capitals' Tom Wilson, he might see how his own play could become what the Maple Leafs need from him if he is to become a successful top-six forward. Hyman's role seems clear. It isn't about points: it's about using the season to prepare for what the Maple Leafs need from him in the playoffs. That's why he remains a favorite of Coach Babcock.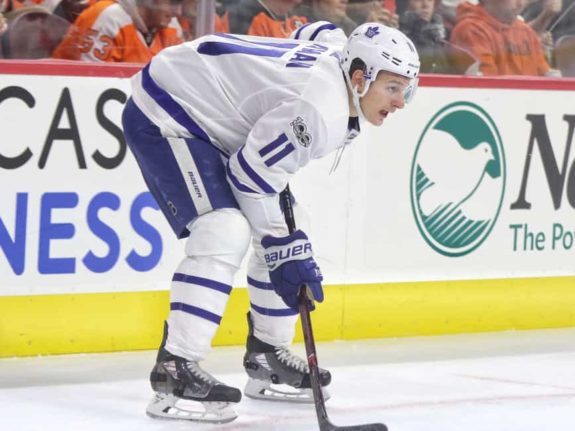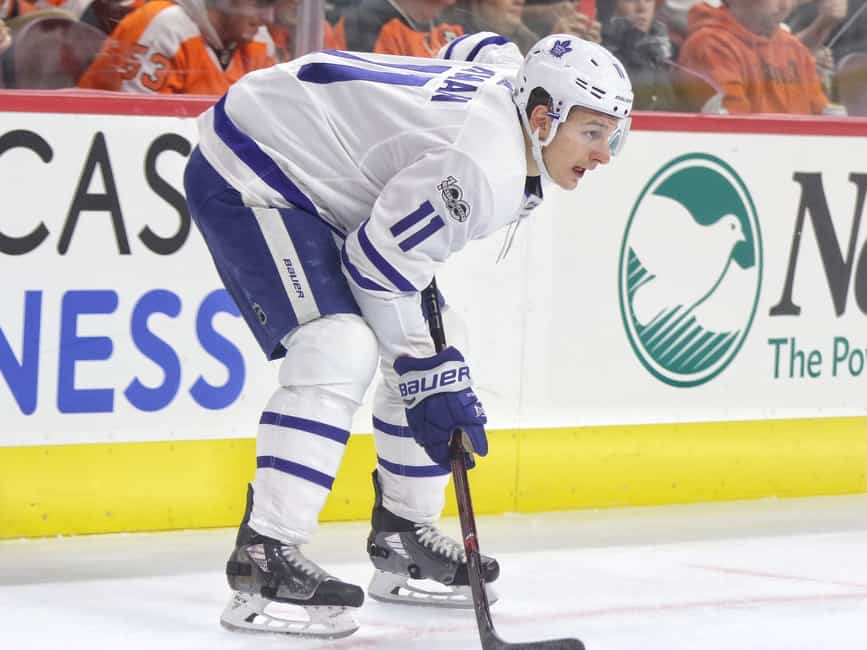 Right Wingers
Connor Brown, Grade C
Brown would probably give himself a D. His grade will improve over the year, if only because he is determined to make it happen.
Kasperi Kapanen, Grade A
Kapanen has done everything expected of him in Nylander's place. He has been a speedy, top-six contributor. Nylander's signing will move him in and shuttle Kapanen out. Kapanen's done a really nice job. I think he's gained the confidence to produce wherever he lands this year in the Maple Leafs' lineup.
Mitch Marner, Grade A+
This grade creates no ceiling for this guy. He's all smart, and all heart. BTW, he also has a whack of skill. It is hard not to love his enthusiasm and passion for the game. It doesn't hurt his grade that he sits second in NHL assists to the Colorado Avalanche's Mikko Rantanen.
In Summary
So where does that leave the Maple Leafs? In short, the stars are the stars; and the Maple Leafs have their fair (or unfair if you ask around the NHL) share. When the Maple Leafs can this year tie their own record of fewest-games-to-20 wins, they must be doing something right. Next up, I will be grading the Maple Leafs' defense and goaltending for the frist third of the season.