The month of August is the perfect time to ask yourself two questions:
Am I a Dallas Stars fan?
Do I like to travel?
If you answered "yes" to both, then it's time to start planning to follow the Stars on one of their many road trips during the upcoming season. Why plan your trip in August, two months before the 2015-16 NHL campaign gets underway? Because you can score great deals on airfare, hotels and game tickets, that's why. Below are four can't-miss road trips to consider booking now.
4. The Southern Tour, October 15-17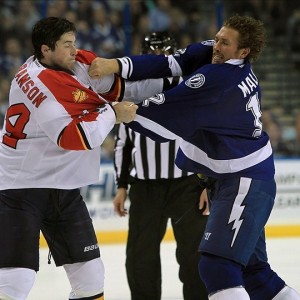 If you immediately picked up on the Slap Shot reference in the title of this trip, you'll probably want to wear your Charlestown Chiefs jersey to see the Stars take on the Tampa Bay Lightning (October 15) and the Florida Panthers (October 17). Fresh off an appearance in the Stanley Cup Final, Lightning fans are loud and passionate, making Amalie Arena a great place to catch a game. What the Panthers' BB&T Center lacks in fan-generated atmosphere, it makes up with great deals on tickets.
Itinerary Ideas
Tampa is just a 2:20 flight away from Dallas, and if you're willing to travel the day before the game, a one-way ticket from Love Field can be had right now for just $49. Why one-way? Because you'll fly home from either Fort Lauderdale or Miami, depending on your preference. On the day between games, you've got multiple options: Walt Disney World is only an 80-minute drive from Tampa and 3:30 from the Panthers' home in Sunrise, the Kennedy Space Center is two hours from Tampa and three from Sunrise, or you can leave Tampa after breakfast and make it to Miami in time for lunch. After the Stars-Panthers game, consider extending your trip for a day or two in Key West; as a loyal Stars (and/or Chiefs) fan, you've earned it.
3. Of Leaves and Sandwiches, October 20-22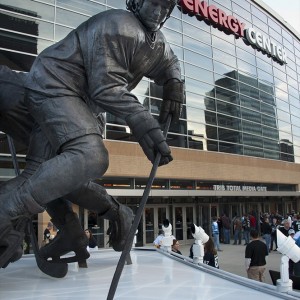 If the idea of a Florida trip makes you sweat, plan instead to catch the second half of the Stars' four-game October roadie, featuring games against the Philadelphia Flyers (October 20) and the Sidney Crosby-led Pittsburgh Penguins (October 22). A word of caution: If you wear your Stars gear in the tragically-misnamed "City of Brotherly Love," be prepared for Flyers fans to notice and comment unfavorably on your fashion sense. Expect to pay twice as much for tickets in Pittsburgh as you will in Philadelphia; after all, Sid, Geno and Phil gotta eat, right?
Itinerary Ideas
Speaking of eating, you can't go to Philadelphia and not have a cheesesteak. Likewise, Pittsburgh is home to Primanti Brothers' legendary meal-in-a-bun sandwiches. This will not be a low-carb trip. The two cities are separated by a beautiful five-hour drive through the Alleghenies, where the mountainsides awash in multi-colored leaves will make for some seriously distracted driving. You have multiple options for the day between games: If history is your thing, Valley Forge and Gettysburg should not be missed. If you're more of an amusement-parks-and-chocolate person, head for Hershey, PA. Tickets for one-way flights from Dallas to Philadelphia and Pittsburgh back to Big D can currently be had for under $200 total.
2. The Pilgrimage, November 2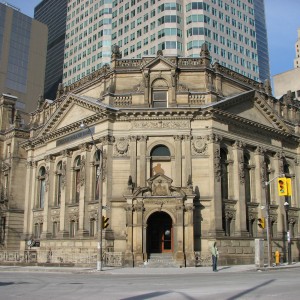 After qualifying for the postseason once in the past ten campaigns amid multiple promises of retooling and/or reloading, real change has finally come to Toronto. Maple Leafs President Brendan Shanahan has razed the underachieving franchise and is launching a rebuild from the foundation up. Let's be brutally honest: Odds are against this being an exciting game, and until the Leafs start winning again, the atmosphere in the Air Canada Centre will continue to be rather library-like. Also, Stars fans traveling to Toronto should prepare for "sticker shock" when buying game tickets. That said, the Shanahan-Lamoriello-Babcock triumvirate will soon build a winner in Hogtown, so Leafs tickets will only become more expensive (and scarce) in seasons to come. Besides, you're not just going to Toronto for a game, you're going for The Game.
Itinerary Ideas
If you travel from Dallas all the way to Toronto for a hockey game but don't make a pilgrimage to the Hockey Hall of Fame, well…you are wrong. Just wrong. The HHOF is the real reason you make this trip; the Stars-Leafs game is secondary. Hockey is a sport rich in history and tradition, and this museum captures it all. To keep your "hockey high" going and fill your belly at the same time, head over to Wayne Gretzky's restaurant. Three words: Bourbon Bacon Poutine. Airfare isn't cheap ($429 R/T is the best deal going at this time), but this once-in-a-lifetime trip is a must for all serious hockey fans. Take your credit card out for a spin, pilgrim.
1. New Year, New York, January 2-5
This is the only road trip which will allow you to catch three Dallas Stars games in three different barns, without changing hotels or renting a car. On New Year's Day plus one, the Stars play at New Jersey, a game which never fails to evoke bittersweet memories of the 2000 Stanley Cup Final. The next afternoon, head to the Islanders' new Brooklyn digs for a match-up with John Tavares and Co. There, you'll have the budget-friendly option of an obstructed view seat with an unobstructed view of the off-center scoreboard. Save money where you can, because on January 5, the Stars appear on Broadway for one night only and tickets aren't cheap. If possible, spring for seats on one of the Chase Bridges at Madison Square Garden. Simply put, they're the best seats I've ever experienced, in any arena. This video doesn't fully do them justice, but it'll give you an idea of what I'm talking about:
Itinerary Ideas
Just as you'll be going to games in three arenas, you have three airport options: LaGuardia, JFK or Newark. Flying in and out of LaGuardia will usually net you the lowest airfares, but shop around first. Keep in mind, you're going to New York in January. Blizzards are not uncommon. Allow for weather-related travel delays by flying in at least one day prior to the first game. To get around town, get a Metrocard. The subway will be your new best friend. As for what to do with your free time and where to eat…it's New York. If you can't find a good meal or get bored, it's your own fault.
There you go, Stars fans: Four great opportunities to follow the team on the road and see how other fans across the NHL live. It's hockey. It's a mini-vacation. It's time to make reservations and buy some tickets. What are you waiting for?
Matt blogged about all things hockey at On Goal Analysis/The OGA Blogs from 2008-2014 and has written several travel articles for The Dallas Morning News. He began covering the Dallas Stars and Florida Panthers for The Hockey Writers in August 2015. Matt is also writing a biography of "Tex" Rickard, the Texas cowboy who founded the New York Rangers and the Madison Square Garden Corporation.