Steven Stamkos was under hockey's microscope this summer due to his unrestricted free agent status and the speculation that the Markham, Ontario native could be on his way out of Tampa Bay. Among those hopeful who thought Stamkos could be coming to their city were the Toronto Maple Leafs, a team thought to be the favourites in landing Stamkos given his ties to the Greater Toronto Area (GTA) and his openness about growing up as a Leafs fan. However, the Leafs were one of many teams who experienced heartbreak once they found out Stamkos had opted to stay in Tampa Bay by signing an eight-year, $68 million deal. Now, Stamkos heads into tonight's game with the Toronto Maple Leafs as a proud member of the Lightning, having no regrets with his decision to remain in Tampa Bay.
Stamkos' Loyalty
Stamkos left a lot of money on the table when he decided to return to Tampa Bay on an eight-year, $68 million contract, which pays him an average of $8.5 million annually. The Maple Leafs were reportedly ready to offer upwards of $10 million each year, plus all of the endorsement deals that were bound to come his way in a Toronto market that praises high-end superstars of Stamkos' caliber. Stamkos instead decided to stay loyal to the Lightning, the only organization he'd ever known after the team drafted him first overall in the 2008 Entry Draft. Lightning general manager Steve Yzerman is one of many who has high praise for his captain. Speaking of the importance of retaining Stamkos and what he means to the Lightning organization, Yzerman was quoted as saying, "He's very loyal. He's an independent thinker and he can make a very difficult decision. Mostly I think, he really wants to win. That's his No. 1 priority. The fact that he wanted to stay with us: He believes in the organization. He loves the city, loves the town."
Stamkos recognizes that he has a chance to win the Stanley Cup with the Lightning, a team that made it to the Stanley Cup Final against the Chicago Blackhawks in 2015 and found themselves one win away from returning there before losing in the Eastern Conference Final to the Pittsburgh Penguins in seven games just last year. His loyalty is with the team, and he wants to win with the close-knit group that they've had there for a few years now. "I've said it from Day 1 that I'm the leader of this team, privileged being the captain and love this group of guys. You never know what's going to happen in your career. I've been through some injuries in my career, some freak things, and realize the opportunity we have here with this organization. It's a special time, and we're looking forward to the challenge."
Stamkos' Return to Toronto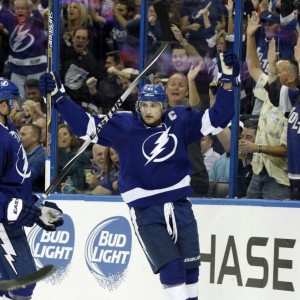 The Tampa Bay Lightning will be at the Air Canada Centre in Toronto on Oct. 25 to take on the Maple Leafs in what will be Stamkos' first game against the Leafs since his decision to re-sign in Tampa. The media has already brought attention to the fact, and Stamkos is hoping the fans there won't give him a hard time for not signing in Toronto when all signs seemed to point towards him doing so back in June. That decision to stay in Tampa would lead to some rather unfortunate news for Leafs' fans. Stamkos' father, Chris Stamkos, even admitted in an interview published by the National Post that "there might have been some relatives who were disappointed." As mentioned before, Stamkos grew up in the GTA and was a huge fan of the Leafs. It would have been some kind of homecoming party if he had decided to put pen to paper in Toronto back in June to become a member of the Maple Leafs. Many thought of it to be a sure thing, the indicators were just too good to ignore. In the same interview published by the National Post, Stamkos was quoted saying "I've always had a love for this city. I grew up in this area. I have friends and family here. I enjoy coming back here in the summertime — it's one of the most beautiful cities in the world, especially in the summer."
Stamkos will be coming home tonight, but he'll be in Tampa Bay's blue and white instead of Toronto's. The Lightning captain is leaving this summer in the past and will continue to work towards bringing a championship back to Tampa, proving to everyone he made the right choice in remaining a member of the Lightning.