The even-keeled, Shania Twain listening, boys in Victory Green are gearing up for win or go home in Game 6 at St. Louis Monday night at 7:00 PM CT. The Blues lead the best of seven series 3-2. Tyler Seguin did not make the trip. Patrick Eaves did make the trip. If he's ready to go, it could give the Stars' power play a little boost.
Special teams continues to plague the Stars in the playoffs (14.3 PP and 73.5 PK). If they can turn that around Monday night it could carry over in a Game 7. However, yes, I know one game at a time.
The Stars came out strong in Game 5. They pushed the pace in the first period but were scrambling in the second and not much better in the third. The result was a 4-1 loss in their home barn Saturday afternoon.
At this point the Stars should feel as comfortable in St. Louis as they do at home. They are 1-1 at the Scottrade Center and 1-2 at the American Airlines Center. The Stars performance at home has been troubling. Or as Shania Twain might say That Don't Impress Me Much.
— Shania Twain 💎 (@ShaniaTwain) May 6, 2016
Stars Lineup Decisions for Game 6
On a positive note, coach Lindy Ruff shouldn't get asked which goaltender starts Game 6. Kari Lehtonen has earned the start. He gave up three goals in the 4-1 loss as one was an empty net goal. There wasn't much he could do on any of the three that found the back of the net. Assuming everyone is healthy enough to play I wouldn't expect any changes on defense. If Eaves can go, I think he's in for Brett Ritchie. Need to go with Eaves' experience. Ritchie's time will come, but next season.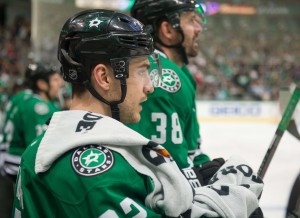 Also, I would find a way to get Colton Sceviour back in Monday night. As I mentioned at the start of the series, Sceviour has scored more goals against the Blues than any other opponent. Granted it's a small sample size, but goals are at a premium right now and he has one in this series. I know Ruff wants a bigger, heavier team to match up with St. Louis, but assuming St. Louis Blues coach Ken Hitchcock sticks with Dmitrij Jaskin over Ryan Reeves, I would play Sceviour over Travis Moen. Valeri Nichushkin's play has improved in Games 4 & 5, so I would keep him in. Mattias Janmark stays in as well.
Stars fan
Had a great chat with Phyllis from Coppell, TX during Game 5. She and her family are longtime Stars season ticket holders. She has attended many of the Stars' fan events and was very complimentary of the players they have met. If the Stars can get it done Monday night, Phyllis and other Stars' fans will get to see another Game 7 this season.
I have a Bachelor of Arts Degree is Sociology from Bridgewater State College. I have covered amateur hockey prospects with Texas roots for the scoutingreport.org, and I am a Dallas Stars writer for The Hockey Writers. I can be reached via Twitter @EdTexmass09.