Experienced fantasy managers understand that Draft-day steals are built where underrated talent meets elite opportunity.
Dallas Stars general manager Jim Nill has not been hesitant to lock up cornerstone pieces such as forwards Tyler Seguin and Jamie Benn and defensemen John Klingberg and Esa Lindell.
Forwards Alexander Radulov and Joe Pavelski and goaltenders Anton Khudobin and (sort of) Ben Bishop were all brought in by Nill through the free agent market.
In general terms of what his market would be today, Klingberg's remaining two-years at a team-friendly $4.25 million average annual value (AAV) stands as one of the more valuable contracts in the NHL.
But a big pay day looms for former third overall pick Miro Heiskanen as soon as next offseason — forcing the Stars to continue making yearly adjustments for what's to come.
With over $50 million in cap space locked up with just the core above for the foreseeable future, the Stars will inevitably lean on a number of top prospects that will help fill the void for the injured Seguin (hip) and Bishop (knee), along with UFA departures Corey Perry and Mattias Janmark, who both saw meaningful top-six and power-play minutes in the 2020 Stanley Cup Playoffs.
While it's rare for top prospects to singlehandedly win your fantasy hockey league as they may be able to in other sports, expanded rosters and weekly uncertainty surrounding the world today make all potential NHL-superstars worth keeping an eye on.
The Stars, like the rest of the league, will need low-cost contingency plans to fill important roster spots and have the tools within their own organization to do so at a high level.
High Upside
Jason Robertson, Forward
Robertson enters 2020-21 as a favorite to crack the Stars' opening night roster and rightfully so, after leading the Ontario Hockey League (OHL) in 2018-19 with 117 points (48 goals) in 62 games with the Niagara Ice Dogs.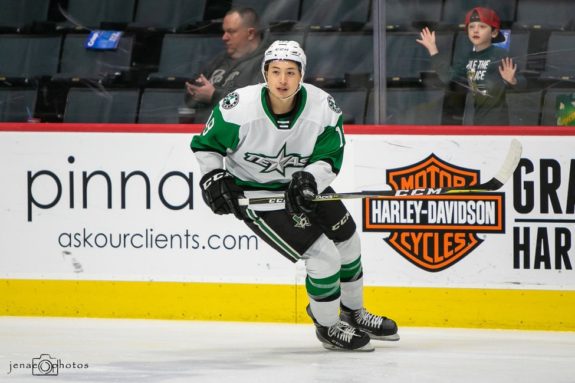 The 21-year old made his professional debut in 2019-20 by co-leading the Texas Stars with 25 goals and a team-leading 47 points, finishing third among AHL rookies in both categories. 
The California-native could provide the Stars with a much needed offensive spark after finishing near the bottom of the NHL in goals scored just a season ago and expected to be without Seguin for the majority of the regular-season.
Robertson's trust within the organization only became more clear when he was selected to join the Edmonton bubble for the Stars' 2020 Stanley Cup Playoff taxi-squad.
While he did not appear in any playoff games in 2020, it's worth noting he was seen taking reps on the third power-play unit alongside forward Justin Dowling at the start of training camp, an indication that the coaching staff is already looking for ways to utilize the former second-round pick in obvious scoring situations.
If (when) there's a need for an offensive shake-up on the Stars' top-six to start the season, expect Robertson to get the first call and an expanded opportunity to stick with the big club for the long haul.
Jake Oettinger, Goaltender
The Stars would ideally exit 2020-21 with Oettinger established as not only a solid NHL-backup option, but the clear goaltender of the future in Dallas.
The 21-year old enters training camp as the favorite for backup goaltending duties behind veteran Anton Khudobin and could be circling the fantasy radar in short-order.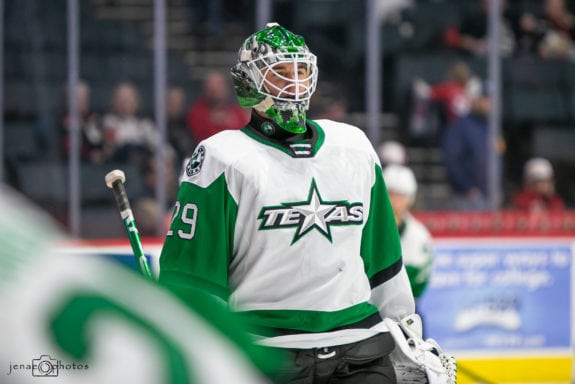 The former 26th overall pick in 2017 is coming off three straight stellar seasons with Boston University, recording no worse than a 2.45 goals against average and .915 save percentage (SV%), combining for 58 wins and 12 shutouts.
After a brief six-game AHL debut with the Texas Stars in 2018-19, he followed by appearing in 38 games in 2019-20, earning 15 wins (3 shutouts) and posting a .917 SV% in his first full season of professional hockey.
Oettinger also joined the Stars in the Edmonton bubble as the team's third-string goaltender in the Stanley Cup Playoffs, briefly emerging in the national spotlight by making two relief appearances, stopping all 8 shots faced in 37-minutes of ice time.
While the relief appearances seemed rather irrelevant at the time, a Khudobin-Oettinger duo is shaping up to be a glimpse into the near future with Bishop slated to miss at least four months to start the season, leaving the Minnesota-native in a position for increased NHL playing time in 2020-21.
Khudobin is also ailing due to surgery to fix a nerve issue in his right arm but is expected to be available for the start of training camp. The 34-year old is fresh off posting career-high's in consecutive starts in a historical Cup Final run, meanwhile has only appeared in more than 36 regular-season games just once in his 11-year career.
While the one they call 'Dobby' will be the undisputed number one goaltender to start the season and a popular fantasy option on Draft day, Oettinger could see significant playing time if Khudobin, a career-long backup, were to struggle or show signs of fatigue early on.
In position that runs out of gas awfully quick in fantasy drafts, you could do worse than selecting Oettinger as an insurance option with high-upside, especially if you own any of the Stars' aging netminders.
Looking ahead to 2021-22, where an Expansion Draft looms, this could be Oettinger's rehearsal to man the crease in Dallas for years to come, elevating his value in dynasty formats.
Ty Dellandrea, Forward
The 20-year old was loaned to JYP Jyvaskyla of the Liiga Finish Elite League, the top professional league in Finland, to start the 2020-21 season and is gaining excellent experience centering JYP's second line.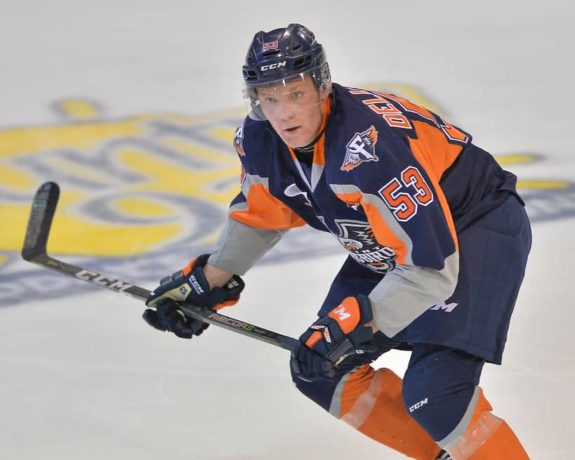 Playing alongside skilled forward Brad Lambert, a 16-year old Finnish product with projections to go first overall in 2022, Dellandrea is receiving the quality minutes needed to continue his development to the NHL and has already made a statement by scoring 2 goals (in back-to-back nights) in 6 games for JYP.
Ty Dellandrea scores his first goal of the season with JYP. #GoStars pic.twitter.com/YdrZqtwKyB

— Lassi Alanen (@lassialanen) November 26, 2020
Ty Dellandrea scores his second goal of the season. #GoStars pic.twitter.com/VVBgFxBfeE

— Lassi Alanen (@lassialanen) November 27, 2020
Cut by the Stars during training camp in September, the Flint Firebirds captain returned for a fourth OHL season looking to build off a successful 60-game, 63-point season in 2018-19.
Responding with two hat tricks within fifteen days to begin the new season, the Port Perry-native also went on to play a key role in leading Canada to a Gold Medal at the World Junior Championships, recording three goals (five points) in seven tournament games played.
The offensive explosion continued, going on to tie his career-high for points in a game (5) on January 19, aiding the Firebirds victory with two goals, three assists, six shots and winning 14 of 18 faceoff's taken.
Scoring a career-high 32 goals and 70 points in 47 games in 2019-20, he has now recorded at least 20 goals, 30 assists and 59 points in three consecutive OHL seasons, leaving very little left to prove at the Canadian Hockey League level.
Dellandrea was invited to join the Stars in the Edmonton bubble, but like Robertson, did not make his Stanley Cup Playoff debut.
The former 13th overall pick in 2018 is inching closer and closer to getting the call in Dallas, standing as certainly one of the more gifted two-way players in the organization, the recent offensive breakout and elite faceoff ability will be difficult to ignore.
However, considering Nill's conservative approach by allowing prospects to establish themselves in the AHL-level before making the jump, a veteran presence like Dowling will likely handle fourth-line duties to start the season, allowing Dellandrea to continue development as a top-six forward in either Flint or Texas.
Even with a slow start offensively, it would be surprising to see the Stars force Dellandrea into meaningful minutes in 2020-21 but will have every opportunity to prove why he's ready to contribute at the NHL-level with expanded opportunities in Liiga, followed by a big training camp.
Thomas Harley, Defenseman
The 18th selection in the 2019 Draft is coming off back-to-back fantastic seasons with the Mississauga Steelheads in the OHL.
Finishing fifth amongst OHL defenseman in goals (18) and seventh in points (57) over 59 games in 2019-20, the Syracuse-native has recorded a whopping 115 points (29 goals, 86 assists) across 127 regular-season games.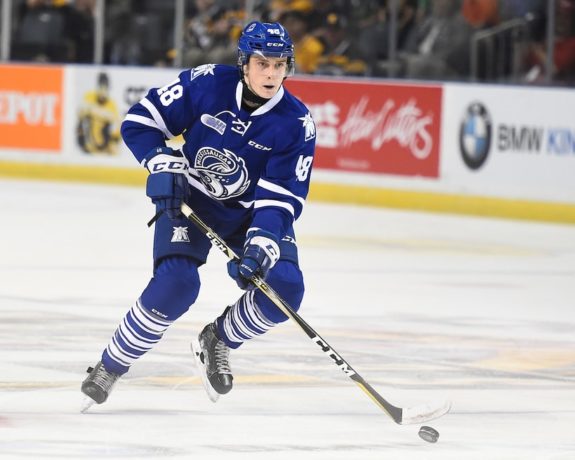 After an invitation to join the Stars in the Edmonton bubble, he made his NHL debut in the round-robin of the Stanley Cup Qualifiers, playing 10:58 of ice time.
The 19-year old will have an opportunity to be selected to play at the 2021 IIHF World Junior Championship before heading back to Mississauga for his fourth and possibly final OHL season.
With an opportunity to cement himself as an elite OHL defenseman for a third consecutive season, the organization will be eager to reveal his upside with expanded NHL opportunities by 2021-22.
Future Breakout
Mavrik Bourque, Forward
Perhaps one of the bigger steals in 2020 (virtual) NHL Draft, the Quebec-native has made quite the impression for the Shawinigan Cataractes of the Quebec Major Junior Hockey League (QMJHL).
After a solid rookie campaign, posting 54 points (25 goals) across 64 games as a 17-year old, Bourque's game appeared to take a new height in 2019-20.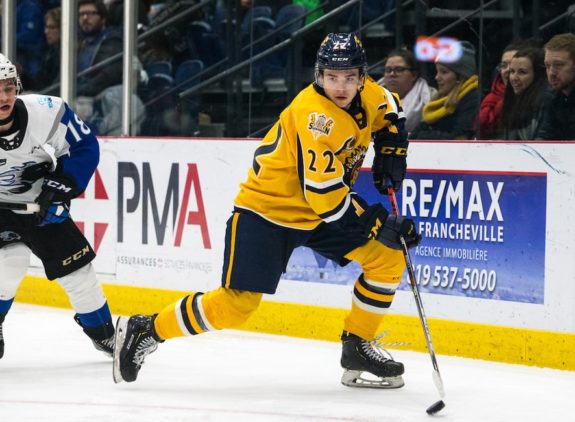 Erupting with 71 points, the 18-year old finished within the QMJHL's Top 25 in goals (29), assists (42) and points despite playing in only 49 games.
He joins Harley at WJC camp for an opportunity to be selected to play for Team Canada and has already collected 6 points (3 goals) across 4 games to begin his third season in the Q and first as captain for the Cataractes.
Lowered Expectations
Joel Kiviranta, Forward
Kiviranta was the Stars' unquestioned playoff hero in Round Two after sending the Stars to their first Western Conference Final since 2008, with a hat trick, OT-winning performance in Game 7.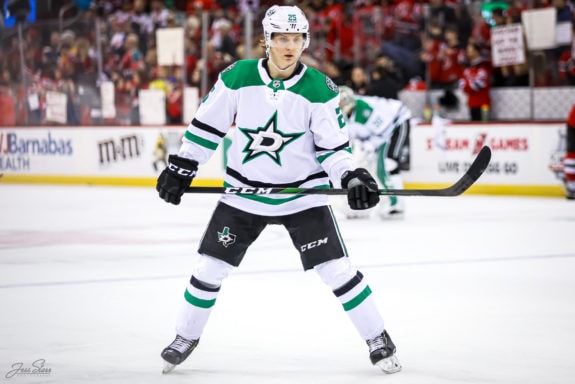 The undrafted free agent etched his name in NHL history, becoming the seventh player, and only rookie, to score a hat trick in a Game 7. The last to do it: Wayne Gretzky in 1993 with the Los Angeles Kings.
Continuing a solid postseason, the 24-year old joined the Stars' record book as the fifth rookie to record a goal streak of three or more games in the playoffs and first to do since the club relocated to Dallas, finishing with 6 points (5 goals) in 14 postseason games, recording 21 shots and 37 hits.
Rightfully so, Kiviranta is the clear favorite to hold fourth-line duties and perhaps another top-six opportunity after a magical postseason run just a short time ago, but ultimately won't be counted on for the same offensive output that fantasy owners might be tempted to reach for in 2020-21.
The Finland-native's career-best season in Liiga was a 19 goal, 37 point campaign in 2017-18 across 59 games, followed by 12 goals (23 points) in 48 AHL appearances and one NHL regular-season goal in 11 games played.
While Kiviranta undoubtedly fits the mold for an ideal Stars bottom-six forward by possessing a streaky offensive-skillset, physicality and proven instincts to put the puck in the net on the biggest stage, he's more likely to return to low-end offensive production that saw only 46 goals in 165 games across the last three seasons in Liiga.
With that said, any player receiving heavy-praise from former Stars' forward Jere Lehtinen, who played a key part in Kiviranta's arrival in Dallas, shouldn't be totally ignored.
The absence of Seguin will inevitably create top-six and power-play opportunities but it would likely take another injury (or two) for Kiviranta to be leaned on enough offensively to warrant anything outside of a streamer in most leagues.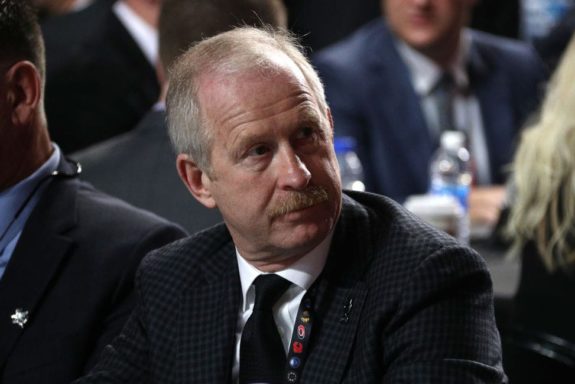 After what was easily one of the more quieter recent offseason's for Nill, albeit re-signing key restricted free-agent pieces, passing the torch to the next generation of Stars in 2020-21 has seemingly been the plan all along.
With a number of options ready to make the NHL jump while playing on entry-level contracts, the Stars should not struggle to find secondary scoring and defensive production within their own building.
---
---