Albertan hockey fans got twice the entertainment Saturday night as the Flames and Oilers opened the preseason in Calgary and Edmonton, respectively. The split-squad series featured an abundance of rookies, prospects and recent draft picks (as well as a slew of goalies in the post-Kiprusoff era) and offered a preview of what's to come for the two teams in different stages of a rebuild.
All eyes were on Sean Monahan and Emile Poirier at the Saddledome, and although the Flames fell 3-2 to the Oilers, the draft picks did not disappoint. Fast-paced and full of energy, Monahan battled hard in the face-off circle, and when trailing 1-0 almost evened the scoreboard with a near tap-in that was just barely denied by Oilers goaltender Jason LaBarbera. If there were any on-ice jitters, Monahan hid them well, and played confidently alongside and against some of the league's veterans.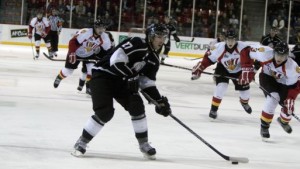 Perhaps more scrutinized was Emile Poirier, who generated a lot of buzz when his name was called by Jay Feaster instead of Hunter Shinkaruk's during the NHL Entry Draft. Poirier stated during development camp that he meant to disprove the doubters when given the chance, and he wasted no time doing so Saturday night. Poirier's snap shot early in the third period brought the Flames to within one, then nearly potted a go-ahead goal with the score tied at 2.
Another positive in the Calgary game was the pace at which Mikael Backlund played. Plagued with injuries season after season since his debut with the Flames, Backlund was clearly feeling healthy and ready for action. Coming off of a recent $3 million 2-year resigning with Calgary, Backlund showed hints of his readiness to step up and take more of a leadership role amongst some of his younger teammates.
The final tally favoured Edmonton thanks to a wrister by Martin Marincin with just under 5 minutes left to play, but the loss was in no way an indication of the efforts put forth by the Flames. And with a 6-5 shootout win for the Flames in Edmonton, the first preseason games were a general success for the team.
The Flames head to Saskatoon, Saskatchewan to face off against the Ottawa Senators on Monday, September 16th.