A couple of very interesting names may be on the move. To say these moves are imminent would be way overstating things, but in the cases of both Tomas Tatar and Phil Kessel, exits out of their respective organizations may come before their current deals — or in the case of Tatar, soon to be arbitrated contract — expire.
Tomas Tatar
Tatar's arbitration hearing is set for July 20, 2017. The Detroit Red Wings absolutely want to sign him and bring him back to the team (thus avoiding arbitration), but there is some hesitancy over both the amount of the contract and the length of the extension. If a deal can't be worked out between the two sides, Tatar's arbitration would end in a one-year deal  — something Tatar says would likely result in his leaving the organization.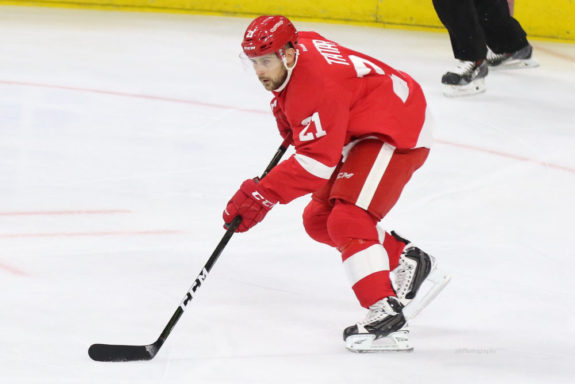 Tatar told a Slovakian website:
"Arbitration is the last option, I have to sign off, it's just a mandatory contract. Unless I agree with Detroit, I'll go to the court (salary arbitration), where they'll give me a year's contract. That would probably be my last season in Detroit. We'll see in a few days or weeks before it all comes together."
Tatar is coming off a season when he produced 25 goals among 46 points in 82 games. He's managed three straight 20-goal seasons and he's a key offensive weapon for a Detroit team who could really use the offensive production. He's also a bit streaky and his streakiness is what has Detroit slow-rolling the extension.
What gets interesting here is that as more and more extensions finalize with other players around the NHL, it may affect the resulting deal that gets done between Tatar and the Red Wings. Tyler Johnson, T.J. Oshie and Alexander Radulov may affect the final numbers (or at least Tatar's ask) and the Red Wings have future contracts for free agents like Dylan Larkin to worry about.
Should the Red Wings and Tatar not be able to come to a long-term agreement and the thought is he'll bolt at the end of his deal, the team could look to trade him at this year's NHL Trade Deadline.
Phil Kessel
Ron Cook of the Pittsburgh Post-Gazette got everyone's attention with a column on Monday that discussed the likelihood that Phil Kessel may be a trade asset for the Penguins now that Rick Tocchet is gone.
Kessel is a dangerous offensive weapon and he was fantastically productive when the Penguins won the Stanley Cup in 2015-16. Apparently, his safety net has disappeared and how the Penguins view Kessel within the organization has changed too.
As Cook describes the situation:
It was clear in June, by the end of the Penguins' second consecutive Stanley Cup run, that the organization wasn't thrilled with Kessel. He scored 23 goals in 82 games during the regular season, not nearly enough for a player with his marvelous shooting skills. He had a huge goal — one of the most significant of the postseason — to beat Ottawa, 1-0, in Game 2 of the Eastern Conference final but scored just two more goals in the final 11 playoff games. Even though he had 23 points in the 25 postseason games, it was hard to find anyone in organization to say he was playing well.
While Kessel has a history of scoring prowess, much of this change of heart can be traced back to a lack of chemistry between both Evgeni Malkin and Sidney Crosby. Malkin simply didn't get along with Kessel and Crosby has virtually no on-ice chemistry with him. If either feels that Kessel is no longer a fit with the organization, the team will do what they can to appease their two superstars.
Phil Kessel and Evgeni Malkin verbally joust after a shift. Sullivan has to calm Geno down pic.twitter.com/KTuidhd9GO

— Pete Blackburn (@PeteBlackburn) May 16, 2017
Kessel also has a bit of a reputation. He's exclusively offensive, choosing not to play much defense or play a physical game. If he's not scoring, he's not terribly useful. This trait has a tendency to drive coaches and teammates crazy and former Penguins assistant coach Tocchet was the buffer between Kessel and all other parties. Now that Tocchet is gone, most don't believe this Kessel and Penguins relationship will last.
Jim Parsons is a freelance writer who covers the Edmonton Oilers and news and rumors posts here at The Hockey Writers.
You can also catch him writing at NHLtradetalk.com, The Sportster and hosting weekly video casts, THW News and Rumors Rundown, plus Oilers Overtime.
Follow below on any my social media accounts.