Ten Fantasy Thoughts brings you valuable insight to line changes, buy-low candidates and updates on why a player may be struggling or surging for the past few weeks. This week, Ten Fantasy Thoughts will be discussing some explanations for player's struggles, a history lesson in goaltending and a few prospects to keep an eye on.
1. With the head-to-head playoffs only a couple of weeks' away, one is certainly evaluating the goaltending position and thinking one of two thoughts: "I have this locked up" or 'There is no way I can compete with player X's team". You may be surprised at how some goaltenders competed in the first week of last year's head-to-head playoffs:
| | | | | | | |
| --- | --- | --- | --- | --- | --- | --- |
| Name | Starts | W | L | OTL | GAA | SV% |
| Thomas | 1 | 0 | 1 | 0 | 4.97 | 0.818 |
| Kiprusoff | 2 | 1 | 1 | 0 | 3 | 0.889 |
| Theodore | 1 | 0 | 1 | 0 | 10.97 | 0.737 |
| Mason | 3 | 0 | 2 | 1 | 2.3333333 | 0.920 |
| Lehtonen | 3 | 1 | 1 | 1 | 2 | 0.933 |
| Backstrom | 4 | 0 | 2 | 1 | 3.5 | 0.873 |
| Price | 3 | 1 | 2 | 0 | 3.6666667 | 0.876 |
| Bryzgalov | 3 | 2 | 1 | 0 | 2 | 0.934 |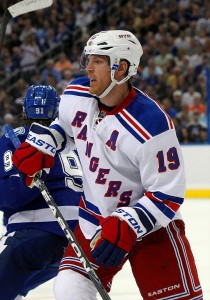 2. After Thursday night's loss versus the Ottawa Senators, John Tortorella lamented that the Rangers "don't have a big shot from the point" on the powerplay. This should not come as no surprise to many, but with the way things have looked as of late, it really is taking a toll on some of the Blueshirts' numbers.  Prior to this season, Brad Richards accumulated 42% of his points while on the powerplay.  With his new team, he only has 34% of his points while on the man advantage.  What makes this even worse for New York is that Richards is on pace for career-lows in points while five-on-five. Tortorella's squad is going to have to find a way to improve that powerplay.  With the Connecticut Whale sitting in the 10th spot on the powerplay, could Zuccarello be the answer? Richards scored two last night for the Blueshirts, so perhaps they are onto something…
3. Matt Niskanen had a solid stretch over December putting up ten points in thirteen games while offensive-minded defender Kris Letang was out of the lineup with a concussion. Well, Letang is again out of the lineup and Niskanen is picking up the offensive slack from the blueline for the pesky Pens'. The former-Stars first-round pick has points in two of his last three and is playing some quality minutes on the top powerplay with an Art Ross leader and a man featured on NHL 36. Niskanen is only 18% owned on Yahoo.
4. A few weeks back I mentioned some goalies to target for the 2012-13 season, Matt Hackett being one of them:
"The nephew of former NHLer, Jeff Hackett, is tearing up the American Hockey League in his sophomore season with a .921 save percentage and 2.36 goals against average. The AHL averages 2.88 goals per game, per team, meaning Hackett is well below the norm."
With injuries to Harding and Backstrom, this former Houston Areo is getting plenty of opportunity to showcase his talent for the struggling Wild.  If desperate for goaltending, Hackett could provide a spark with six of his next ten games coming against non-playoff teams.
5. Brendan Smith has taken the long and traditional path in becoming a Red Wing with a three-year stretch in Wisconsin and over a season and a half in the minors.  However, that is much less time than the average Detroit prospect due to injuries of captain, Nicklas Lidstrom as well as Jakub Kindl and Jonathan Ericsson.  While playing large minutes on the second powerplay unit, alongside Ian White and Kyle Quincey, Smith has impressed, with a goal and four assists in eight games.  The former Wisconsin Badger was ranked eighth in points-per-game as a defenseman in the AHL prior to his call-up. Will Smith be the go-to-defender filling the inevitable hole left by Nicklas Lidstrom?
Here is a clip of Smith's lone NHL tally:

6. Martin Havlat owners rejoice as he is travelling on the Sharks current road swing and could return as early as next week. The oft-injured Czech had a rough beginning to his career as a Shark with only fifteen points in his first 26 contests, mostly playing mostly with rugged winger, Ryane Clowe and All-Star, Logan Couture. The Sharks are in dire need of offense having won one of their last seven matches.  Once can bet that this three-time point-per-game player will have much opportunity to excel.  As long as Havlat takes the door to the ice rink, he should be worthy of a pickup in all fantasy hockey platforms.
7. It seems like every year around this time, many players suffer long-term injuries that keep them out for the final month of the season.  When teams begin to drop out of the race like flies, expect to see some more injuries come about. As a result, there is plenty of opportunity for free agents in most fantasy hockey formats to step up. Notably, injuries to Joffrey Lupul, Kris Letang, Jimmy Howard, Michael Del Zotto and Niklas Backstrom have opened up big minutes for players such as Matt Frattin, Tim Connolly, Matt Niskanen, Joey Macdonald, Anton Stralman, Mats Zuccarello, Marc Staal and Matt Hackett.  Keep a close eye on various injury sources and check out players' ice times nightly to find which players could potentially help you down the stretch.
8. Philip Larsen played nearly 24 minutes on Saturday night when the Stars took on the San Jose Sharks. I have only seen a handful of Stars' games this season, but he has looked very impressive in every one of them. He is still learning the game being only 22 years of age, but this Danish rookie had ten points in twelve games in the AHL and will see great ice time for at least the next week or so with the injury to Sheldon Souray. Larsen is playing a regular shift next to Pens' former second-round pick Alex Goligoski.
9. Ryan Ellis has found a way to excel on all levels of hockey, whether it be in the Ontario Hockey League, American Hockey League or even at the international stage. He was named the CHL defenceman of the year in 2011 and managed a gold and two silvers in the World Junior championships. Ellis may be able to find this kind of success at the NHL level sooner rather than later, pending the return of rock steady defenders Shea Weber and Ryan Suter. The former-Canadian captain had 18 points in 29 games as an Admiral, and has now forced the Predators to keep him on the NHL roster with his strong offensive play and steady approach in the defensive end. This former Windsor Spitfire captain has nine points in 24 games for the Predators, while only receiving minimal powerplay time and third-pairing minutes next to Roman Josi. While Ellis is not much of a fantasy factor this season, he'll be opening eyes and drawing jaws at a national level for years to come.
10. Home sweet home.  Well, that is not exactly the case for some teams.  Many times, unconsciously, a team will play differently in front of the home crowd faithful or, depending on the city he's in, the statistician might be seeing the game from an alternate angle.  Here is a look at some interesting home/road splits when looking at hits and blocked shots (Home stats subtracted by road stats):
| | | |
| --- | --- | --- |
| Team | H vs. R Hits | H vs. R BS |
| Minnesota | -3.21 | -3.25 |
| New Jersey | -5.02 | -7.53 |
| Calgary | -6.33 | -2.86 |
| Nashville | -1.05 | -2.31 |
| Toronto | 7.38 | 3.33 |
| Dallas | 6.88 | 3 |
| Vancouver | 5.58 | 0.79 |
| Anaheim | 3.21 | 0.59 |