Maple Leafs Panel is a weekly feature that is published every Monday here on The Hockey Writers. It is a feature where THW Toronto Maple Leafs correspondents Lukas Hardonk, Mark Ascione and Alex Mamalis answer three questions that concern the Maple Leafs each week. Again this week, we welcome Greg Thomson filling in for Lukas. To catch up on previous editions, click here.
Question: Based on his play this year, should the Leafs make a serious effort to re-sign Jonas Gustavsson to a contract?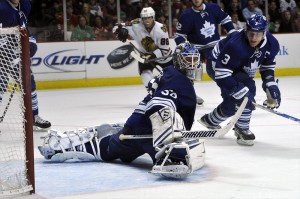 Greg Thomson: With James Reimer already locked up beyond this season, and fairly inconsistent play from both goaltenders, Brian Burke would be rolling the dice by bringing back both. Reimer has the natural pedigree and attitude to be a starting goaltender despite his shortcomings this season.
While Gustavsson has saved the Leafs on several occasions this season, he has not exhibited a body of work to warrant an extension. Even if management felt as though he was worthy of being brought back, his value will be inflated due to the lack of available netminders on the open market in free agency this summer.
Expect Reimer to return next season as the 1B or backup, with another more proven goaltender replacing Gustavsson. There will be a handful of teams willing to throw money at him this summer, but quite likely, it will not be the Leafs.
Alex Mamalis: No. Despite his mild success this season, he shouldn't resigned. My reasoning is that he hasn't accomplished enough to warrant another chance at salvation on his Leafs career. Especially considering Reimer's struggles this season, a true veteran is needed.
Mark Ascione: I don't expect Gustavsson will be re-signed. He's played well of late, and he did play well enough during the stretch Reimer was hurt. But, overall, he's not been what you'd call stellar in Toronto.
I think three things work against him though. For one, Burke and Wilson seemed to lean towards Reimer as the starter, and Reimer is younger and under contract. Carlyle has gone with Gustavsson, but I think the direction they want to go in is for Reimer to be the guy. Secondly, Burke decided to go with youth throughout the organization at the goal position, and I think most people would say this team needs to have some kind of veteran presence in the system. I think Burke does go out and sign a more established NHL goalie in the off-season to tandem with Reimer. Thirdly, it's entirely possible that one of Ben Scrivens or Mark Owuya could also be ready to step up within the next little while. That doesn't seem to leave enough room for Gustavsson.

Question: Who, in your opinion, forms the core of the Maple Leafs team that Brian Burke needs to build around?

Greg Thomson: The old adage says that teams should build from the net out and round out the roster by employing a big bodied centre on the first line. However, those are two pressing areas that the Leafs have yet to address. As mentioned in the previous question, expect Burke to venture into the trade market and target the likes of Jonathan Bernier, Anders Lindback, and potentially Steve Mason to team with Reimer as a young, promising duo. Burke may chose to trade his first round pick, which will likely be a top ten selection. Although unlikely, that pick could be used to acquire a more highly touted goalie along the lines of Cory Schneider. Whatever goalie is acquired, if it happens, will instantly become the focal point of the team and a significant piece of the framework.
Joe Colborne may just be the answer to the Leafs need for a sizable first line centre. Heck, even the newly re-signed Mikhail Grabovski may post 70 points annually and fulfill that role. But, those are both possibilities. Toronto needs to play it safe and compile assets together to bring in a centre that will support Phil Kessel and create space for him on the ice. Although Tyler Bozak has chemistry with Kessel, he does not bring the size needed to open up room for his linemate.
Rounding out the building blocks for the Leafs are Dion Phaneuf and Jake Gardiner on defense; along with Joffrey Lupul, Joe Colborne and Matt Frattin on forward. The latter is a wildcard at 24, but has shown the ability to become a solid top-six forward with good speed.

Alex Mamalis: In my opinion – Kessel, Gardiner, Reimer, Phaneuf, and Grabovski are the only group of players I would not trade in most circumstances. There's a price for everybody, but for me, Burke would be in good merit to use these five as his core. Something I'd also like to note is that I believe his core is unfinished. My guideline of a core of players is 2 forwards, 2 defenseman, and a goalie. Obviously he's missing a forward worthy enough to be part of the long term future.

Mark Ascione: Building from the net out would make the most sense, but I am not sold that Reimer is even a real solid goalie going forward. Obviously, the team needs upgrades in many areas. For me, the core is going to be Kessel, Phaneuf, Gardiner, Grabovski and Colborne, and even then, it's not an ideal situation.
Including Kessel and Phaneuf as the core has at least something to do with the commitment Burke has made, in terms of these players having high dollar, long-term contracts. By default it means they become building blocks, but I'm not sure they're ideal pieces, in that even now their games have flaws. I include Grabovski because he seems to be among the most competitive Leafs out there every night, and he has some deceptive skill. He may not be big enough to be a top centre, but he is an important piece to Toronto's success. Colborne and Gardiner both have such upside, and have already shown quite a bit of talent, they could well develop into stars.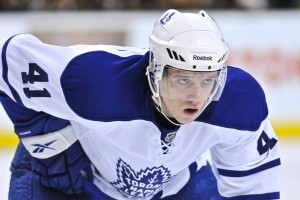 Question: Nik Kulemin is always a hard worker, and a good defensive forward. He had a breakout year in 2010-11 with 30 goals/57 points, but has only 7G, 28 pts so far this season. Is this simply a down year for him, or is he likely a 35 point guy who had a once-in-a-career year in 2010-11?

Greg Thomson: Despite not reaching, or even coming close to the 30-goal barrier this season, Nikolai Kulemin has made strides as a defensive forward and evolved into a reliable force for the Leafs. Quite clearly, he overachieved offensively last season when given the opportunity to play with two offensively skilled linemates in Grabovski and Clarke MacArthur. He is better utilized in a third line checking role, where he plays his best killing penalties and wearing down the opposition.
Not surprisingly, Kulemin has actually improved his defensive skills this year. Look for him to settle into his current role by regaining some of his scoring touch, while likely topping out in the 35-45 point range.
Alex Mamalis: Though I'd like to believe Kulemin is having a down year, his career totals leave me skeptical. Before his 30 goal year, everyone was questioning his NHL ability with only a career high of 16 goals in three years time. I still believe he has the tools to be a solid 25 goal forward, but he needs to round out his offensive game – his shooting and ability to shoot off the rush in particular. However, the defensive part is already down pat for him, so that's a huge positive. It's just working in the little offensive things.
Mark Ascione: First off, I am not sure anyone thought this kind of drop in production would occur. That said, I think many thought 30 goals was going to be the norm for Kulemin, and it may not be the case. I think Nik will settle in as a 15-20 goal player, a decent 3rd liner. It's true that while his offence has suffered this year, he's been a very good defensive forward. If he can get some of the offensive magic back, he could have a shot at a Selke Trophy one day.