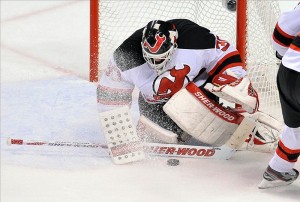 1. Brodeur's Potential Swan Song
New Jersey Devils' goaltender Martin Brodeur will make his 200th career playoff start in Game 1 on Wednesday night.  As an unrestricted free agent after this season, the 40 year old future hall of famer has the opportunity to go out in a way many athletes dream of – on top of the league with a championship win.  However, according to Shawn Roarke of NHL.com, Brodeur might not be quite ready to hang it up just yet if he can continue to play at this level.
2. Cinderella Kings Looking for First Cup
The Los Angeles Kings are looking to make history for their franchise and for the NHL.  The Kings are making just their 2nd Stanley Cup Finals appearance, losing their previous one to Montreal in 1993.  They are also only the second #8 seed to make it to the Finals since the NHL switched to the current playoff system in 1994.  The only other team to do so was the 2006 Edmonton Oilers, who lost to the Carolina Hurricanes in the Finals.  With one more series win, the Kings can earn their first Stanley Cup and become the first 8th seed to ever win the Cup in the NHL.
3. Carter and Richards Return to the Finals
Just two years ago, Jeff Carter and Mike Richards were teammates in Philadelphia and suffered defeat in the Stanley Cup Finals to the Chicago Blackhawks.  Though they took different paths, the two forwards have been reunited in Los Angeles and find themselves together again in the Finals.  Their experience from 2010, along with the pure desire from coming so close to winning the Cup and not getting it, could put the Kings over the top in this series.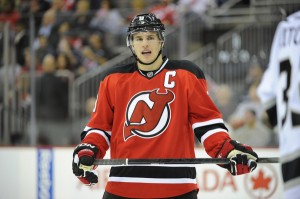 4. Parise's Last Games as a Devil?
While Brodeur may not have a contract for next year yet, he will not be the one getting attention for it.  Devils captain Zach Parise will become an unrestricted free agent on July 1st and might have the whole NHL knocking at his door.  Parise finished 24th in the regular season scoring race with 69 points in 82 games and is currently 6th in the playoffs with 14 points in 18 games.  He is a rare first-line talent and all of New Jersey will hope this run may persuade him to stay.  Meanwhile, the rest of the NHL already has their checkbooks out and ready to go.
5. Kovalchuk's First Finals Appearance
Ilya Kovalchuk has had a rollercoaster ride to this point, at least according to popular opinion.  When he originally signed with New Jersey, many mocked his lack of playoff success after playing in Atlanta through most of his career.  Now Kovalchuk finally has a long playoff run under his belt, and though he seems to be described as "enigmatic" every other day, his 18 points in 17 games to lead the playoff scoring race seems to tell a different story.  One more strong series and Kovalchuk may be able to shake the stereotypes for good.
6. Quick's Ascent
While New Jersey puts a battle tested veteran in their net, Los Angeles relies on a goalie entering his prime and taking the world by storm.  Jonathan Quick put up a Vezina worthy regular season, and has continued his outstanding play into the playoffs.  He leads goaltenders in the playoffs in GAA (1.54) and Save Percentage (.946) as a very strong Conn Smythe candidate if the Kings win the Cup (and maybe even if they lose).  Quick may not have gotten the public recognition he deserved during the regular season, but he is surely turning heads around the NHL now.
7.  New Coaches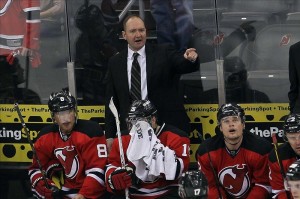 This year's Cup Finals feature two coaches who are in their first seasons with their current teams.  For that matter, the Kings' Darryl Sutter did not even spend the whole season in LA as he was hired in December after a coaching change.  Meanwhile, the Devils' Peter DeBoer joined New Jersey in the offseason after being fired by the Florida Panthers (who the Devils knocked out in the first round).  Sutter brings a great deal of experience to the Kings, having lost in the 2004 Finals with the Calgary Flames.  On the other side, DeBoer is enjoying his first NHL playoffs experience as a head coach.  As the 2012 playoffs have taught us, all of this probably means nothing.
8.  American Captains
Aside from the ascent of US goalie Jonathan Quick, Americans are excited to see that one of their own will raise the Stanley Cup in the next couple weeks, whether it is Dustin Brown or Zach Parise.  Per ESPN, this is the first time that two American captains will face off in the Stanley Cup Finals.  Only one other American born captain has ever lifted the Cup first – Derian Hatcher for the 1999 Dallas Stars.
9. Upcoming Free Agents
Deep Stanley Cup runs often take a big toll on franchises as they try to keep their teams intact in the Salary Cap era.  Many teams that make it to the Finals or win the Cup often see a large exodus as their players seem to earn an extra million dollars or so from their strong playoff performances.  Here are some names to keep an eye on over the next two weeks as players look to both win and cash in at the same time:  Dustin Penner, Jarret Stoll, Dwight King (RFA), Colin Fraser, Bryce Salvador, Zach Parise, Martin Brodeur, Alexei Ponikarovsky, Ryan Carter, Stephen Gionta, Petr Sykora, Cam Janssen, Mark Fayne, Peter Harrold, Johan Hedberg.
10. What Happens Afterwards?
I would be remiss to not mention this potentially depressing topic as we enjoy the 2012 Stanley Cup Finals.  I advise everyone to watch the 2012 Finals to their heart's delight and to get excited for the draft in June and Free Agency in July.  But there is one large and looming dark figure in the horizon.  The CBA agreement between the players and the NHL expires in September.  There is still far too much uncertainty to predict how negotiations will proceed or what may occur, but here's a word of advice: do not begin the countdowns to October as soon as the Finals are over; they may count down to nothing.
There are certainly more storylines than the ten I just presented, so what are you watching for in this year's finals??  And for the record, I have the Kings in 6!