A handful of games doesn't a career make, but by standing tall in a 6-1 win over the Boston Bruins, 22-year-old netminder Dustin Tokarski suddenly finds himself in the spotlight as the Tampa Bay Lightning make a desperate grab for a playoff berth.
With Tampa Bay's uncertainly in net, the pressure on Tokarski extends beyond the team's postseason aspirations. This is a unique opportunity to impress GM Steve Yzerman, and stake a claim on a roster spot for next year – and to top it off, his three-year entry contract expires this summer.
That's pressure.
But Tokarski's playing background suggests that pressure is exactly what brings out the best in his game.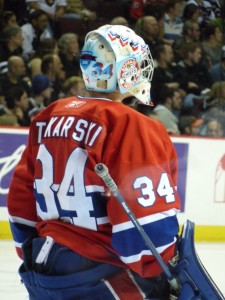 Tokarski's History of Winning
Tokarski is one of those young players who has the power to get skeptical scouts and demanding fans alike worked up because of his demonstrated ability to win in big situations.
Beginning in his minor hockey days, Tokarski established a track record of victory under pressure, when he and the Prince Albert Mintos won the Canadian National Midget championship in 2006.
Tokarski began play with the Spokane Chiefs of the WHL with the 2006-07 season, and promptly set a franchise goaltending record of 11 consecutive victories.
The next season he took over as the number one netminder and backstopped the Chiefs to the Memorial Cup championship, and was also awarded the Stafford Smythe Memorial Trophy as the championship's most valuable player.
That kind of performance is tough to top, but Tokarski gave it a good shot by serving as the number one goaltender for the gold-medal winning Team Canada entry in the 2009 World Junior Championship.
It's worth noting that the tournament was played in Ottawa, Ontario, in front of the always unreasonable Canadian fans, for whom nothing less than gold is an acceptable outcome. Leading up to the gold-medal game, Tokarski hadn't put up his finest numbers during in the tournament, but in that final game he held the Swedes to a single goal on 40 shots.
Young Tokarski was beginning to get a reputation for playing his best when games mattered most.
Developing in Norfolk
Tokarski was selected 122nd overall in the fifth round of the 2008 NHL Entry Draft and joined the Lightning's top affiliate, the Norfolk Admirals, for the 2009-10 season.
While his first two season with the Admirals were impressive, it is during this year that he found his best game. Tokarski has earned 27 wins with a .907 save percentage and a 2.34 goal-against average after 40 games with the Admirals.
And his time in the minors might be coming to an end.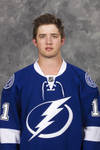 Discussing Tokarski and the Lightning with Justin Goldman
Tokarski has been briefly called up to the Lightning in previous seasons, but the combination of Mathieu Garon's injury, Dwayne Roloson's subpar play, and a failed bid to acquire veteran goaltender Marty Turco – this spring represents a crucial audition for the Saskatchewan native.
And after playing in only three games, he had already found fans.
Bolts radio play-by-play announcer Dave Mishkin told THW that Tokarski's 33-save performance against the Bruins was "particularly impressive", but also noted that the previous two games shouldn't be discounted because "he provided the Lightning with sound goaltending and gave his team a chance to win both of those contests."
"I'm not sure how much another AHL season would help him." – Justin Goldman on Tokarski
In order to delve into Tokarski's potential, THW reached out to Justin Goldman, independent goalie scout and founder of The Goalie Guild website, for some analysis of Tokarski's play in the NHL.
The Hockey Writers: Many consider Tokarski to be mentally tough, but based on what (admittedly little) we've seen, is he "NHL-ready"?
Justin Goldman: "Three games is such a small sample size, so I have to take into consideration the fact that he tossed on a Lightning jersey after winning eight straight games in Norfolk. He arrived with high confidence, and that confidence has been sustained, possibly even elevated, through his first three games.
"He has displayed mental toughness in some areas, but I would say he's still in the mode of proving whether or not he's NHL ready. If he continues to play at this level in most of the games down the stretch, then when their season is done, I would consider him ready to graduate to a full-time NHL backup role."
THW: What is noteworthy about Tokarski's style of play?
JG: "In the two games I have seen Tokarski play in a Lightning uniform, I like his quietly solid composure. He has good control of his movements, and he looks like he belongs. He survived and thrived against the speed of a team like the Capitals, and with some early goal support against the Bruins, he played a relaxed game against the Bruins. He has a square upper and lower body in the butterfly and he was very good down low. So far, I would say he's quite the well-rounded, positionally-sound young goaltender."
THW: What does Tampa Bay need to consider when assessing Tokarski this spring?
JG: "What I call minutes management.
"If they want to keep him moving in the right direction, he needs to play on a fairly consistent basis so that the improvements he does make in practices can be applied in game situations against the best talent possible. He doesn't need to play in a ton of games, just a consistent amount in a controlled fashion.
"I'm not sure how much another AHL season would help him, either. I'd have to think that, depending on how many games he plays to finish this season, he'll reach a certain threshold where the best benefit is more NHL games.
"I also look at it from a organizational depth standpoint, and I would consider promoting Tokarski (as long as he's ready) so that Jaroslav Janus could take the next step in his development as well."
The Lightning have a difficult battle ahead of them if they are to make the postseason, and Tokarski's success is a necessary component of the entire team's fortunes.
Sounds like a lot of pressure…but Tokarski might just like it that way.
Author's Note: A big thank you to Justin Goldman for providing his always insightful thoughts. More of his goaltending analysis can be found at TheGoalieGuild.com, DobberHockey.com, and NHL.com.