by Jas Faulkner, contributing editor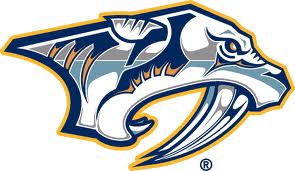 Peyton Manning was here earlier this week.  It might have been to get some hot chicken with the boys at the Titans Front Office, but there was a lot of chatter that Archie Who's Oldest might have something more permanent in mind.   Mama Nature was determined to kick up a tremendous hissy fit*, there were no reality TV meltdowns or high profile musicians getting pulled over for weaving into oncoming traffic or anything that makes one feel that Robert Altman was making a documentary.  Sometimes no news is good news.
Speaking of which, Jordin Tootoo got a nod from the NHL awards wonks.  He's up for the Masterton Trophy! Yay Jordin!
Oh, and some guy named Alexander waffled about coming to Nashville.  Then he said his boss wouldn't let him.  Okay.  Thanks for playing.
Now, let's get down to business…
 We Are Two Wild and Crazy Belarusian Brothers!
Detroit at Nashville  March 10th, 2012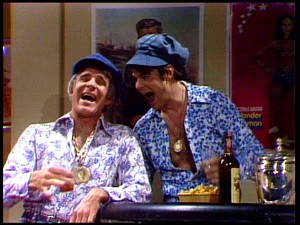 The Boys in Red and their retinue made noises that they were ready to show Nashville what Detroit Hockey looked like.  The talk was they were back to their best form and ready to take a smilodon by the tail.  Unfortunately, they never could get a grip on the wily cats and the game slipped away from them in regulation time. Were they as bad as the surprisingly lacklustre Sharks?  Not by a long shot.  Fans of both teams saw some good hockey on Saturday.   In Detroit's defense, they played it smart, barraging the Great Wall of Finland, who definitely earned his keep that night.
Pat the Bear  put the Big Cats on the clock at seven in to First, but the night belonged to Sergei the K and Surly Brother Andrei who got some help from 'Lebben.  The remaining two scores for Nashville belonged to the K's and 'Lebben, who ruled the ice like   they were ready to check 'em all and let Trotz's Hockey Gods sort 'em out.
During postgame press, Wings head coach Mike Babcock was a gracious loser and good to his guys, giving credit where credit is due.  On the other side, it was all delight as visions of playoffs danced in Predsnation's noggins.
Overtime at the 'Yote Corral
Nashville at Phoenix, March 12, 2012
If you missed the Phoenix game, you missed one of the more exciting games of the season.  Ratman, Big Tuna, The Cube and SmithcommaC racked up four goals that were answered by Langkow,  Yandle, Ekman-Larsson and Torres.  The two teams seemed to fight like, well, like cats and dogs with the game moving into overtime.  It was all decided in overtime by Sergei the K, who shot down the Desert Dogs like Ole Yeller in the third reel.
What Makes the Best Fin Soup?  Chickens of the Sea!
Nashville at San Jose   March 15th, 2012
Beware the Ides of March, especially when you have to move from the safety of the Den.  When you're going  to the Tank so you can swim among Sharks with a point to prove, the waters can get choppy.    The fortunes of San Jose's Big Biteys have been up and down and Nashville has always proven to be thorn in the side of SJS.   Their almost embarrassing loss during their last visit to the Stone was something that would be categorised by sages and wise people as "insult to injury".  So when the Big Cats came calling, SJS was ready.   The whole thing looked like one of those Animal Planet specials where they do a CGI showdown between two large carnivores as Pat the Bear (with Ratman and Big Tuna as backup) took on Jumbo Joe (Marleau and Boyle)  Ryan Clowe did some sharpshooting during overtime and that was all it took to shoo the Cats to the ramp.
What's next?  With eight games to go, things are getting tight in the Wild Wild West.  Will the Predators make it to the playoffs?  tomorrow night they face Los Angeles and next week they wind up their working vaycay on the left coast with a meetup in Anaheim.  Wednesday they come home to face Edmonton, then it's off to Pittsburgh to play with the Penguins, and then the week ends with a visit from Winnipeg.   Looks like their dance card is not only full but lively for the remainder of the season.  Until next Friday,  keep your fingers out of the gaps in the glass and your gloves funk-free.
*As I type this, she's not looking any too happy.  So much for spending the weekends preparing the raised beds…