Much like the present Albany Devils, the 1996-97 Albany River Rats got off to a historically great start. While eclipsed by the 5-0 start of the current A-Devils, those River Rats began the season with a 3-0 ledger. That season, the River Rats went 38-28-9-5 (90 points), finishing tied with the Rochester Americans and Adirondack Red Wings for first place in the Empire Division.
Under first-year bench boss John Cunniff, Albany dispatched of the Red Wings in the first round of the Calder Cup playoffs and the Americans in the second round, before falling to the Hamilton Bulldogs in the Conference Finals.
Will the current Albany squad take the next step deep into the postseason? Only time will tell. On that note, we take a look back in time at the 1996-97 club.
Steve Brule – C
Brule, who was a member of the 1994-95 Calder Cup squad, added to his accolades in 1996-97, tallying 28 goals for Albany. During the Calder Cup playoffs, the Montreal, PQ, native tied for the lead with seven goals and led the squad with 14 points. Brule last played for Jonquiere Marquis of the LNAH in 2012-13.
Patrik Elias – LW
During the 1996-97 season, a then 20-year-old Elias, scored 24 goals, totaling 67 points in 57 games, playing alongside Rob Pattison and Petr Sykora. In six playoff games, Elias registered a goal and two assists. Presently, Elias is skating with New Jersey and weighing his hockey future. Elias is the all-time leading scorer in Devils franchise history, registering 408 goals, totaling 1,025 points. Elias played on two Stanley Cup championship-winning teams in New Jersey.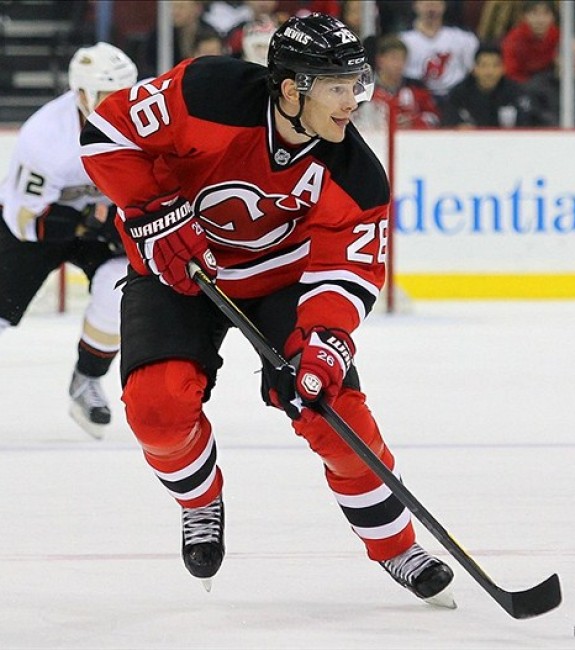 Pascal Rheaume – C
Rheaume potted 22 markers that season, across 51 games. The Rats center totaled 45 points and added two goals and eight helpers in the playoffs. Also a member of the Rats 1994-95 Calder Cup and 2002-03 Devils Stanley Cup winning squads, the Quebec City, PQ, native played parts of six seasons with Albany. Rheaume last played in the NHL in 2005-06 and the AHL in 2009-10.  Rheaume is currently an assistant coach with Sherbrooke.
Petr Sykora – C
After playing five games a season prior, Sykora skated in 43 contests with Albany. Playing center, Sykora netted 20 goals and collected five points in four playoff games. Part of the "A line," Sykora helped New Jersey win a Stanley Cup in 1999-2000 and Pittsburgh in 2008-09. Sykora netted 323 goals in his NHL career.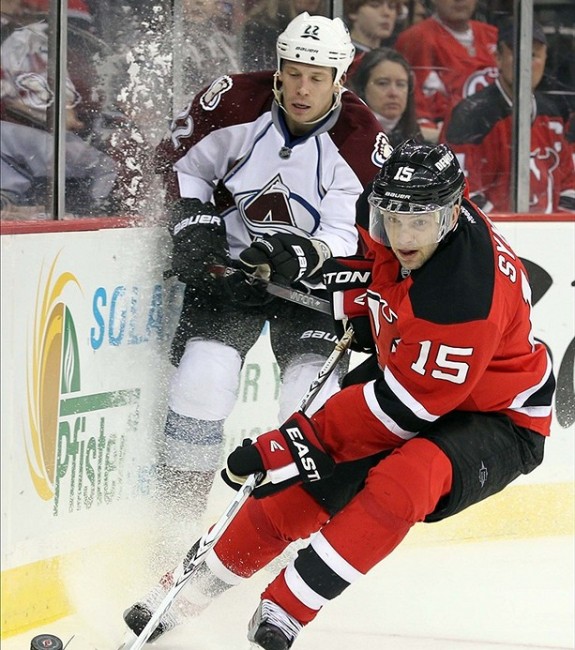 Eric Bertrand – LW
In the 1996-97 season, Bertrand played 77 games, scoring 16 goals and totaled 204 penalty minutes. Bertrand played four years with the Albany River Rats and got into 15 NHL games between New Jersey, Atlanta and Montreal. In 2012-13, Bertrand last played professionally with Sorel-Tracy Carvena of the LNAH.
Vadim Sharifijanov – LW
The "Sharif" totaled 14 goals and 41 points in 70 games during the 1996-97 season. Sharifijanov was a member of the 1994-95 Calder Cup team and played parts of five years with Albany.  He last played in the NHL during the 1999-2000 season with the Vancouver Canucks. Sharifijanov was spotted playing in some lower level Russian leagues until the 2009-10 season.
Rob Pattison – LW
Winner of the "chili goal" trophy, Pattison was tied for second on the club with 24 goals in 61 games. Pattison notched five goals in the postseason, including an overtime winner in a 3-2 victory in Game 1 of their second-round series at Rochester.
Sergei Brylin – C
In his second season with Albany, Brylin posted 17 goals and 40 points in 43 games. The Moscow, Russia, born Brylin registered 12 points in 16 Calder Cup playoff contests. A solid all-around player, Brylin totaled 308 points in his NHL career, winning three Stanley Cup titles with New Jersey. Brylin currently serves as an assistant coach with the A-Devils.
#TBT To Sergei Brylin's third
time hoisting the Stanley Cup. pic.twitter.com/z7XfYKB9SP

— New Jersey Devils (@NJDevils) August 25, 2016
Bryan Helmer – D
Helmer won three Calder Cup titles during a 20-year pro career (Albany [1] Hershey [2]).  He set an AHL record for points by a defenceman. Helmer netted 12 goals and added 27 helpers, along with 113 penalty minutes and a plus-20 rating in 1996-97. Helmer recorded eight points in 16 Calder Cup playoff contests. Helmer serves as vice president of hockey operations with the AHL Hershey Bears. Helmer will be inducted into the AHL Hall of Fame in 2017.
ICYMI: Billy Dea, Bryan Helmer, Rob Murray, and Doug Yingst will be inducted into the #AHLHOF on Jan. 30 as the Class of 2017 pic.twitter.com/b3PsX6pP06

— American Hockey League (@TheAHL) October 2, 2016
Sergei Vyshedkevich – D
In his first season with Albany, the offensive-minded defenseman tallied 35 points in 65 games and was a plus-10. Vyshedkevich added six helpers in 12 playoff contests. The Dedovsk, Russia, native spent two more seasons with the River Rats and appeared in 30 NHL games with the Atlanta Thrashers.
Bobby House – RW
A member of the 1994-95 Calder Cup team, House netted 18 goals in 68 contests. The Rats right winger also posted five points in 16 playoff tilts. House last played during the 2004-05 campaign with the Hamburg Freezers of the German Elite League.
Jeff Williams – LW
In his first of four seasons with the River Rats, Williams posted 13 goals in 46 contests. Williams totaled three points in 15 Calder Cup playoff contests. During the 1998-99 campaign, Williams would tally an Albany AHL-best 46 goals, which remains a record. Williams last played in 2004-05 with the ECHL Victoria Salmon Kings.
Krzysztof Oliwa – LW
Another member of the 1994-95 Calder Cup club, Oliwa piled up a team-leading 322 penalty minutes across 60 games in 1996-97. During the Calder Cup playoffs, Oliwa added a scoring touch, tying for the club lead with seven markers. In Game 3 of their first-round series, Oliwa scored two goals in a 7-3 victory against Adirondack. Oliwa played parts of four years with the River Rats. The Tychy, Poland, native amassed 1,447 penalty minutes in 410 NHL games. In 1999-00, Oliwa became the first Polish player to win a Stanley Cup, as a member of the Devils. Oliwa last played in the NHL in 2005-06 and was involved for a time with the Polish national team. Currently, Oliwa is the owner, GM and head coach of the USPHL Kalkaska Rhinos.
Zdnek Skorepa – LW
In his first season with the River Rats, Skorepa scored 12 goals in 60 contests. During the Calder Cup playoffs, Skorepa posted three goals in 13 games.
Ken Sutton – D
In his first of five seasons with Albany, Sutton was a solid veteran presence on defense. The Edmonton, Alberta, native registered 19 points and 79 penalty minutes in 61 games. Across 16 Calder Cup playoff games, Sutton led all River Rats defensemen with four goals, eight assists, 12 points and 55 penalty minutes. Sutton would earn the Eddie Shore Award as top AHL defenseman in 1998-99. During his last stint with Albany in 2002-03, Sutton served as team captain. Sutton was a member of New Jersey's 1999-2000 Stanley Cup-winning squad.
Mark Strobel – D
Strobel played 60 games with the 1996-97 River Rats, posting three goals and 10 helpers, along with 65 penalty minutes. In the Calder Cup playoffs, Strobel netted one goal in eight games. After his playing days, Strobel was an assistant coach at the University of Minnesota-Duluth and the University of Nebraska-Omaha. Strobel is currently an associate men's head coach with The Ohio State Buckeyes.
Sheldon Souray – D
After playing parts of two seasons prior with the River Rats, 1996-97 marked the first full campaign for Souray with Albany. The big bruising defenseman collected 160 penalty minutes in 70 contests. In 16 postseason contests, Souray posted five points and 47 penalty minutes. During the extra session of Game 3 of their second-round series against Rochester, Souray scored the 3-2 winner. In 758 NHL games, Souray amassed 109 goals, 191 helpers, 300 points and 1,145 penalty minutes. The Elk Point, Alberta, born Souray boasted one of the hardest shots in the game before hanging up his skates in 2012-13.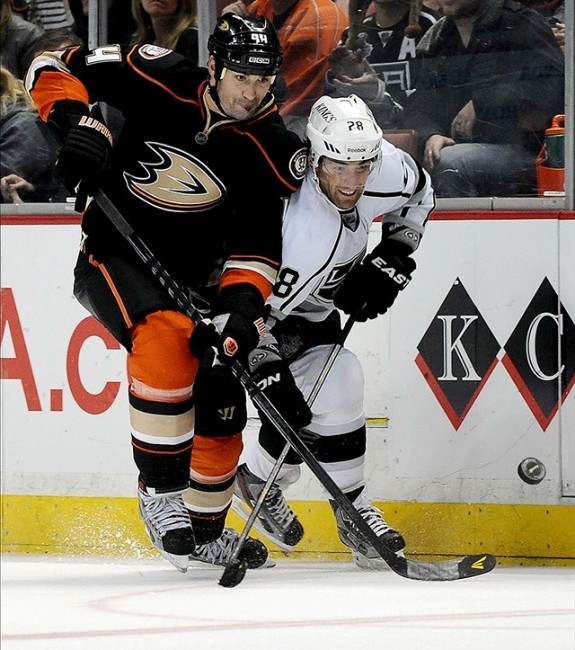 Geordie Kinnear – D
Across 59 games in 1996-97, Kinnear, who was a member of the 1994-95 Calder Cup team, racked up 175 penalty minutes as team captain. The man affectionately known as "Champ," played parts of seven seasons with Albany and also served as an assistant coach with the team. In 1999-2000, Kinnear appeared in four games with the Atlanta Thrashers. Additionally, Kinnear's No. 4 still hangs from the rafters in Albany. Presently, Kinnear is the head coach of the AHL Springfield Thunderbirds.
Springfield Thunderbirds coach Geordie Kinnear well-prepared for first head coaching job https://t.co/fw9fyJc4iG pic.twitter.com/My5mXuTRTd

— masslivenews (@masslivenews) October 12, 2016
Brad Bombardir – D
Bomber won the Calder Cup with Albany and the Stanley Cup with the 1999-2000 Devils. Bombardir last played in the NHL with the Nashville Predators in 2003-04. In 1996-97, Bombardir had eight assists and a plus/minus rating of plus-9. Bombardir presently serves as the director of player development with the Minnesota Wild.
Steve Potvin – RW
Potvin registered 18 penalty minutes in 16 games for Albany. In eleven playoff contests, Potvin added 16 penalty minutes.
Peter Sidorkiewicz – G
"El Sid" played parts of four seasons with the River Rats. During the 1996-97 campaign, Sidorkiewicz had a goals-against-average of 2.90, along with a .901 save percentage, while registering 31 victories and two shutouts. Sidorkiewicz posted seven postseason victories. An NHL All-Star with the Senators, Sidorkiewicz suited up for 246 NHL games. Sidorkiewicz last played professionally in the AHL with the River Rats in 1997-98.
He started (and won) the first game in modern #Sens history. Does Peter Sidorkiewicz make your #Sens25 team?

VOTE: https://t.co/xe23E04vjo pic.twitter.com/7kWfbxsdIW

— Ottawa Senators (@Senators) October 21, 2016
Richard Shulmistra – G
In his first of three seasons with Albany, Shulmistra played 23 games, sporting a 2.43 goals-against-average and a .916 save percentage, with two shutouts. Shulmistra recorded one victory and a 1.56 goals-against-average in two Calder Cup playoff games. Shulmistra played two NHL games between the Devils and Florida Panthers.
John Cunniff – Head Coach
Taking over behind the bench for Robbie Ftorek, as mentioned above, Cunniff guided the River Rats to an Empire Division title and the Conference Finals of the Calder Cup playoffs. Coaching Albany for five seasons, Cunniff led Albany to two division titles, two conference finals, four playoff appearances and 187 regular season victories. In 2009-10, the late Cunniff was posthumously inducted into the River Rats Hall of Fame.
(Note: There were many more players who contributed to the River Rats that season. Those who didn't appear in the postseason that year are listed here: Steve Sullivan, Jay Pandolfo, Chris McAlpine, Richard Persson, Denis Pederson, Kevin Dean, Frederic Henry, Reid Simpson, Mike Dunham, Rick Bennett).
Michael Gwizdala covers the New York Islanders for The Hockey Writers. Michael is also an Associate Producer at WNYT NewsChannel 13. Additionally, Michael was once a Media Relations intern for the AHL Albany River Rats. Michael is a graduate of The College of Saint Rose in Albany, NY.