Jim Neveau, Blackhawks Correspondent
Woodridge, IL- There was a noticeably calmer vibe surrounding the US Men's Hockey Orientation Camp this morning. Gone were the elevated antics of the morning previous, where Patrick Kane stole the show, and in was a sense of normalcy, where the players on the ice did most of the talking.
On Day Two, the drills focused a lot more on speed and puck handling than they had on the first day, which mostly was just a warm-up day designed to get players into the flow of the game.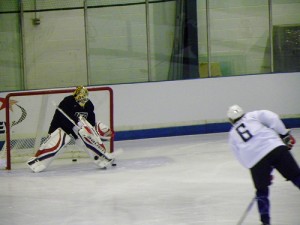 Several players had stand-out performances, including goaltenders Ryan Miller and Tim Thomas, who are competing for the starting goalie spot, along with Los Angeles keeper Jonathan Quick.
Quick, on a side-note, as also been the hardest interview to get the entire week thus far. The reason for this is simple: the camp invitees were divided into two teams, and Quick has the pleasure of being on both Team 1 and Team 2, and is therefore not available during interview times. If I can get anything out of Quick for you LA fans, it would be a minor miracle.
Zach Parise also established himself further as the foremost offensive player in the camp, with a solid performance, both from the skating point of view and also his vicious wrist shot, which found every conceivable hole against both Quick and Thomas.
David Booth and Joe Pavelski both had good days as well, displaying excellent form during skating drills, and also in breakaway drills against the goaltenders.
There was also news made today on the Olympic front, as Scott Burnside and Pierre LeBrun of ESPN broached the idea of moving hockey to the Summer Olympics so that the NHL doesn't have to shut down it's season at the halfway point to participate. While this may be an interesting idea from NHL owners' perspective, it doesn't seem to carry much weight with the players.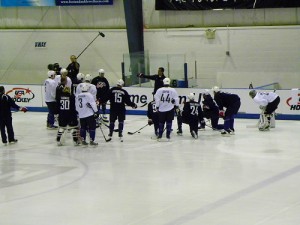 Ryan Miller addressed the issue about the NHL's involvement in the Olympics after 2010 by saying "I'd like to see it continue to be included. I think it grows the game, because people tune in to the Olympics, especially Americans. Our primary demographic is the American public. I think what we're seeing is just posturing"
He also added to that by saying "there's benefits for moving hockey to the summer in terms of time and preparation. A lot of athletes try to peak during that time, and if hockey did that, it would definitely be interesting to have that build-up. But we are a winter sport, so it's hard to say 'just stick it in the summer so it fits' ".
"Do we get lost in the shuffle? Would it really hurt the game? We'll have to talk about it"
Miller also had some interesting observations about his preparation not only in camp for the US team, but for his Buffalo Sabres camp as well.
Ryan focuses on yelling a lot during practices so that the players can get accustomed to his voice. "I made a point to be yelling every chance I got yesterday. I make that a point too at the start of training camp. Stuff like 'leave me the shot' or if I see a situation where they can cut a play off, I just yell 'cut if off!' "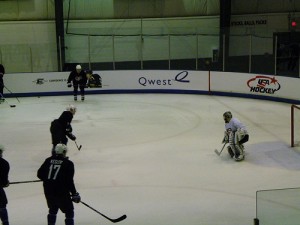 Needless to say, his battle with Tim Thomas will be an interesting one, and one worth following all the way until the rosters are announced at the end of the year.
Camp has also been made more enjoyable for the players by the presence of defenseman Chris Chelios as an assistant. Brian Rafalski called Chelios "my tour guide in Chicago this week", and also applauded Chelios for having "a lot of experience there to draw off of".
Jack Johnson of the Kings also chimed in on the Chelios love-fest, saying that he had "owned a red Chelios Blackhawks jersey when I was a kid. To have him out there, helping me with drills, is really special."
"If I could have half the career he has had, I would have had a successful career", he added.
Johnson also credited Rafalski with improving his game, citing his experience with Brian as an instructor when he was younger.
Joe Pavelski was a popular target for the media after practice as well, considering that his team is currently without a captain. Patrick Marleau was relieved of his captaincy by the team, according to sources, and Pavelski had nothing but words of encouragement for his teammate.
"I love Patty, and he was a great leader, and he played hard. It's unfortunate that something like that happens, and everyone is going to be supportive of Patty", he said.
"(Even after his demotion) he'll be just as determined to win. He's gonna play, he has great talent, and he plays hard."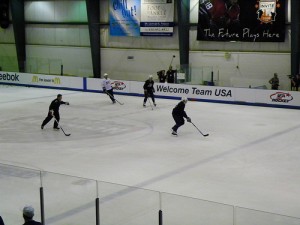 Pavelski also was asked about the thrill of playing for the US in the Olympics, which he described by invoking Michael Phelps as an image to strive for.
"The Olympics, the stage that it is, playing for your country, represents so much more than just yourself. You don't realize that until you watch someone like Michael Phelps last year. It was exciting how much everyone was tied in to that", he said.
Off the ice, the team is also bonding quite a bit, and one of the ways they are doing that is by going out to dinner every night as a team. Last night, they had dinner with several soldiers, one of whom is a Congressional Medal of Honor recipient. The players had nothing but praise for the men and women who serve our country.
"The stuff they do for us, we don't even realize it. It's a true sacrifice…..it really puts thing in perspective, what we're doing here", Pavelski told reporters.
Rafalski's tone struck a similar note, adding "it was a high point of our experience (meeting the troops). They all had different stories, but they all had the same result, which was a better appreciation of life."
Jack Johnson summed up the player reaction nicely, saying "everyone looks up to hockey players as their idols, but those guys are true heroes. They are the ones who lay their lives on the line so we can be hockey players."
"I can't even describe the experience of talking to those guys and how great it was. Those guys are the reasons we can have camps like this and lives we do. It wouldn't be the greatest country in the world if not for those guys."
The team will continue to bond, at tonight's Royals-White Sox game at US Cellular Field in Chicago. Mike Modano will throw out the first pitch. and claims not to have ever bounced one, which he confided to Scott Burnside earlier today.
Also, the team will be dining tonight with Mike Eruzione and Jack O'Callahan, members of the legendary 1980 Miracle on Ice team.
The team will be back to work tomorrow with a media-only practice session at Seven Bridges to wrap up the Orientation Camp.
Interesting Tidbit of the Day (Courtesy of Dave Fischer, Director of Media Relations, USA Hockey):
-The average age of the players assembled in Woodridge for camp is 26.2. Mike Modano is the oldest at 39, and Patrick Kane is the youngest at 20.
A View from the Non-Fan:
I asked Lauren, a waitress in Woodridge who is an admitted non-fan of the sport of hockey, and she said that she would indeed watch the 2010 hockey tournament in Vancouver, saying that "it's always exciting to root on your country, especially in an Olympic tournament."
Hopefully her enthusiasm will rub off on a lot of her fellow Americans, because this team is shaping up to be a fun one to watch.
James started out for The Hockey Writers covering the Atlanta Thrashers in 2009, and has also covered the Chicago Blackhawks, served as NHL Correspondent, and is now a Managing Editor and the site's NHL Central Blogger. He also writes for The Golf Writers.