After bringing Matt Bartkowski in on a PTO earlier this week, the Calgary Flames signed the 28 year-old defenseman to a two-year, two-way deal on Thursday.
Now, the question is where does Bartkowski fit within the Flames' defense core?  Not projected to be much more than a bottom-pairing defenseman, the team is certainly hoping he can add some depth to a blue-line that has struggled this season, and hopefully become a regular fixture on the back end.
Having played 34 games this season with the AHL's Providence Bruins before joining the Flames, Bartkowski has been waiting for another NHL opportunity.  Taking a look at what he's done at the NHL level with both the Vancouver Canucks and Boston Bruins can give us a better idea of how he might fit in with Calgary.
Wheels and Skill
Through 211 career games between the Bruins and Canucks, the speedy, puck-moving blueliner has amassed six goals and 42 points.  While putting up steady yet unspectacular offensive numbers, it's his ability to handle the puck that makes Bartkowski an attractive player.
Bartkowski has the wheels to move the puck up the ice well, and has a solid first pass.  Coupled with a heavy shot, he is capable of being a nice addition to the Flames' second power-play unit, as well as a boost to the team's inconsistent transition game.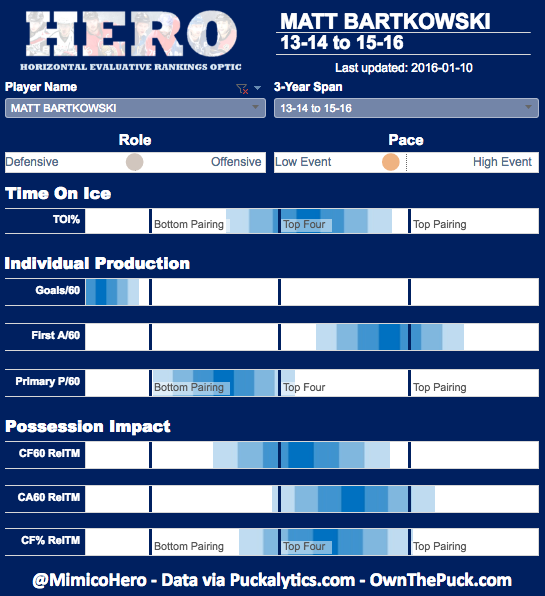 Additionally, Bartkowski has been able to put up relatively strong underlying numbers over his career, albeit they took a bit of a hit when he moved away from the analytics darling that is the Boston Bruins and over to the struggling Canucks.
Looking strictly at his career possession numbers and his ability to move the puck up the ice, Bartkowski seems to be a strong low-risk acquisition for the Flames.  However, there's a reason he hadn't found a home with an NHL team this season.
The Glaring Issue
Despite all of Bartkowski's talents, there is an elephant in the room when looking at his game – turnovers.
Often, turnovers will plague defenseman who aggressively push the puck up the ice to create offensive opportunities for their team.  The key here is finding a balance, where the positive plays outweigh the negative, so the player can be forgiven when he makes the occasional gaffe in the neutral zone or his own end.
Many of the game's best defensemen are examples of this type of play.  P.K. Subban, Erik Karlsson, Duncan Keith and many others all commit turnovers at a fairly high rate. However, in their cases the mistakes are far outnumbered by positive plays.
Bartkowski, unfortunately, has never been able to really become a net-positive player in this regard.  In both Boston and Vancouver, he was often guilty of putting his head down and trying too hard to skate the puck up ice on his own.  The below video is a prime example of one of those turnovers:
Hopefully this is something that can be coached out of Bartkowski's game.  But having spent five years playing under possession-guru Claude Julien in Boston, it's fair to think that if Julien couldn't coach it out of him, there might not be a fix.
Where Does He Fit?
The signing of Bartkowski does provide the Flames with a defenseman they will be able to expose at this summer's expansion draft, but he is also going to get his shot with the team.
Gulutzan says they'll use Bartkowski in 3rd pairing role to start. Sounds like him playing Saturday in Vancouver is a possibility. #Flames

— Pat Steinberg (@Fan960Steinberg) February 16, 2017
With a defensive group that has been shoddy at best beyond the top pairing of Mark Giordano and Dougie Hamilton, Bartkowski has an opportunity to show the Flames – and the rest of the league – that he does belong in the NHL.
Additionally, Dennis Wideman, Deryk Engelland, Jyrki Jokipakka and Brett Kulak have all been guilty of turning the puck over far too much this season, so Bartkowski isn't on an island here.  The key will be for him to try and limit those turnovers, use his speed and skill to drive possession, and become a net-positive player for this team.
The door is open, and it's unlikely Bartkowski will get another opportunity like this again.  It's up to him to make the most of it.
Calgary-based writer covering all things Flames. Follow me on Twitter @glenneberth