The Detroit Red Wings are no stranger to the injury bug. While the team has been relatively healthy compared to recent seasons, Pavel Datsyuk, Mike Green, Brad Richards and Darren Helm have all missed time this year. Luckily, the team is currently icing a roster with all of its key players at full health. A few role players on the team have returned recently, or will be returning in the near future. While they are not superstar players, each returning skater offers a unique skill set, which should give the Red Wings a boost somewhere on the ice.
Brandon Peleshok: Kyle Quincey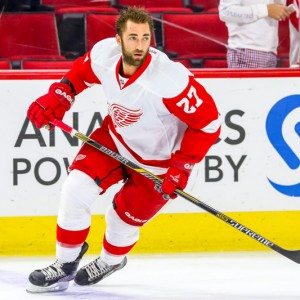 If you would have told me two-to-three years ago that Kyle Quincey returning to the lineup would be a big boost to the Red Wings, I may have questioned your judgement. The reality is that the 30-year-old is one of team's most defensively reliable and stable blueliners.
Last season he was paired with Danny DeKeyser, and the two formed, arguably, the Red Wings' best pairing on defense. Whether or not Jeff Blashill decides to reunite the pair remains to be seen. One thing is certain – the Red Wings will be adding a defender capable of eating up big minutes to their lineup in the near future.
Quincey was sidelined on October 23rd, due to a hit by Calgary Flames forward Sam Bennett. While he went through the concussion protocol after the collision, it was an ankle issue that has kept him out of the lineup for a little over 11 weeks.
While he has not put up impressive offensive numbers in Detroit, Quincey had three points through seven games at the beginning of the year. At a time when the team's defense corps struggled to generate offense, his contributions could have provided the Wings with some more success.
Primarily, the Red Wings will receive a boost on the penalty kill when Quincey returns. At 6'2, 218lbs, he provides the team with the size, strength and physicality that is rarity on Detroit's blueline. While Quincey is not considered a key piece on Detroit's blueline, but he can certainly strengthen it.
Jacob Messing: Drew Miller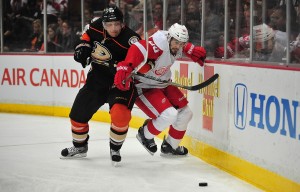 Drew Miller is currently in his seventh season with Detroit; that's quite the tenure for a player that seems to always be undervalued by the hockey community. He may not lead the team in scoring (100 pts. in 448 games with Detroit), but he's one of the best fourth line players in the NHL.
Miller has led all forwards in blocked shots over the past two seasons and is a key part of Detroit's penalty kill. His return Thursday night was huge for the Wings, with his hockey IQ and positioning helping Detroit kill off four San Jose powerplays, which stands seventh in the league—first since Thanksgiving.
Ken Holland has a lot of questions to ask himself at the end of the year and renewing Miller's contract is one of them. However, with some big names up for a new contract, including Petr Mrazek, Danny DeKeyser, Darren Helm and Riley Sheahan, Miller isn't exactly a priority.
Reiterating, Miller has been an underappreciated Red Wing during his time in Detroit. He picked an inconvenient time to have a slow year (a contract year), having only posted two points (1 G, 1 A) through 27 games. But his return from injury should help bump Detroit from their current position of eighteenth (79.9 percent) in the league back to a top-ten penalty killing team.
Tony Wolak: Teemu Pulkkinen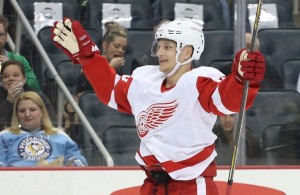 Upon his return from injured reserve, Teemu Pulkkinen will be a welcomed addition to the Detroit Red Wings lineup. His right-handed cannon will also benefit the maligned Red Wings power play, especially if he is paired with Mike Green.
At a time when the Red Wings are struggling to generate offense, a fully healthy forward corps will create competition to stay in the lineup. Coach Jeff Blashill will only play those who produce in the roles they are assigned. Pulkkinen's return may mean a few games in the stands for Darren Helm, Tomas Jurco, and possibly Pulkkinen himself. However, this means that those players, plus others in the lineup, will need to show their worth whenever given the opportunity to play.
On the power play, Pulkkinen could really benefit from playing alongside Green and Pavel Datsyuk on the top umbrella set up. While Green was in Washington, he and Nicklas Backstrom worked well with another right-handed cannon—Alex Ovechkin—on the power play. Pulkkinen, Green, and Datsyuk offer a similar skill set that could translate into an improved power play unit. And if Riley Sheahan, Justin Abdelkader, or Darren Helm can cause commotion in front of the net, then all the better.