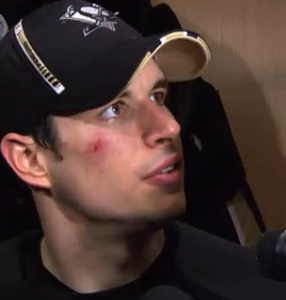 Sidney Crosby's latest setback has him out of the Pittsburgh lineup indefinitely and has left many fans pondering over the long-term effects of concussions. Over the past several NHL seasons, league officials have tried to crack down on dirty hits and plays that have left certain players out for extended periods of time. Players such as Marc Savard, Sidney Crosby, Peter Mueller, David Perron, and Andy McDonald are only a few players who have been sidelined by the devastating effects of concussions and post-concussion symptoms.
So what does all of this talk and concern over concussions tell us? For one, it tells a cautionary tale to players who want to return to the ice in order to help their team, despite not being fully recovered. On the other hand, it shows hockey fans and analysts alike that the road to recovery from a concussion can be a long and arduous one. While one player can shake off a concussion like a common cold, the next one might not be so fortunate as even the slightest of hits or falls can bring back concussion-like symptoms in a player who has either recently recovered from a concussion or has had a history of them throughout their career.
Even though Sidney Crosby's return to the ice was short-lived, his collision with fellow teammate Chris Kunitz illustrated that avoiding a concussion can be very tricky. Here's a list of some players that can attest to what Crosby is going through at the moment:
1.) Andy McDonald was a key offensive weapon in the St. Louis Blues' lineup until a concussion forced him to miss part of of the 2010-2011 NHL season. While McDonald returned to the ice and finished the 2010-2011 season with the Blues, his career in the NHL has seen him concussed more than his fair share of times. McDonald suffered a concussion in 2003 that derailed his hopes of helping his team hoist the Stanley Cup and more recently has suffered concussions in back to back seasons. The forward's most recent concussion has him out of the St. Louis lineup indefinitely and his injury gives credence to the fact that any player who sustains a concussion in their career must be closely monitored down the line. Even though McDonald has recovered from concussions multiple times in his career, a return to the ice is not within sight for the St. Louis center.
2.) Fellow St. Louis forward David Perron experienced his own battle with a concussion and its damaging effects. Perron, who missed 13 months because of a concussion, recently returned to the ice and is logging regular ice time with the Blues' second line. Even though Perron has registered 3 points in 4 games, his 97 games missed because of a concussion and concussion-related symptoms will not be easily forgotten by St. Louis management. Perron's activity will undoubtedly be closely followed by the St. Louis staff and coaches who do not want to see such a young and promising talent sidelined by any more concussion-related injuries.
3.) While the Boston Bruins won the Stanley Cup for the 2010-2011 season, Marc Savard was unable to share the joy of his teammates. Savard's career took a literal and figurative shot in 2010 when an elbow from Matt Cooke caused Savard to sustain a Grade 2 concussion. Even though Savard returned to the ice during the 2010 postseason and netted a game-winning overtime goal against the Flyers, he sustained another concussion less than a year later which has kept him off of the ice until the present day. General Manager Peter Chiarelli has had a grim outlook on Savard's return to the ice and there is obvious cause for concern. Since a player with recurring concussion-related symptoms can suffer from a variety of ill-effects (dizziness, blurred visions, headaches), it is hard to gauge how and if a player will be able to return to their respective lineup.
4.) The Colorado Avalanche have a good core of young players headlined by Matt Duchene and Gabriel Landeskog. The addition of Peter Mueller was supposed to further solidify Colorado's young core, but a hit by Rob Blake in 2010 forced Mueller to sit out the rest of the season with a concussion. The right winger was poised to make a comeback to the ice at the beginning of the 2011-2012 season, but an errant stick to the temple caused a recurrence of Mueller's symptoms. While Mueller has begun to skate, there is no set date for his return as the Colorado Avalanche seem to be taking a wait and see approach with the forward. If anything, Mueller has shown that he is not so different from the aforementioned players and that the lingering effects of a concussion can plague any player, regardless of their strength or talent level.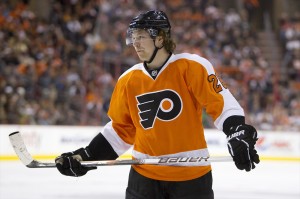 5.) The Philadelphia Flyers were the most recent team to lose two top players to concussion/head related injuries. Defenseman Chris Pronger is out indefinitely and is meeting with concussion specialists to determine the cause of his headaches and feelings of sluggishness. On the other hand, the NHL's leading point scorer, Claude Giroux, is also out indefinitely as a result of a knee to the head. Both Pronger and Giroux play an important role with the Flyers and their presence will be sorely missed and felt throughout the Philadelphia lineup. Whatever the diagnosis may be with these two players, the recent rash of concussion-related injuries gives credence to the fact that players who sustain such trauma must be treated with kid gloves.
While Sidney Crosby won't be the first or last player to sustain a concussion, new studies into degenerative brain disorders such as CTE (Chronic Traumatic Encephalopathy) have created enough headlines for NHL teams to be more cautious with players recovering from concussions. Former NHL enforcer Bob Probert, who died of heart failure at the young age of 45, was shown to have traces of CTE and further efforts are being conducted in order to link the effect that fighting and concussions have on one's brain.
Fighting and hard hitting have long been a staple of the NHL. However, the price that some NHL players have paid to uphold such standards have been very dear. While it is still not known what role fighting and concussions played in the death of enforcers such as Wade Belak, Rick Rypien, and Derek Boogaard, it is apparent that an individual's brain will experience some amount of trauma when it collides with one's cranium. Even though studies regarding CTE are still in their developing stages, the NHL must take every precautionary measure to ensure that fighters and concussed players are constantly monitored. Since degenerative brain disorders will not simply go away, especially in a physical sport such as hockey, certain measures must be taken by the league in order to promote the longevity of life for current and retired NHL players.
In his third year with The Hockey Writers, Toli covers all things related to the New York Islanders. Focusing on the Islanders, the NHL Draft & draft-eligible prospect goalies, and hockey history, Toli can be contacted on Facebook by searching/messaging Toli Metter and on twitter by searching @ToliMetterTHW.