Cameron Critchlow
DOB: December 18, 1991
NHL Rights: N/A
Drafted: Undrafted
Height: 5'10″  Weight: 190 lbs
Position: Left Winger
Current Team: Halifax Mooseheads (QMJHL)
◊◊◊◊
Never known for his offensive ability, Critchlow managed to record 21 goals and add 29 assists for 50 points in 68 games for the Halifax Mooseheads this season as a 20 year-old player. The Mooseheads' captain also racked up 74 penalty minutes and finished the season with a +5 plus/minus rating. Drafted 14th overall in 2007 by the Acadie-Bathurst Titan, Critchlow was not drafted for his offensive acumen, but rather for his aggressive style of play and his leadership skills. Before joining the Mooseheads for his last junior season, Critchlow had only scored 33 goals and notched 56 assists for 89 points in 245 games with Halifax and Lewiston.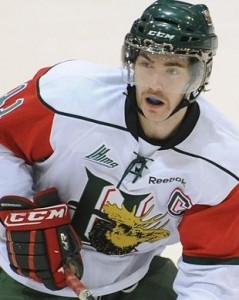 Critchlow was acquired in August 2011 from the Victoriaville Tigres in exchange for a 2012 5th round pick. The native of Summerside PEI, had captained a young Lewiston Maineiacs team all the way to the league semi-finals in 2010-11 prior to the disbandment of the team. The Mooseheads' captain recorded 2 goals and 3 assists for 5 points in 15 games with Lewiston during the Maineiacs' playoff run.
In a series where rookies such as Nathan MacKinnon, Jonathan Drouin, Mikhail Grigorenko and Anthony Duclair were so often the story, Critchlow saved the Mooseheads' season time and again. The overager scored all four of their goals in regulation time in game 7 versus the Quebec Remparts, helping Halifax rally back to win 5-4 in overtime despite twice being down by two goals.
With the win, the Mooseheads became the first QMJHL team in 11 years to win a series after being down 3-0. "That's my first Game 7 in five years (in the QMJHL) so I guess I've been saving up," Critchlow kidded. "It's my first four-goal game in junior and the first time in a long time that I can remember. It's obviously pretty special, it was a big game. I'm proud of these guys. We came in here and got the job done," Critchlow added.
Critchlow scored 4 goals in the most important game of his junior career.
This season, Crichtlow has already 10 goals and 6 assists for 16 points in only 13 playoff games with Halifax playing on a line with highly-touted rookie Nathan MacKinnon and Czech winger Martin Frk. However, the Mooseheads are off to another bad start, currently trailing the Rimouski Oceanic 2-0 in their third-round series.
Critchlow is a shifty skater with a knack to drive the net and bury rebounds. A very complete winger, he is adept at playing different roles from killing penalties to playing on the power play, and he can slide up and down the line-up having a more prominent offensive role on the first line or playing a checking role on the fourth line to prevent an important lead. Critchlow's versatility makes him interesting for NHL teams looking for depth in the farm teams as the gritty forward could turn into a very good fourth line checker in the NHL once he matures and gain experience playing against bigger and tougher athletes.
A bruiser, Critchlow likes to deliver hits to make his presence felt on the ice and while he is certainly not a very good fighter, he doesn't back down when opponents challenge him to a fight or when he needs to defend a team-mate. He also has been a great mentor to MacKinnon as they have been room-ates on the road this season for the past seven months.
I would not be surprised if Critchlow gets an invitation to an NHL training camp prior to next season as professional teams never have too many character guys in their organization, especially if the Mooseheads manage to overcome their 2-0 deficit against the Oceanic and find their way to the 2012 Memorial Cup that will be played in Shawinigan, Quebec later this spring. This would a great opportunity for the Summerside native to showcase his all-around talent and his leadership on a bigger stage!
NHL Potential
: 3rd or 4th line two-way player
NHL Comparable:
 Gregory Campbell
NHL ETA: 
2015  
More Undrafted Gems:
Alexandre Mallet
Yanni Gourde
Zach O'Brien
Follow me on Twitter for more updates on the Canadian Hockey League and hockey in general.
A long-time Joe Sakic fan, Fred, 35, is a freelance sports writer and translator. Fred earned a Bachelor of Translation in 2002 at Laval University in Quebec City. He also writes on the Montreal Canadiens for HabsAddict.com and he is an associate editor and a baseball columnist on Dobberbaseball.com. He is also fluent in English, French and Spanish.