Andrey Makarov                                                                                  Michael Houser
DOB: April 20, 1993                                                                             DOB: September 13, 1992
NHL Rights: Buffalo Sabres                                                                NHL Rights: Florida Panthers
Drafted: Undrafted                                                                              Drafted: Undrafted
Height: 6'1″  Weight: 178 lbs                                                              Height: 6'2″   Weight: 190 lbs.
Position:
Goalie                                                                                  Position: Goalie Current Team: Saskatoon Blades (WHL)                                          Current Team: San Antonio Rampage (AHL)  
Andrey Makarov and Michael Houser might have been two players that were overlooked at the 2012 NHL Entry Draft for a variety of reasons, but their fortunes have certainly changed over the last several months.
After going through 211 selections during the 2012 NHL Draft, Houser and Makarov found themselves unselected. Goalies such as Oscar Dansk, Malcolm Subban, Anthony Stolarz, and Andrei Vasilevskiwere drafted within the first few rounds of the 2012 NHL Draft, but as the seventh round was drawing to a close it was becoming more and more apparent that Houser and Makarov would be left without a prospective NHL home.
For Andrey Makarov, failing to get selected might not have been to his liking, but he certainly was not in the same predicament as his counterpart. For Michael Houser, a third straight year of being unselected in the NHL Draft meant that he was no longer eligible to participate in upcoming NHL drafts. While both goalies were stuck on the outside looking in, and in quite different situations, giving up on their NHL dreams was simply not an option.
You'll Huff and Puff, but You Won't Blow This House Down
Getting passed over in the 2012 NHL Entry Draft was nothing new to Michael Houser as the goalie had participated in the previous two NHL Drafts (2010, 2011) without much luck.
Houser found himself in much the same predicament once more on June 23, 2012 when 24 goalies were selected in the 2012 NHL Draft and his name was left uncalled yet again. After winning the Red Tilson Trophy during his 2011-2012 campaign for the London Knights, appearing in 62 of 68 games for his team, and being named the OHL's goaltender of the year, one would probably have thought that Houser's third year of draft eligibility would certainly be a charm. Even though the 2012 NHL Entry Draft did not turn out to be a charm for Houser, it wouldn't be long before an opportunity arose.
After being invited to the Florida Panthers' development camp days after the 2012 NHL Draft, Houser impressed the organization enough to be signed to an Entry Level Contract during the early portions of July. While Houser's road to the NHL featured many obstacles along the way, the goalie summed up his hockey experiences in an earnest and down to earth manner:
"It's kind of a pretty similar situation, so I know I can go out there and work and to stay positive," Houser said. "I was a free agent after the OHL draft so I got to pick my team. Then I didn't have any intention of going to the OHL, but [Knights general manager Mark Hunter] asked me to come up. London has a great reputation, and everything went from there. I see a good situation in Florida. They seemed to like me down there when I went to camp. I think it's a good fit."
Overcoming multiple corrective surgeries and being passed over in the OHL and NHL Drafts were the least of Houser's worries. While it is hard not to root for a goalie such as Michael Houser, there is little reason to believe that the netminder's journey is over and that a feel good story is drawing to a close. After all, it could have been easier for Houser to fold under the circumstances that he was facing, but perseverance isn't something that is taught to an athlete, it is something that one learns over time through hard work and determination.
One Down, One Left
Michael Houser's contract with the Florida Panthers was undoubtedly a well deserved one for the American goalie, but it was also one that left Andrey Makarov searching for another home.
While Michael Houser was auditioning for a spot in the Florida Panthers' organization, the team had also invited Andrey Makarov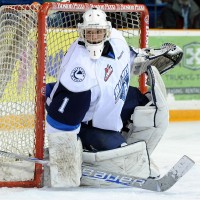 to the same development camp. Houser was clearly the beneficiary of the invite to the Panthers' development camp, but Makarov wasn't as lucky as Florida opted to go with older and more experienced American netminder. However, much like Houser, it wouldn't take long for Makarov to find a potential road to the NHL.
Getting passed over by the Florida Panthers presented Makarov with another obstacle, but it wasn't long before the Buffalo Sabres became interested in acquiring the services of the young import goalie. Even though September 15, 2012 was undoubtedly a gloomy day for hockey fans and NHL players, Andrey Makarov was finally able to enjoy the fruits of his labor as Buffalo GM Darcy Regier inked the Russian netminder to a three year entry level contract.
On the surface, getting bypassed by the Florida Panthers could have been a bit demoralizing for Makarov, but greater opportunities manifested elsewhere. While Makarov will spend his 2012-2013 hockey season on loan with the Saskatoon Blades of the WHL, the goalie will seize every opportunity that he can to ascend to the professional ranks sooner rather than later.
Situations for Success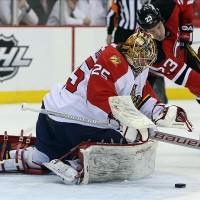 Andrey Makarov and Michael Houser were certainly tossed a number of curve-balls when it came to fulfilling their dreams of playing in the NHL, but the two goalies have definitely put themselves into position for future success.
With Michael Houser in the Florida system, the Panthers will be stocked in terms of goaltending prospects for the near future. Jacob Markstrom is certainly the goalie of the future in Florida as the team has put much stock into the Swedish netminder, but Scott Clemmensen and Jose Theodore will be manning the crease for the Big Cats until the 2013-2014 campaign. Even though two goalies are currently ahead of Markstrom and Houser on the depth chart, Florida will only look to get younger between the pipes as Theodore and Clemmensen get older.
Markstrom will likely begin to see a fair amount of time with the Panthers for the 2013-2014 NHL season and it wouldn't be out of the realm of possibility to see Houser backing up Markstrom in a few years. Only time will tell if Houser is up to the task of being an NHL goalie, but all signs have pointed to the fact that the native of Wexford, Pennsylvania will exhaust all of the resources available to him to be a successful goalie at the professional level.
On the other hand, Andrey Makarov might need a little more time to refine certain aspects of his game, but he is also primed for potential success in the NHL. While Ryan Miller and Jhonas Enroth will likely be the goaltending tandem for the Buffalo Sabres for the next few years, Makarov's presence in the Sabres' organization should not be glossed over. Aside from Connor Knapp and Nathan Lieuwen, Buffalo's goaltending prospects are somewhat thin and Makarov could be one to take advantage of such a situation. Even though Makarov will continue to try to improve his game in the WHL with the Saskatoon Blades, the goalie can quickly move up the depth chart with a strong 2012-2013 WHL campaign.
Supplanting Ryan Miller in Buffalo will be an extraordinary task for any goalie in the Sabres' system to undertake, but there is little reason to believe that Andrey Makarov won't challenge the goalies ahead of him for playing time in the near future. All in all, both Makarov and Houser have something to look forward to as they play out their respective 2012-2013 hockey seasons. While the road to the NHL may often be a difficult one, Houser and Makarov have been a testament to the fact that perseverance and determination can triumph in situations that seem to have no logical out.
* A special thanks to Fred Poulin for providing the "Undrafted Gems" template as well as David O'Connor for some high quality images.
In his third year with The Hockey Writers, Toli covers all things related to the New York Islanders. Focusing on the Islanders, the NHL Draft & draft-eligible prospect goalies, and hockey history, Toli can be contacted on Facebook by searching/messaging Toli Metter and on twitter by searching @ToliMetterTHW.