The term underrated is used frequently throughout professional sports, but what is exactly does it mean?
Definitions undoubtedly vary, however, what can be agreed upon is that the term applies to players who are largely unrecognized or underappreciated despite the great many benefits they bring to their respective teams, often cast in the shadow of highly recognizable stars, who in some cases are teammates.
In the NHL, there are a number of players who fit this description.
Kris Russell in Calgary is often overshadowed by numerous young stars who are also teammates, so too is Marcus Kruger in Chicago and Eric Fehr in Pittsburgh.
In other cases, select players and their incredible skill sets, and value, are simply overlooked on teams deep with elite talent and experience. Look no further than Roman Josi in Nashville, David Backes in St. Louis and Justin Williams in Washington.
These are just an example of some of the NHL's most underrated players, however, the League's most underappreciated player yet again has failed to be mentioned.
So who exactly is this player?
Ryan Nugent-Hopkins Deserves More Praise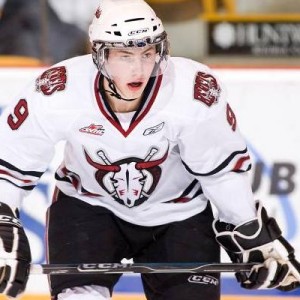 That's right, the NHL's most underrated player is Ryan Nugent-Hopkins of the Edmonton Oilers, whose talents and services have long gone overlooked since he was drafted first overall in 2011.
What's that? You forgot Nugent-Hopkins was a first overall draft pick?
Well, to be honest, that's not all that surprising, especially so when you consider Nugent-Hopkins is surrounded by a ton of young talent in Edmonton.
Taylor Hall, Jordan Eberle, Connor McDavid, Nail Yakupov, Darnell Nurse, Oscar Klefbom, Justin Schultz. All of these budding young stars skate alongside Nugent-Hopkins with the Oilers, all of which, with the exception of Schultz, were selected by the Oilers in the first round of their respective drafts.
As a result, Nugent-Hopkins has long been, and especially recently, the focus of trade rumors of those in search of solutions to Edmonton's issue of perpetual failure. These rumors evidently fail to understand the importance of Nugent-Hopkins on the Oilers roster now, as well as in the immediate future.
Answering the Critics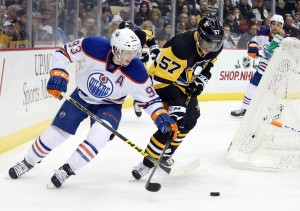 Since his arrival in the NHL as an 18 year-old in the 2011-12 season, Nugent-Hopkins has been a model of consistency.
One of the major criticisms of Nugent-Hopkins' game is that he simply does not produce enough offensively, especially so for a former first overall pick. However, let's be honest, the 2011 Draft class was not an incredibly strong one in terms of talent, and had Nugent-Hopkins, or any player selected in 2011 for that matter been selected this past Draft of 2015, they likely would have fallen to mid-way in the opening round.
However, Nugent-Hopkins has in fact produced a great deal offensively, carrying a career rate of 0.72 points per game, a total which ranks second highest of all players selected in the 2011 NHL Draft, behind only Johnny Gaudreau of the Calgary Flames' 82.0%.
This rate of production tops other elite NHL players selected in 2011, namely Ondrej Palat (0.71), Gabriel Landeskog (.70)Brandon Saad (0.60), and Jonathan Huberdeau (0.57), whose point per game rates are all considerably lesser than that of Nugent-Hopkins.
Still not convinced?
Analytics Agree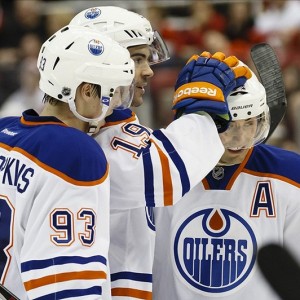 Let's take a quick look at Nugent-Hopkins' advanced stats, an area of analysis gaining both credibility and importance in today's NHL.
Not only has Nugent-Hopkins produced at a higher points per game than, for example, Gabriel Landeskog, who was selected second overall in 2011, but his Corsi statistics are also better, impressively so against a higher quality of competition. Over the past two seasons, Landeskog retains a 52.84 and 53.29 CF% in all situations, respectively, while Nugent-Hopkins on the other hand compiled a 53.50 rating in 2014-15, and has generated a 54.06 CF% this season, in all situations.
Despite their similarity, Nugent-Hopkins still retains a clear edge in CF%, which essentially illustrates that Nugent-Hopkins has produced more shot attempts, whether on goal, missed or blocked, for, than allowed over the past two seasons in comparison to Landeskog, in all situations.
Further, there is CF Rel%, which is measured by subtracting a player's off-ice Corsi% from his on-ice Corsi%. To put it simply, this analytic communicates an individual player's shot attempts generated while he is on the ice in comparison to those created by his team while he is not.
Once again, Nugent-Hopkins has the edge, carrying a 9.9 CF Rel% over the past the past five seasons, while Landeskog trails once again, producing an extremely close 9.6 CF Rel%.
End of Discussion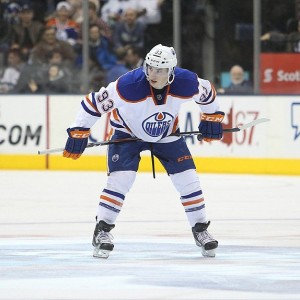 Although he is relatively unheard of on a game to game basis with the Oilers, Nugent-Hopkins quite clearly retains incredible value, as seen when compared to other elite players in the NHL today.
Not only do basic offensive production statistics support Nugent-Hopkins, but so too do a variety of analytics complied since his original inception into the NHL in 2011. Although it is uncommon for a former first overall draft selection to be a relative unknown in the hockey world, this is what Nugent-Hopkins has become, albeit incredibly successful in doing so.
Lost on a team loaded with elite young talent, Nugent-Hopkins, who is quite arguably the Oilers' top player on a nightly basis, plays his game in the shadows, and is, as we have seen, incredibly effective in the process.
So the next time Nugent-Hopkins' name appears in a trade rumor, someone questions his annual $6 Million salary, or he is once again simply under-appreciated, it is worth pointing out that although he flies under the radar, Nugent-Hopkins is undeniably one of the NHL's top young stars.
Still not a believer? Simply watch one Oilers game this season and Nugent-Hopkins will show you exactly why he is the NHL's most underrated and undervalued player.
Brett Slawson is a four-year veteran of The Hockey Writers who covers the Toronto Maple Leafs, NHL prospects, and the OHL's Mississauga Steelheads.
Contact Brett on Twitter @brettslawson92, or by email at brett_slawson@hotmail.com.