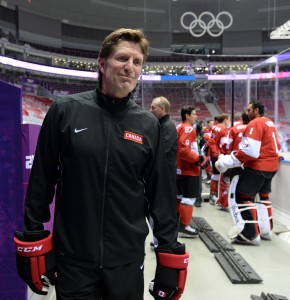 The Toronto Maple Leafs, their fans and their media have every right to be excited about the arrival of Mike Babcock. He's a high-profile coach, he's a big name with a proven track record, and he's going to bring some much-needed structure and identity to a team that is severely lacking in both. Granted, the team on the ice is still bad, and needs a lot of improvement. But, they seem to be building a competent management team, and that's a step in the right direction. Though I will say, whoever takes the job as General Manager will probably feel a little bit irrelevant at this point, but anyways.
Yes, the turnout for Babcock's press conference was remarkable, not surprising for something involving the Maple Leafs. And, members of the Buffalo media made no qualms about the fact that they felt slighted by Babcock, and forced him to answer questions about his decision. It was awkward, but he handled it well. The Sabres put a very similar offer on the table, but ultimately Babcock elected to go with the Leafs, citing family reasons among other things. But then this tweet surfaced:
Buffalo & Edmonton, even w wunderkinds, forever spurned RT @mirtle Really sounds like Toronto the city & Babcock's wife were key to decision

— David Ebner (@DavidEbner) May 21, 2015
Yes what a story this is becoming. The almighty Babcock turned his nose at the two teams about to draft superstars and chose a franchise that's essentially at rock bottom so that his legacy will be forever cemented as the guy who brought the Leafs out from the ashes and into championship glory. Yes, great story; except that it isn't true. The Sabres were rejected in this saga, yes, but the Oilers? Well they never really wanted Mike Babcock in the first place. In fact, they never even interviewed him.
From the Edmonton Sun regarding Todd McLellan:
"He was the guy that we wanted. And I wanted to get on it in a hurry," said Chiarelli of identifying McLellan as the coach he wanted to hire before the interview process. "The reason Todd was the top candidate in my mind is his history of taking skill players who learn how to play hard under him."

"I wanted to start it quickly in terms of setting something up. I wanted to get ahead of it with Todd, so I went over to Prague at the start of the tournament."

"I knew there were a lot of teams that would want to talk to Todd so I wanted to be first in to let him digest it and get to know me and what we're about here and what we're trying to do here."
I love the hiring of Todd McLellan for the Oilers. He's a well-respected coach, he's got experience, but he doesn't come in with the ridiculous fanfare and expectations of Mike Babcock. For all of the hype that Mike Babcock gets, the management team in Edmonton clearly wasn't swayed. The Oilers didn't need a head coach to come in and steal the spotlight. They are about to draft an exceptional player in Connor McDavid. Yes, amazing that someone actually playing the game should get all the attention!
I know Mike Babcock is a good coach. But he wasn't the right guy for the Oilers and they knew it. They didn't feel as though they needed a Babcock behind the bench. Maybe McLellan doesn't have all the same hardware, but he's just as competent. I mean hey, he was Babcock's assistant in Detroit. They won a Cup together. They're cut from the same Red Wing thread. I don't know when the Oilers will become real contenders. Nobody knows that. But the Oilers hired the right coach for their situation.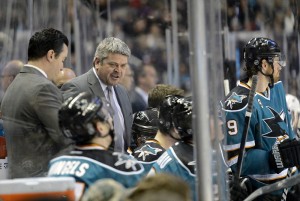 Is Mike Babcock the Right Coach for the Leafs?
Obviously Babcock knows that he won't be winning anytime soon with the Leafs, but you do have to wonder how he will handle losing, and how he handles developing a team from the ground up. It's interesting that he's best known for leading two star-studded Canadian teams to Olympic Gold, and coaching a deep Red Wings squad to a Stanley Cup championship. He has his work cut out for him do doubt, and while some see it as arrogance that he believes he's the guy who can bring a winning attitude to Toronto, he would chalk it up to confidence.
And why wouldn't he be confident? Sure, he's never won the Jack Adams award as the leagues best coach. Sure, he only has one Stanley Cup ring despite having strong teams in Detroit for a long time. And sure, the Leafs track record as of late has been abysmal. There is no reason to doubt Mike Babcock can lead the Maple Leafs to a long-awaited championship. (I'm trying Leaf, fans, I really am).
Okay but honestly, if nothing else maybe this will attract some more big name players to Toronto. I sincerely give the Leafs credit, because between Shanahan and Babcock, there is much more stability in this organisation. Will that translate onto the ice and in the standings? Well that all depends on the personal decisions here on out. I know a lot of Leafs fans who love their team and love the game, and they have suffered for a long time. I hope that this is really the start of something new in Toronto. But make no mistake, Babcock didn't choose the Leafs over the Oilers and all their great young talent. He was never given the opportunity to go to Edmonton in the first place.
Marcy, a former hockey player, is a hockey correspondent on CTV News and TSN radio. She began her career as a Sports Journalist in 2009 and has been part of The Hockey Writers since 2010, where she is currently a senior writer and editor.