It really has been a banner year for the National Hockey League. Attendance is on the rise, new stars are being born, and a 6'8" bruiser is going to play 3-on-3 hockey at the All-Star game. But if there has been one blister on the NHL's overall performance, it's the underwhelming Pacific Division. We are essentially at the halfway point of the 2015-16 regular season campaign, and exactly one team has a winning record in this collection of mediocrity. How could this possibly happen? Who is to blame? Where do I return all these "west coast best coast" shirts I ordered in bulk?
Understanding why the Pacific Division has fallen on such hard times requires some deep digging and analysis. Fortunately for all of you, I find that to be slightly boring. So here are six movie quotes that explain what is happening in the NHL's basement.
"Every scout in the NHL is out there tonight, with contracts in their pockets, and they're looking for talent. For winners! OOOOH all my years of publicity, all the fashion shows and radio-thons for nothing. They come here tonight… to scout the Chiefs… the toughest team in the Federal League! Not this! Buncha…. (edited for language)" Joe McGrath (Slap Shot)
Slap Shot is the greatest hockey movie of all-time, and definitely the hardest movie to work into a column for family friendly website. Who could forget the general manager of the Charleston Chiefs, expecting to see his team of glorified goons and sideshows beat people up, react so angrily at their unwillingness to fight. Strother Martin's character Joe McGrath felt that everything he had ever done in minor league hockey was geared towards this one golden opportunity, and his Chiefs were pouring it right down the drain.
The only NHL team I think of when reciting this quote is the not-so-mighty Ducks of Anaheim. Consider that just over three months ago, this was the trendy Stanley Cup pick for fans and analysts alike. The Ducks have a loaded roster with the perfect blend of experience and youth, a balanced scoring attack, and a stingy team defense that stifled opponents en route to a share of the Western Conference's best record in 2014-15. There was no place to go but up, right?
Wrong. Much like the Chiefs in the first period of their final game, the Ducks have played a completely uninspired brand of hockey this season. That balanced scoring attack that led the league last season? Well the Ducks are dead last in the NHL with 72 total goals. Anaheim led the league in scoring two seasons ago, finished 11th last year, and are now on pace to bring up the rear in the art of sniping. What's worse is that it has been the proven players who have let the Ducks down the most. Ryan Getzlaf looks like a shell of himself (three goals all season), Ryan Kesler can't seem to regain his form as a two-way forward beast, and defenseman Cam Fowler has a plus/minus rating of -11. These are not the Ducks that anyone was expecting to see.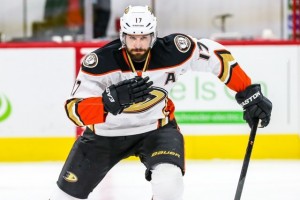 I am not ready to write off Anaheim (especially in such a weak division), but they have to find a way to regain their mean streak. It probably doesn't help that their head coach Bruce Beadreau is the jolliest looking guy this side of the North Pole, but starting John Gibson in goal more consistently would be a good start. There's still time for the Ducks to impress the scouts (or fans). But good heavens please don't let me see Corey Perry pull a Ned Braden at season's end.
"Look, I got news for you. I sucker-punched Paige last night. It'll never happen again! It was a fluke!" – Jimmy King (Ready to Rumble)
Like most of you, I was ready to anoint the Calgary Flames as a team of the future. Last year's march to the playoffs was spectacular (unless you are a Kings supporter), and their first round dismantling of the Vancouver Canucks was filled with offensive explosions and fights, which is the way to any hockey fan's heart. But this season, the Flames have often found themselves stuck in the mud. After starting the season 2-8-1 in the month of October, the Flames battled back to the middle of the pack, but are still finding it difficult to make that next leap.
This quote was taken from the early 2000s cult classic "Ready to Rumble," when professional wrestler Jimmy King (played by Oliver Platt) is kicked to the curb and forced to take matters into his own hands to regain his fame. Did he sucker-punch Diamond Dallas Page right in his yoga practicing face to do it? Of course. In that same vein, the NHL is wondering if the Flames success from last year was a fluke that cannot and will not be duplicated. There's reasons to believe that many players had career years, or out-kicked their coverage like a strong punter or Seal when he married Heidi Klum. Only time will tell.
And P.S., this can also apply to the red-hot October start by the Coyotes, the "new and improved" 2015-16 Sharks, and the "feel good" Edmonton Oilers. That could be a lot of flukes for one division (and a lot of Bennett Brower sized quotes for one paragraph). Moving on.
"We watch his program, we buy his toys, we go to his movies…. He owes us. Doesn't he owe us, huh? He owes the Griswolds right!" – Clark Griswold (National Lampoon's Vacation)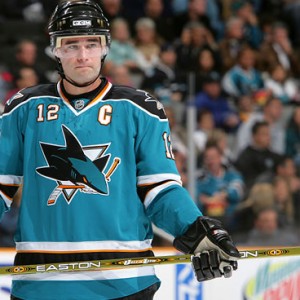 There has never been a better vacation movie than the original National Lampoon's edition, which saw Clark Griswold (played by Chevy Chase) lead his dysfunctional family by automobile from Chicago to the fictional Wally World theme park in California. Griswold defies the odds, reaches the park, and learns that they are closed for repairs. After socking the electronic moose that relayed the message right in the face, he delivers these memorable words. We've done all we could to support you. And you've let us down. You owe us better than that."
Hmmm, let me take a stab at this one.
The Kings have won multiple championships in recent memory, and it's unfair to put the young Coyotes, Oilers, and Flames in this category as their teams have not truly been expected to contend for quite some time. The Ducks? Well perhaps, but they did win a championship in 2007 and have the luxury of some quality young prospects should they be forced to move on from some veterans. That leaves two teams left, with some of the most passionate fans you will find in the NHL, who have continually found ways to let them down. The Sharks and the Canucks, as if there were any doubt about it, owe their fans so much more.
San Jose has consistently had the best NHL attendance in the state of California, and the Shark Tank has morphed into a hostile environment for opposing foes. But even with one of the game's most physically gifted and imposing forwards for over a decade (Jumbo Joe Thornton), the skillful wizardry of Patrick Marleau, a strong blue line and an all-star goalie (Evgeni Nabokov), the Sharks failed to even reach a Stanley Cup Final. In fact, the Sharks essentially overstayed their welcome with their current roster, and in recent years have become the NHL's staple for mediocrity.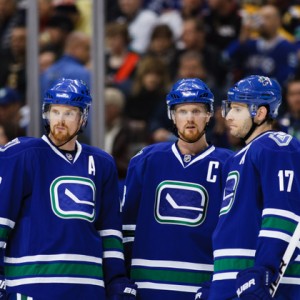 And the Canucks? Well they've made it to a few Stanley Cup finals, but don't you dare ask them how it went. In 2009, Vancouver seemed like a lock to win at least one championship. Fast forward to 2016, and the Canucks have turned into a walking first-round exit that has tried to starve off the rebuilding process for as long as possible. The Sedin Twins are 33 years old and have no jewelry to show from their statistical dominance. Vancouver fans are rightfully fed up that their future looks so pedestrian.
Both the Sharks and the Canucks are settling right into average corner of the NHL this season. Fans will protest on social media, vent at family gatherings, and swear that this is the final straw. But they'll keep coming back, wanting more, feeling owed for their loyalty. Some things may never change.
"You don't even look good when you sing." – Derek Huff (Step Brothers)
They say familiarity breeds contempt, and no I don't know who "they" is but I agree with them. The worst part about watching a Pacific Division game is seeing a quality of play that does not coincide with talent or skill level. Here, I'll give you an example. This was the tail end of Calgary's ultra impressive victory over Chicago on November 20th:
That was the Flames team that won a round in the playoffs, and whom many were expecting to see play consistently this season.
And this is the Flames team that usually shows up against divisional foes:
What was that, all four guys in the offensive zone while shorthanded? Corey Perry could have done the Plies dance all the way to the net before scoring. I'm not trying to pick on the Flames, but the point is that these divisional games have been lackluster. At worst, the healthier, more inspired teams should be beating up on their decimated rivals. Even the Kings are a meager 8-5 in Pacific contests, compared to a staggering 6-2 against the Central. Nobody can shake the bad stench of the Pacific Division.
And yes, a Step Brothers quote was making it into this column. Adam's Scott version of Derek Huff might have been the most punch-able character since Eric in Billy Madison, and the Will Ferrell/John C. Reilly duo was comedic gold. And every hockey locker room has had fights over the most ridiculous details, only to result in the triumphant "did we just become best friends?" moment by the end of the season. I miss that, and I miss the sweet soothing melodies of Prestige Worldwide.
"So what opponent poses the biggest threat to you in the tournament?" – Reporter
"Me. If I get drunk and fall down and hurt myself, I might lose." – Ern McCracken (Kingpin)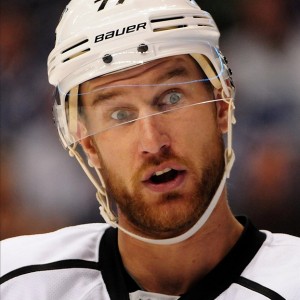 There is one strong team in this division, and that would be the team that's won two of the last four Stanley Cups. The Los Angeles Kings have built a 12 point cushion on second place Arizona, are coming off a clean sweep of four divisional opponents on the road, and have set themselves up to be the unchallenged alpha male of the Pacific for the remainder of the season.
Which can actually hurt them when it matters most.
I love the movie Kingpin, about a down on his luck bowler named Roy Munson  (played by Woody Harrelson), who gets double-crossed by a rival and loses his hand, only to revitalize his career thanks to an Amish friend and a promiscuous lady (one of the greatest Hollywood plots in history). That rival was big Ern McCracken, played by the transcendently humorous Bill Murray. Big Ern had raced to the top of the bowling mountain (after being responsible for Munson's demise), failing only to catch his ego during the climb. When a reporter asked him who he feared in an upcoming tournament, Murray crassly explained that only carelessness (mixed with partying) would be his downfall.
Now call me crazy, but couldn't this kinda sorta happen to the Kings? If L.A. plays the next 3 and a half months as the unquestioned lion (shout out to Bailey) in a weak division, they will enter the playoffs in a sluggish state. The hockey world has seen this story too many times before, with several Presidents Trophy winners (the team with the most points in the regular season), getting "shockingly" eliminated in the first round of the postseason. What's even more dangerous is the fact that the post-2013 playoff structure requires that the top team in the Pacific plays a Wild Card team that will almost assuredly emerge from the deep Central Division. It's in the Kings best interest that their own division picks up the competition, and that they are battle tested come April.
So just to recap: a sluggish Kings team will probably end up facing a 5th place Central team, which could end up being…THE CHICAGO BLACKHAWKS!! As this becomes closer to a reality, look for Darryl Sutter to start concocting motivation out of thin air (while the rest of the viewing public wonders why two of the five best teams in the NHL play an opening round matchup opposite of Arizona and Vancouver).
"We got no food. We got no jobs. Our pets HEADS ARE FALLING OFF!!!" Lloyd Christmas (Dumb and Dumber)
Here's one thing that everyone can agree on; the Pacific Division has had some terrible luck in the form of injuries during the first half of the season. The Coyotes lost goalie Mike Smith for 8-10 weeks, the Ducks defensive unit has been depleted all season, and the Canucks lost a forward, goalie, and defenseman in a little over a month. And then of course, there's the sad case of the Edmonton Oilers. Normally losing a player as gifted as forward Nail Yakupov for an extended period of time is the worst thing that could happen to a young club. Well, it's not when you have this 18-year-old phenom:
Connor McDavid was taking the league by storm, even faster than most people expected him to do so. His chemistry with fellow forward Taylor Hall was increasing each shift, and the Oilers were primed to make some serious noise in their chaotic division. And then disaster struck, when a routine hit turned into an awkward fall and a gut-punching injury to the hockey community as a whole. I love the hockey gods, but sometimes they can really grind my gears.
When Lloyd Christmas (played by Jim Carey) dropped this gem in Dumb and Dumber, it symbolized the frustrations of realizing you've hit rock bottom. Injury after injury, setback after setback, I really believe the McDavid injury was the final straw. The Pacific Division had their pet's head fall off, and there was nobody to sell it too for some extra cash.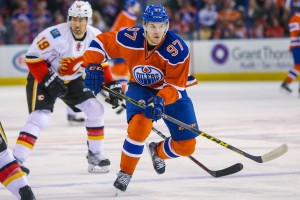 The silver lining in all of this is that with the exception of the Kings, nobody has pulled away from the pack. With two juicy playoff spots staring each of the other six teams right in the face, there is still time for a healthy McDavid, and rejuvenated Ryan Miller, or a possessed Mike Smith to make a difference down the stretch. Jim Carey went on to become a box office heavyweight after Dumb and Dumber, and I certainly see the similarities in McDavid's potential meteoric rise. Just stay away from Jenny McCarthy, please Connor.
I hope you enjoyed this trip down movie quote memory lane. If your favorite team plays in the Pacific Division, don't worry, the best is yet to come. At this point, it has to be.
Just a hockey loving American. I grew up in Cleveland, Ohio, and attended Saint Louis University where I skated for the Billikens. From 2013-14 I covered the St. Louis Blues for ESPN Radio St. Louis. I currently work in sports video production in Los Angeles, and will always show solidarity for stay-at-home defenseman.