Welcome to the Stanley Cup Final, where a cast can indicate a day-to-day injury. Nick Bonino joined the Pittsburgh Penguins at their practice on Sunday, which is fairly ridiculous given that Bonino made his way into Bridgestone Arena for Game 3 yesterday on crutches and in a walking boot. But who cares if the man can't walk of his own volition; it's the Final, and by God, he's somehow going to try and skate anyway.
So skate Bonino did, wearing some extra protection but nevertheless participating in line rushes and drills. Although playing on whatever injury he sustained off blocking a P.K. Subban shot might not be the best decision for Bonino's long-term health, it could be a good one for the Penguins, who depend on Bonino for some important factors of their game. These factors were notably missing in a disappointing Game 3 blowout.
Bonino's Importance
One of Bonino's main responsibilities on the team starts with the puck drop. He's taken the second-most face-offs this postseason after Sidney Crosby and has won 52 percent of them. That's a higher rate than even Crosby himself and is second on the team only to Matt Cullen.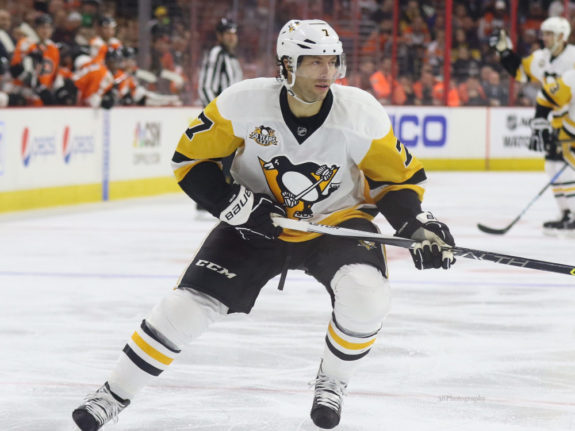 The other place Bonino is important for the team is on the penalty kill. He's one of the Penguins' most frequently used penalty killers, and he's vital in several aspects of shutting down an opposing power play. One advantage is his defensive zone face-off skill, and another is his aggressive shot-blocking (which explains the walking boot). He led Penguins forwards in shot blocks this season with an average of over four blocks per game. This high rate has continued into the postseason. The Penguins have been outshot in each game of this final series. The more this shot deficit climbs, the more important shot blocks become.
The Penguins did manage to survive with a winning face-off percentage without Bonino, succeeding in 53 percent of the draws in Game 3. Where Bonino's absence was most notable was on the Penguins' lackluster penalty kill. The Nashville Predators scored two of their five goals and saw several other high-danger chances while the Penguins were shorthanded.
Penguins' Penalty Kill Problems
The Penguins' power play isn't working. They are not only zero for their last 10 attempts, but they've also only accumulated only three shots in total. That's fairly abysmal, but it's not the end of the world — unless you are also simultaneously struggling to kill penalties, which the Penguins are.
Both the Predators and the Penguins were given three power-play opportunities in Game 3. The Predators capitalized on two of their three chances; the Penguins capitalized on none of theirs. A team failing both to score on the man advantage and to prevent the other team from doing the same is inevitably going to be facing a deficit on the scoreboard.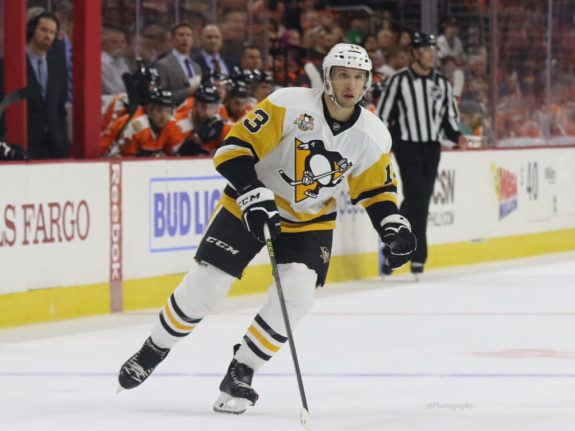 This is where the Penguins miss Bonino keenly. Game 4 will most likely see new power play combinations for the Penguins, but while these are being tested out, the penalty kill desperately needs to improve. The Predators have scored on four of their past 10 power plays. The Penguins are going have to do better than that on the penalty kill, which will be difficult without Bonino, who has in his time with the Penguins become a key component of their shorthanded lineup.
If Bonino returns to the ice, he will most certainly not be 100 percent healthy. But he might still be a boon for the Penguins' penalty kill in a series where special teams are starting to look like a concerning weakness for the Penguins. So here's hoping that his foot's not broken and that the walking boot is there just to reduce swelling, or maybe just as a bold fashion statement. The Penguins could most certainly use Bonino going into Game 4 against a team determined to tie the series up.
Julia Stumbaugh is a student at the College of William & Mary.