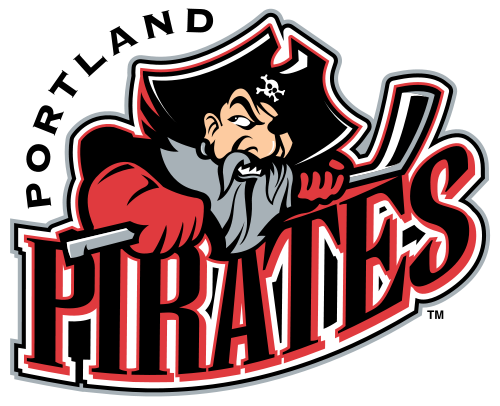 PROVIDENCE – The Portland Pirates kicked off a four-game road trip with an overtime win against the Providence Bruins at the Dunkin' Donuts Center Sunday afternoon, extending their away game winning streak to four games.
GOALLLLLLLL PIRATES! GILBERT BRULE WITH THE POWER PLAY OT WINNER! #ARRRRGH #PiratesAway

— Portland Pirates (@PortlandPirates) November 17, 2013
Malcolm Subban began in goal for the Bruins, and was unable to fend off the hungry Pirates as they snagged the overtime win, finishing the game with a score of 4-3 after the sudden death round. Louis Domingue took his place in goal for Portland for his second career start in the AHL, and made a career-high 43 saves.
FINAL (OT): Pirates 4, @AHLBruins 3! Scoring – POR: Brown, Rieder, McMillan, Brule (GWG – OT) | PRO: Robins, Johnson, Casto #PiratesAway

— Portland Pirates (@PortlandPirates) November 17, 2013
Portland's regulation goals came from right wingers Chris Brown and Tobias Rieder, and left winger Brandon McMillan. Gilbert Brule sniped the game-winning overtime goal for the Pirates, continuing a streak of his own – Brule now has a four-game goal streak. Goals for Providence came from Robins, Johnson and Casto.
Check out Brule's hit on Penguin Kris Letang from 2011
Chris Brown's goal was his fourth of the season, and in addition with his 8 assists, his 12 points are now the highest registered for the team. Brown has now surpassed previous points leader Andy Miele, who currently has 11 points (5 goals, 6 assists). Brown has also scored two game winning goals on the road this season, both during games that are now part of the Pirates' current road streak. Previous road wins for the Pirates took place in Hartford on October 23, Albany October 26, and Worcester November 10.
The win comes at a crucial time for the Pirates, who were boosted up to 12th place in the Eastern Conference after the team sat comfortably in last place at the beginning of this season. The Pirates have clearly been struggling to play consistently this fall, but they are currently 4-0-0-1 for the last five games.
Next, the Pirates hope to extend their road streak to five games when they take on the Norfolk Admirals this Friday, November 22.
Portland, Maine native. Bruins contributor for The Hockey Writers and Pittsburgh Penguins and AHL writer for Puck Rant. Follow me on Twitter and Instagram for more hockey-related posts! @smithwhitney