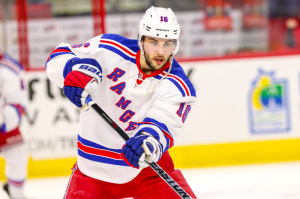 The New York Rangers have amassed depth down the middle and have the most versatile center core they've had in years. They have a solid top 3, with Derek Stepan, Derick Brassard, and Kevin Hayes, while Dominic Moore has proven himself to be an excellent 4th line center who can play a defensive role.
1st Line: Derek Stepan
Derek Stepan has been in a rut as of late not recording a point in 12 straight games heading into Sundays contest against Anaheim, but even with that lull he has managed to put up 43 points in 56 games played this season. The 24 year old center has been reliable in his own end, and provides the Rangers with a right handed shot on the power play. He is also one of the few Rangers that consistently plays on the power play, at even strength, and on the penalty kill. Despite his age, Stepan has played in some big situations, he has 61 career games of playoff experience, and is coming off of a post-season where he had 15 points in 24 games. Stepan can dish the puck with the best of them, and when teams start to respect the pass to much, he can do this.
The Rangers aren't worried about Stepan, Derick Brassard told Sean Hartnett as much,
Brass on Stepan slump: "We're not worried about him. He never takes a night off. Hopefully it's going to come for him before the playoffs."

— Sean Hartnett (@HartnettHockey) March 19, 2015
2nd Line:Derick Brassard
Derick Brassard has quietly put up 53 points in 68 games so far this season. He has been consistent all year as a play maker, has worked well against other top centers, and as a bonus, Brassard is decent in the face-off circle, winning 48.6% of his draws. Brassard has proven in the past that he can come up large in the playoffs. In 35 career post-season games he has 24 points. Brassard was incredible last year, working on a line with Benoit Pouliot and Mats Zuccarello. Pouliot is gone now, but him and Zuccarello have managed to keep their chemistry. Brassard has the ability to change the game when he gets some space. He's capable of freezing the opposition, and that is exactly what he did to Dustin Tokarski in the 2014 Eastern Conference Final.
3rd Line: Kevin Hayes
The biggest question mark heading into the season was the 3rd line center position. Luckily for New York, Kevin Hayes seized the opportunity and has proven himself capable of handling the role. The 22 year old out of Boston College has notched 33 points this year, but the most impressive part of his game has been how calm he is with the puck. Rangers Head Coach Alain Vigneault spoke on Friday about putting Hayes back into his 3rd line center role, after auditioning James Sheppard against Chicago, "There's no doubt, that for our team, Kevin in the middle gives us three lines that, I consider, can play a little bit more offensive hockey, so were going to put him back there, and I'm confident he's going to do real well for us." Hayes was sound on Friday posting an assist in a Rangers win. Hayes has creativity with the puck, and his size and skill give the Rangers a different dimension on their third line. Hayes has 13 goals and 20 assists this year. His weakness has been in the face-off circle where he has a 37.1 winning percentage. I would expect the Rangers to let J.T. Miller or James Sheppard take Hayes defensive draws in the playoffs.
4th Line: Dominic Moore
Moore has helped secure the Rangers 4th line. He plays mostly a defensive role, and has been one of the few Rangers centers who has been reliable on face-offs with a 54.5% win rate. What makes Moore so valuable is that he can also chip in offensively. Moore has 6 goals and 15 assists while logging 13:54 on the ice per game. Last season when the Rangers were injured during the play-offs, Moore was pushed up to center the 3rd line. Of course, the Rangers don't want to use Moore in this role, but should they need him he's available. Moore is an excellent penalty killer, and has played in 69 career play-off games notching 24 points.
Utility Centers: James Sheppard, and J.T. Miller
Both Sheppard and Miller, currently play the wing on this team. If the are needed, they can fill in at the center position. Typically a team would use Sheppard in a bottom 6 role, while Miller has the skill set to fill in a top 6 role. Earlier this week against the Chicago Blackhawks we saw Sheppard deployed as a center. Coach Vigneault spoke to the media on Friday about seeing Sheppard at center, "It was very important for me, that I look at Shep (Sheppard) in the middle, and we used the last game to do that… we knew when we got him that he could play all three forward positions, which was a big bonus for us." Since joining the Rangers Sheppard has thrown his weight around and shown some patience with the puck.
When Derick Brassard went down with the mumps back in December the Rangers turned to J.T. Miller at center, and the 22 year old held his own.  He told Larry Brooks of the New York Post in December about the difference he sees playing center as opposed to wing, "Playing wing it's more instinct for me, where moving to the middle obviously requires some more thinking." Miller went on to talk about the situation the team was in, "I know that we're in an emergency, so it's a good thing they have the confidence in me to put me there if they need me."  Miller has 8  goals and 8 assists n 46 games this season. Over the past few months he seems to have found his physical play. Miller also has great hands, so he can hurt teams that forget about him.
Heading into the playoffs the Rangers know they can have a reliable center on the ice at all times. Having two guys (Miller, Sheppard)  that can jump in to stop the bleeding should things get out of hand, gives this team a boost. Teams often talk about the Rangers defensive depth, but with 6 capable centers the Rangers can skate with anyone.
I graduated from Brooklyn College with a B.S. in Broadcast Journalism. Shortly after, I began writing for the Full Tilt Hockey Network, where I still contribute, covering a broad range of topics across the NHL.
I have been contributing to The Hockey Writers since February of this year focusing on the New York Rangers. My articles tend to focus on analysis of players, and possible directions that the organization could go.