There's a lot of focus from the Minnesota Wild fanbase on the team's three most recent first-round draft picks—Joel Eriksson Ek, Alex Tuch and Luke Kunin—and for good reason. Some of that attention, however, is starting to shift toward one of their later round selections currently making waves overseas.
Wild management must like what they see when they check on the progress of Kirill Kaprizov, the team's fifth round pick in the 2015 draft. Once regarded as a shot-in-the-dark prospect, the ultra skilled winger is creating a lot of buzz in Russia, where he's currently playing for Salavat Yulaev Ufa of the Kontinental Hockey League.
Going for the KHL Record Books
The 19-year-old winger is currently putting himself on the hockey map with his almost unheard of production in Russia this season. The first overall pick in the 2014 KHL draft has registered 30 points in 37 games so far during the 2016-17 campaign. To put into perspective just how impressive Kaprizov's season is going, the second-best scoring under-20 player in the KHL this season is Alexander Polunin, who has 13 points in 35 games. That's less than half of what the Minnesota prospect has scored to date this season. In fact, Kaprizov's offensive output is good enough to rank third all-time in terms of most productive seasons for an under-20 player in league history.
Who's ranked ahead of him, you ask? None other than Washington Capitals star forward Evgeny Kuznetsov, who places both first and second overall on the list for his efforts during the 2010-11 and 2011-12 seasons. Kaprizov currently ranks ahead of players such as Vladimir Tarasenko, Artemi Panarin and Pavel Buchnevich. That's pretty good company for the 5-foot-10 forward from Novokuznetsk.
The record-setting under-20 campaign came in Kuznetsov's 19-year-old season when he set the bar by finishing the year with 41 points in 49 games. The Washington forward's 0.84 points per game average in 2011-12 ranks just slightly ahead of Kaprizov's current 0.81 average. The numbers are close and it's still possible that the Minnesota draft pick could surpass Kuznetsov's remarkable scoring pace from five seasons ago.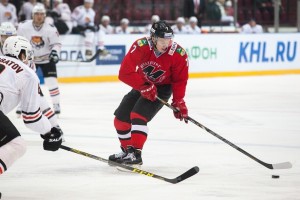 The Salavat Yulaev Ufa forward has amazingly picked up 23 points over his last 22 KHL games after starting the year with just four points in his first 15 contests. It's almost a foregone conclusion that Kaprizov will finish at least second among the top all-time under-20 scorers, needing only three more points to get there, and it's not inconceivable that the 1997-born winger ends up atop the list by season's end.
The probability of Kaprizov finishing 2016-17 with more than 41 points will depend greatly on how many more games he gets into before the end of the regular season. Salavat Yulaev has 19 games remaining on their schedule and the newly appointed 2017 KHL All-Star is currently away from the team due to his participation in the world juniors. It's likely the winger will miss his club's next six or seven games, which could hurt his chances at the record. Will 12 games be enough for the 19-year-old to add another 12 points to his season total? It will definitely be a storyline worth following.
Going for World Junior Gold
Kaprizov's attempt at the KHL record books will be temporarily put on hold while he suits up for his country at the 2017 IIHF World Junior Championships held in Montreal and Toronto from Dec. 26 to Jan. 5. The winger had some success at the 2016 tournament, when he helped guide Russia to the silver medal while posting three points in seven games as an 18-year-old. Now, being one of only two returning forwards to the team, Kaprizov will look to play a vital role in their quest for gold.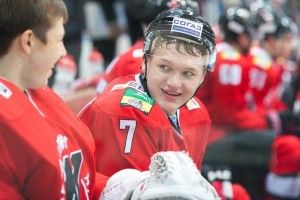 Russia's 2017 entry in the tournament appears to be built around three key pieces: Ilya Samsonov in net, Mikhail Sergachev on defense and Kaprizov up front. The Wild prospect seems destined for a monster tournament and, if he isn't a known commodity yet, the world juniors might just provide him with the stage he needs to become a household name.
Minnesota Bound?
Minnesota fans are probably anxious to see the scoring winger in action while sporting Wild colors, but Kaprizov's current KHL contract has him committed to the league until the conclusion of the 2017-18 season.
This means that the only way he'll be in the Minnesota lineup any earlier than 2018-19 is if the final year of his existing deal gets bought out. His KHL team certainly won't be buying him out, so it would be up to the player himself to pay the required amount to terminate the deal.
This practice isn't completely unheard of as former Pittsburgh Penguins forward Sergei Plotnikov bought out his own contract in order to become a free agent prior to the 2015-16 season.
The truth, however, is that another season potentially dominating and building further confidence in the KHL could be what's best for Kaprizov. It certainly didn't hurt Kuznetsov, who didn't arrive stateside until age 22.
The Wild might have to wait a little bit longer before they see their top Russian prospect in the Gopher State, but I have a feeling he'll be well worth the wait.